I remember being fascinated as a kid by a book written by John R. Neill titled, The Scalawagons of Oz. The story is a continuation of L. Frank Baum's Wizard of Oz creation. My fascination came from the idea that the Scalawagons were smart vehicles that would take passengers wherever they desired. Just sit down in the car, tell the Scalawagon where you want to go and the car transports you to your destination without the need for using pedals and steering wheels. Google (NASDAQ:GOOG) is essentially taking this concept and turning it into a reality with its self-driving car. Google's car actually resembles the shape and look of the Scalawagon.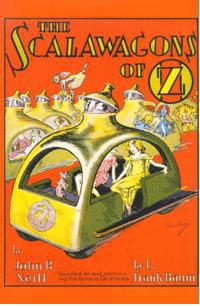 Just like the Scalawagon, Google's self-driving car has no steering wheel, brake pedals, or accelerator pedals. Google's software and sensors do the work that would otherwise be done by a vehicle's driver. The technology was originally retrofitted onto Toyotas (NYSE:TM), Lexuses, and other vehicles. Currently, Google has designed its own prototype where the front of the car looks like a face. The car's speed has been capped at 25 mph to minimize the risk of crashes during testing. Google said that the cars can detect objects up to 200 yards away. Google plans to build 100 prototype vehicles for testing this summer. If things progress as planned, the company will begin a pilot program in California over the next few years.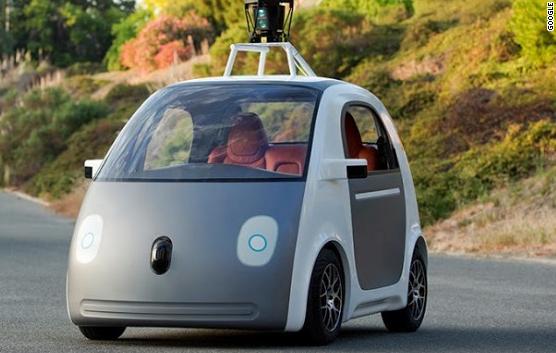 Some would argue that this technology would create safety issues. However, I think that the self-driving car would actually improve safety. Google's primary reason for building the car is for safety. Since the driverless car can see up to 200 yards away, it is more likely to detect things that a human driver might not be able to see - another car approaching from the driver's blind side for example. Humans are subject to making mistakes and getting distracted especially with the extensive use of smartphones. The driverless car would always be alert with the ability to detect movements from 360 degrees around up to 200 yards away. This is something that humans cannot do. The car can detect how close it is to other objects, matches speed with traffic, and can detect other vehicles that are cutting into its lane. The car also has the ability to detect and navigate through construction zones. The car can detect if there is a road blockage ahead and adjust for it. The sensors have the ability to detect cyclists and can determine if the cyclist is holding up his arm. Overall, the vehicle looks like an impressive innovation. Road accidents have cost the U.S. $871 billion in one year. So, I think that the driverless car technology is likely to lessen that figure in the future with its safety features.
The important point that I want to make regarding the self-driving car is that this shows how Google is willing to take risks to produce breakthrough innovations. The profit potential for a self-driving car might be many years away, but the perseverance to see a project like this through to completion demonstrates that Google is serious about significant innovations. This means that it is likely that the company will introduce other innovative ground-breaking technology in the future.
In the meantime, Google continues to generate significant year-over-year increases in revenue and earnings growth for its core businesses. As stated in the company's Q1 2014 conference call, there are four areas that are driving the current business:
1. Direct sponsor (performance marketing)
This involves helping people navigate the web/apps and helping marketers measure their customer's experience to drive improvements in monetization.
2. Helping clients build their brands
The use of YouTube has been a key tool for advertisers. As an example, Super Bowl related ads were viewed over 300 million times on YouTube. That is about three times the size of the audience that watches the commercials on TV.
3. Ad tech platform for publishers and agencies
Google's ad network and exchanges are considered across the industry as having the best quality controls. This makes Google a key go-to company for advertising needs.
4. Emerging businesses (digital content, enterprise, and hardware)
Google Play movies are now available in over 65 countries after 39 new countries were added in Q1. Google Play games has added over 75 million new users over the past two quarters. Android wear is a project that uses android on wearable products. The $35 Chromecast is going strong as 11 more countries were introduced to the product in Q1. The company is also investing significantly in the Google cloud platform.
Undervalued as Compared to the Industry
Some may argue that Google is overvalued. However, all of the standard valuation metrics show that Google is undervalued as compared to its industry.
| | | |
| --- | --- | --- |
|   | Google | Industry Average |
| Trailing PE | 30.6 | 42.2 |
| Forward PE | 18.5 | 33.4 |
| PEG | 1.3 | 1.68 |
| Price to Sales | 6.1 | 7.2 |
| Price to Book | 4.1 | 5.1 |
Data Source: Morningstar and Finviz
Google has increased its revenue and operating cash flow by an average of about 26% and 19% respectively for the past four years. The company's free cash flow (FCF) growth has been a little choppier due to some large capital expenditures in 2010 and 2013 that caused negative free cash flow growth in those years. The free cash flow itself remained positive in those years, but the year-over-year FCF growth rate was negative in 2010 and 2013. Regardless, FCF for 2013 was about 33% higher than the FCF generated in 2009, so the company is growing free cash flow over the long term. This shows that the company can continue investing in the business while still having plenty of cash left over.
The internet information providers industry and Google are valued higher than the S&P 500, but this is due to their above average growth rate. So, I think that Google's valuation can remain higher than the average S&P 500 company as its growth rate continues to remain above average. The stock is likely to have steep corrections, however, during market sell-offs and when the company misses expectations.
Conclusion
The self-driving car is interesting, ground-breaking and is likely to have positive implications for Google in the future as the details are worked out. However, the car won't have an impact on the business any time soon. The important thing to note is Google's willingness to take innovative risks with new technology and to improve customer's experiences. The company's drive to remain on the cutting edge should serve Google well over the long-term. The stock is likely to continue beating the market over the long-term as its revenue and earnings growth remain above average.
Disclosure: I have no positions in any stocks mentioned, and no plans to initiate any positions within the next 72 hours. I wrote this article myself, and it expresses my own opinions. I am not receiving compensation for it (other than from Seeking Alpha). I have no business relationship with any company whose stock is mentioned in this article.