In this article we examine withdrawal rates from a portfolio style blend as constructed in previous articles using the Market Map model. It is instructional to read the previous MM articles to get up to speed on the topic at hand.
As each individual has their own investment needs and goals, we find the Market Map model useful as a multipurpose tool for application towards tax deferred retirement portfolios during different periods in an individual investor's life cycle. For example, in the part-1 and part-2, the model is presented as a possible solution towards accelerating the "accumulation" phase pertaining to investors who may be "slow starters" towards their retirement asset accumulation.
For those who qualify for the withdrawal process from their retirement funding, their asset base may not be large enough on which to generate sufficient income from the conventional offerings often cited in the financial literature that are either reliant on staying fully invested and riding out the cycles of the market and/or on the "ceiling" of dividend yields. These offerings include buy and hold of index funds that mimic the S&P 500 index, blends of "low expense" international, domestic, and bond funds (target date products), dividend growth portfolios, etc. The Map model can conceivably be used to provide an income stream that is sourced from a higher annual portfolio total return (because of the exposure to the "growth" universe of mid/large cap stocks included in the PowerShares QQQ Trust ETF (NASDAQ:QQQ)) and simultaneously grow the account balance.
In order to ascertain the rate(s) of income withdrawal that could be expected from the Map model and portfolio blend, we subjected the portfolios to a fixed, inflation adjusted withdrawal during two of the most difficult 14 year investment periods in the last 45 years. We did the same with data for 14 of the most recent bull market run years of 1983-1990. Hence, we adjusted the withdrawal amounts according to the market environment: less withdrawal in difficult "cyclical sideways" periods and more withdrawal in a secular uptrend.
Our choice of withdrawal process in this analysis was that of "selling shares" for income as opposed to "taking the dividends." We realize that a "selling shares" process is a controversial topic, yet with combination of the outsized portfolio growth, conservative annual withdrawal amounts shown, and personal experience, this seemed to be the best choice for this study. In the future, we will explore an analysis using a process combination in generating the income stream by "selling shares" from the growth allocation of the blend and "taking the dividends" from the dividend growth allocation of the blend. At present we chose the former.
Charts 1, 2, and 4 depict fixed withdrawals from three different portfolios with starting balances of $1M over the two most recent "cyclical sideways" market periods and the most recent "secular uptrend" market environment. These portfolios were introduced in part 1 of the article series and include: 1) the "growth" portfolio (the QQQ ETF) utilizing the tactical allocation of the Market Map model and 2) a "buy and hold"/ dividends reinvested portfolio of popular dividend growth stocks*. The 40% 60% "style" blend performance analysis and logic that we use for this study was presented in "Style Diversification With Dividend Growth Portfolio" part 2, charts 13 and 14.
Chart 1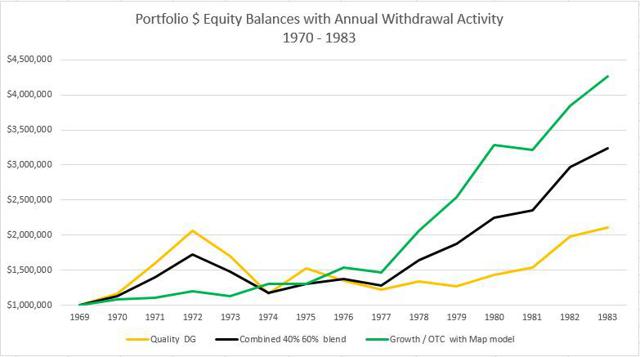 Chart 2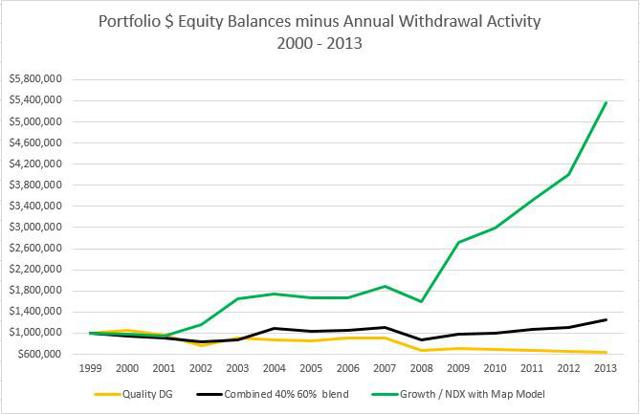 Chart 3 shows the fixed annual $ withdrawal amounts adjusted for 2% inflation growth applied to the portfolios during "cyclical sideways" market periods in charts 1 and 2.
Chart 4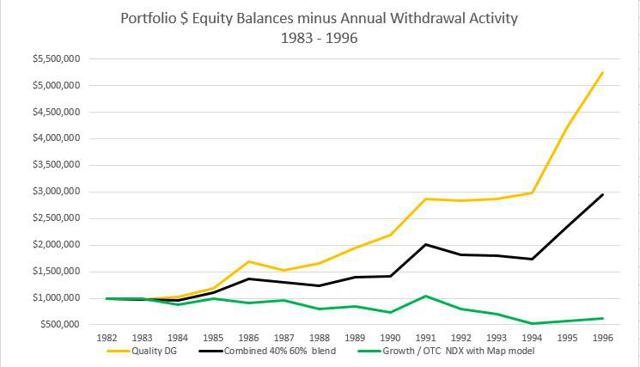 Chart 5 shows the fixed annual $ withdrawal amounts adjusted for 2% inflation growth applied to the portfolios during the secular uptrend market period in chart 4.
Chart 5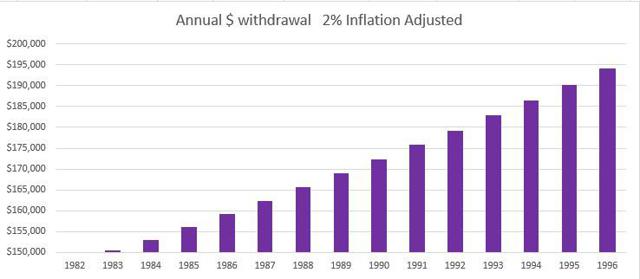 As we can see above, when subjected to fixed withdrawal processes, the "individual" style portfolios' growth during the different market environments were affected in a vastly dichotomous fashion, and the "combined" portfolio (in black) provided sufficient income streams accompanied by stable growing portfolio values and diversification throughout the three diverse market environments.
Conclusion
Investment literature may lead us to believe that as an investor gets near the retirement withdrawal stage, they should gravitate away from the growth stock universe and concentrate largely on a portfolio leaning towards the quality large cap arena with consistent dividend growth universe and yield based products for their income needs. Yet as shown in this (and previous articles), with innovative, sound tactical asset management applied towards a growth stock universe, an investor may be able to generate a sufficient income using a combination of two universes. And hopefully, in the not too distant future (if not already), there will be ETFs (exchange traded funds) that can cost efficiently replicate the performance and dividend payouts of a portfolio of quality mid and large cap companies with consistent dividend growth and thus alleviate and replace the tasks of managing a multiple individual stock portfolio.
*comprised of: 3M (NYSE:MMM), Exxon (NYSE:XOM), Merck (NYSE:MRK), Johnson & Johnson (NYSE:JNJ), McDonald's (NYSE:MCD), Procter & Gamble (NYSE:PG), ConEdison (NYSE:ED), General Electric (NYSE:GE), Altria (NYSE:MO), Coca-Cola (NYSE:KO) (with a switch of Wal-Mart (NYSE:WMT) for GE on 01/02/08 for performance optimization)
Disclosure: I have no positions in any stocks mentioned, and no plans to initiate any positions within the next 72 hours. I wrote this article myself, and it expresses my own opinions. I am not receiving compensation for it. I have no business relationship with any company whose stock is mentioned in this article.