The Corn Belt planting season got off to a slow start after the chilly winter. Satellite images show that the growing season is running behind with the vegetation crop in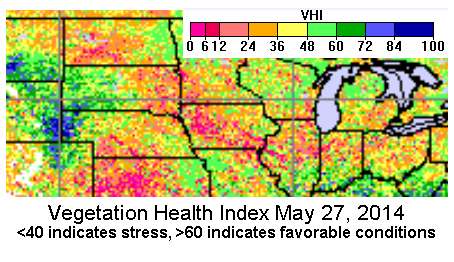 dex well below 40 in a stripe from eastern South Dakota, Iowa and central Illinois.
It is still early in the season, so there's not a lot to be worried about yet.
Except for the forecast for heavy rain through June 20. The weather pattern from now through at least June 20 will be similar to that of 1993. And, like 1993, waves of showers and thunderstorms will sweep the nation's midsection.
Rainfall through June 20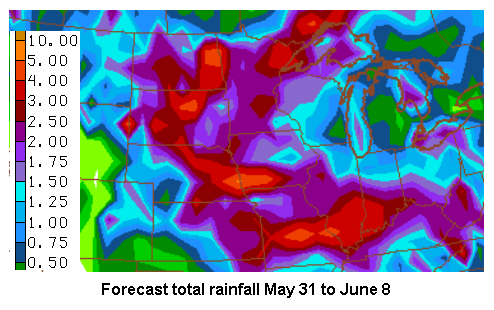 will be 150% to 300% of normal as a front boundary drapes from the Ohio Valley to the Northern and Central Plains, moving north and south as upper air disturbances move over the boundary.
While the weather pattern is similar to that of 1993, that by no means should be taken as an indicator the central U.S. is in for devastating floods. There are other variables at work with the developing El Nino, the North Atlantic Oscillation and Pacific Decadal Oscillation which are not similar to 1993. Thus, I think the overall rainfall pattern will shift in July.
July's weather should turn drier than normal from Illinois eastward but remain wetter than normal to the west.
As much as it would be great for this year to have near-perfect weather for corn (NYSEARCA:CORN), soybeans (NYSEARCA:SOYB) and sugar beets - it won't be. But, instead of watching for crop stress due to drought, our attention will be on the prospect of too much rain during the month of June.
Disclosure: I have no positions in any stocks mentioned, and no plans to initiate any positions within the next 72 hours. I wrote this article myself, and it expresses my own opinions. I am not receiving compensation for it (other than from Seeking Alpha). I have no business relationship with any company whose stock is mentioned in this article.