Back in March, I encouraged investors to consider the initiatives SodaStream (NASDAQ:SODA) set forth for analysts and investors who attended the International Home and Housewares Show. Shares of SODA surged on the first trading day after the Show, as I outlined in the article "SodaStream Shares Surge After IHH Show Reporting." In this reporting, I discussed SodaStream's plans in conjunction with Wal-Mart (NYSE:WMT) during the fiscal year. The following picture was offered as insight into the potential for expanding SodaStream shelf space at the retailer: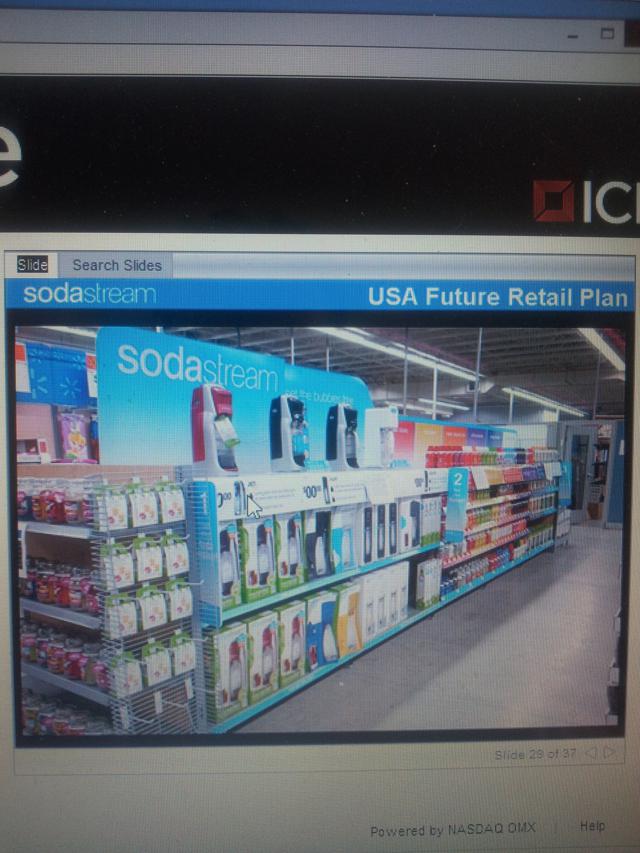 I reported to clients back in March that SodaStream had plans in place to expand its shelf space at some 1,500 Wal-Mart locations up to 20ft. from 4ft. of space. On the 1st quarter conference call, SodaStream outlined the plans and timing of the event which began 2 weeks ago. SodaStream products will maintain this expanded shelf space at Wal-Mart for the next 3 months, and then transition products onto a new end-cap location ahead of the 4th quarter holiday selling season. Below is a current picture at Wal-Mart which also indicates the new Play soda maker kit is now available to purchase in a variety of colors.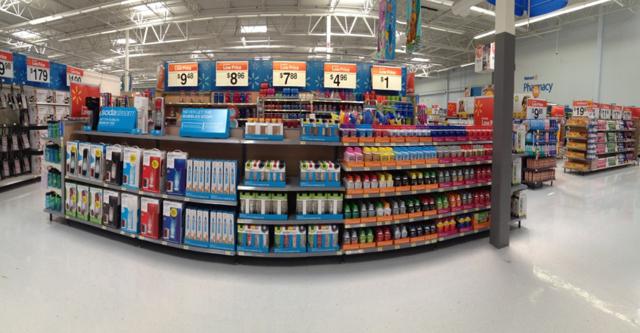 The most appropriate way to view this pipeline build into Wal-Mart is by extrapolating a formula or equation. Since SodaStream sales commenced at Wal-Mart in late 2012, SodaStream has maintained 4ft. of selling space at the roughly 3,000 Wal-Mart stores in the United States. By adding another 20ft (existing 4ft maintained in home location for a total of 24 ft. at 1,600 locations) at 1,600 Wal-Mart stores, this is the equivalent of expanding by 32,000 linear feet of selling space without adding any new retail stores or any new supply lines. SodaStream has never seen such a massive pipeline build in its history as a public company, to my knowledge.
Naturally, there is a price associated with this kind of shelf space allocation from the world's leading retailer. We would think it wise to factor out about 6ft. of shelf space in gross margin impact to account for the cost of selling goods, consistent with promotional pricing for soda makers and flavor syrups during the quarter. Although this is only an incremental impact, factoring this in might also help to better explain why the company expects gross margins to remain around 51% for the year and flat year-over-year. Even when accounting for this gross margin impact, this leaves an outsized chance of considerable revenue increase year-over-year from Wal-Mart sales, which was alluded to on the 1st quarter conference call.
Some investors are considering that this increase in shelf space and inventory at Wal-Mart has the potential to lead to another inventory overhang issue with the retailer. Barclays recently downgraded shares of SodaStream on this possibility as well, citing the following in their downgrade:
Meanwhile, the company is working at optimizing its current network and announced it will run a special product placement at WMT, with 20-foot shelf sets in 1,600 Wal-Mart stores. SODA will also potentially be launching new products. All positive developments but laced with execution risk.
What can't be easily recognized in the photograph above is how many machine units are on the shelf. The red, white and blue Play soda makers are only one unit deep per shelf, and this is the paradigm for most of the 1,600 stores participating in the event. Only the black Play is two units deep. Given the average rate of sale for soda maker kits at Wal-Mart, it is more likely that reordering of the Play is an issue than inventory excess at the end of the three-month event. Bottles and CO2 are still showing YOY increases in sales, and the most usual issue with these two products is low inventory levels not supporting consistent demand increases; one should not expect any inventory issues with these products. Syrups are receiving 8ft. worth of shelf space for the event. Some new and returning flavors are presented in the event such as Cooking Light, Diet Ocean Spray, Mango Energy, Cranberry Energy, Country Time Pink Lemonade and Crystal Light Peach Iced Tea. Additionally, a value size for Cola and Diet Cola are available during the event. As it pertains to flavor inventory, we are of the opinion that this inventory will take a little longer than 3 months to sell through and is the most apparent reason for the product line transitioning to an end-cap at the end of the 3-month event. Here is where the planning for YOY sales comes into play, as I will outline more broadly.
During the 3rd quarter of 2013, I think we all remember the infamous Wal-Mart e-mail leak that resulted in shares of WMT plunging in the middle of the trading day. The internal e-mail noted Wal-Mart would be lowering inventory levels across multiple categories in order to better manage its inventory levels across its retail stores. SodaStream flavor syrup inventory was very much disrupted by this executive decision at the retailer, as inventory levels of SodaStream syrups was very low and unable to meet the demand from consumers at Wal-Mart. Orders for flavor syrups didn't normalize at Wal-Mart again until the 4th quarter ordering cycle. Given this year's expanded shelf space at Wal-Mart for flavor syrups, the timing of this event could not be better, as it bumps up against a low Q3 comparison from the previous year.
In recognition of these variables, which are absent the Barclays' downgrade report and analysis, I am modeling my Q2 and Q3 projections differently. It should also be recognized, that while Barclay's did downgrade shares of SodaStream to underweight from equal weight in conjunction with lowering the price target from $40 to $35, the analyst raised FY14 EPS expectations and now has FY15 revenues modeled to grow at 20 percent. It seems confusing, given that SodaStream is only expecting to grow revenues by 15 percent in 2014. It should also be noted that this analyst carried a $100 price target on SODA in 2013. But the analyst does offer himself an "out" in his downgrade report by stating the following:
If SODA's marketing campaign at WMT was to be successful, this could have a positive domino effect into the holiday season that would see SODA take prominent product positioning at additional retailers just as soda machine sales begin to pick up in the second half of the year. In that case we wouldn't be surprised if SODA was to raise its FY2014 guidance, which could drive the stock price higher.
In recognition of the Barclays reporting, it is likely that until sell-through data in the U.S. shows significant demand creation/results from the Wal-Mart initiative, SodaStream won't change its FY14 guidance. Investors should also keep in mind that Wal-Mart USA represents a portion of SodaStream's total Americas revenue. But that's enough about Barclays for now, as we will take a closer look at this report in future SodaStream updates.
As we dig deeper into the 2nd quarter, I would suspect that SodaStream will announce its commencement of sales in Mexico, which was hinted at by Scott Guthrie, General Manager of the Americas region, on the latest conference call. Modeling for roughly 1,000-1,500 new stores in the region would be another major pipeline build for the company during the 2nd quarter. We have reason to believe that most of the new stores in Mexico will be associated with Wal-Mart Mexico and Sears Mexico (NASDAQ:SHLD).
Moreover, SodaStream has expanded more broadly into the drugstore channel in Germany during the 2nd and 3rd quarter through a new retail partnership with DM drugstores. The distribution expansion will include roughly 1,700 DM stores. This represents yet another strong pipeline build for SodaStream in Western Europe.
SodaStream's management team did briefly discuss that it would be testing more grocery doors in the Americas during the course of the year, although they did not give greater details on the subject matter during the conference call when questioned by analysts. My extensive resources have uncovered when and where some of the new points of grocery retail sales locations will take place, some of which are in Canada and some are in the United States. Just like the information regarding the expanded shelf space provided at Wal-Mart, our full scale IHH report discloses the details on this grocery channel expansion, which will likely take place in the back half of 2013. How meaningful will these new points-of-sale be to SodaStream and what is the size of this expansion into the grocery channel should be the questions on the minds of investors.
Competition?
I have been outlining SodaStream's unbeatable economic moat for a couple years now. That specific point of analysis is most evident in what Keurig Green Mountain (NASDAQ:GMCR) is being forced to do in order to enter the home carbonation category. By accepting that it can't compete with SodaStream on price and practicality for a brewer system, GMCR is forced to try and invent a premium home carbonation category, as evidenced by GMCR's latest comments with analysts and investors:
On the first part of the question, Jon, I would say that, certainly, the strategy and the proposition that we have with our cold, Keurig Cold, is likely to premiumize the category, because it offers added value to the consumer.
I have taken into consideration analyst pricing models for the Keurig Cold system, and most analysts are modeling Cold Pods at roughly $.55-$.65 per pod or the equivalent of 10oz. of drink. I'm not sure how this premium price [let's say for a glass of Coke (NYSE:KO)] is a value to the consumer. Doesn't increasing the cost on the same product (10oz. of Coke in) devalue the product? It certainly devalues your dollar. There is simply no rational logic in GMCR's statement along these lines of the existing product. But that is not the point being identified in this topic. The point being identified is that SodaStream's economic moat has been validated by GMCR's initiatives and forced premium category development.
I find it very interesting that Brian Kelley, CEO at GMCR, uses the very same analogy to describe the lack of convenience in their Keurig Cold system that I have published in reports on different media outlets over the last year. I must have said it a dozen times. Nobody needs a Keurig Cold or a SodaStream. There is no relative convenience in these systems. The manufacturer has to develop systems that have benefits beyond the most glaring obstacle within the system; it is far easier to simply grab a cold Coke from a refrigerator than fool around with a brewer system to get that same Coke at a higher cost. Secondly, coloring a benefit with the word "convenience" further evidences what the systems lack in practicality/usage. Now let's look at what Mr. Kelley said directly on GMCR's latest conference call:
It's not necessarily that we're going to bring time savings to the process of reaching in the refrigerator and grabbing a cold Coke, or a cold beverage. It's going to be able to deliver a great tasting fresh beverage in a very sustainable way and do it in a way that is -- the consumer feels like they're crafting their own beverage and it brings significant convenience in a different way with storage, with the ability to shop and bring it home, storage in the refrigerator, storage in the pantry and so consumers have spoken loud and clear to us about they see the convenience in this but it's a little different.
As it pertains to the CEOs statements of "convenience," if you want to use cupboard space, refrigerator space and breadth of choice as your value orientation for the consumer to buy into your system, this only works if the aforementioned price structure is competitive with the existing beverage delivery system; grabbing a can of Coke from the fridge. Essentially, the "premiumization" creates a cannibalization of your other value propositions rendering the whole system disadvantageous to the consumer and more likely to underperform in the marketplace.
Secondly, how does this product save one cupboard or pantry space and thus add convenience? Think about it a second, just the pure spatial reasoning of the statement. We know how big a box of K-cups is and a 2-liter bottle and a 12-pack of Coke are, right? Now, if you want the same amount of Coke consumption that you get today, but in a Cold Pod form, where exactly do the space savings come from? It's really not much difference with coffee, as evidenced in the marketplace. I hear people all the time say, "Well look at the size of a box of K-cups compared to a can of coffee grounds." However, they never seem to state that in order to get that same amount of coffee in the can of grounds, they have to buy at least 2-3 boxes of K-cups which are collectively larger in size than one can of grounds.
Rarely do you see a consumer buy one-box of K-cups at a time, as evidenced in Keurig's consistent e-mail coupons which offer a discount with the purchase of multiple portion packs. The consumer will have a choice in their head when they see the product on the shelf at the premium price. They will ask themselves the unavoidable question, "Do I want to spend $150-$200 for a Keurig Cold and increase my cost per liter for Keurig/Coke products, or am I comfortable with my existing Coke products at a cheaper price?" The logic which Keurig and Coca-Cola are using to develop this new product line is somewhat concerning as it is counterintuitive to the direction of the entire carbonated soft drink beverage category at this time. For those who find comfort in recognizing Coca-Cola's endorsement of the Keurig Cold product line in development due to the marketing power of Coca-Cola, this may be another concerning point. Keep in mind that for all the marketing power behind the Coca-Cola brand, the company's CSD volumes have fallen back to levels not seen since in nearly 10 years and with a global population that has grown considerably during that time. For every marketing dollar they have spent on CSD brands, they have witnessed a negative return in the last decade.
None of the aforementioned factual representations and forward looking analysis offset what Keurig is trying to get investors and analysts to understand; it will take time to establish a user base for Keurig Cold. The company does not expect to sell a million soda makers in its launch like many hope to see happen; the market and category simply isn't big enough for this to happen today. SodaStream certainly didn't sell a million soda makers when it relaunched back in the earlier part of the decade. Bevyz Global will launch its Bevyz Fresh beverage maker later this year, and the company is hoping to see 10,000-15,000 units sold in its first full year.
Keurig Cold will not likely see its debut for another 8-12 months as the company is highly focused on its Keurig 2.0 launch later this year, as disseminated by the company's CEO recently:
For several quarters now, I've highlighted three key transitions that we are executing this fiscal year. The transition to our new Keurig 2.0 brewers, the transition to portion packs that are compatible with the 2.0 brewers and we are welcoming additional brands into the Keurig system. We continue to make progress on all three of these initiatives and I'll speak to each later in the call.
The reality is that SodaStream is in competition with itself until Keurig Cold launches in 2015. The company is competing with its sales from last year and nothing more, but it sure is cause for great speculation and media hype to consider otherwise. SodaStream has already indicated that the company has a new product line set to launch in 2015 that takes the home carbonation category to the next level, just when Keurig/Coke are trying to get their respective feet wet in the category.
Disclosure: I am long SODA. I wrote this article myself, and it expresses my own opinions. I am not receiving compensation for it (other than from Seeking Alpha). I have no business relationship with any company whose stock is mentioned in this article.