Another Day Closer to the Truth
The NQ Mobile (NYSE:NQ) beat plays on.
Investors are currently in what has become a year-long process to try and determine whether or not NQ Mobile is a company that's inherently fraudulent at its core, or not. Massive risk remains for those long the name, but the allure of doubling, or possibly even tripling their money has had investors continue to defend the long side of the equation. There is no doubt that with the greatest risks come the greatest rewards. However, in this case, investors should not be risking anything they cannot afford to lose.
NQ Mobile is a global mobile security and productivity company that's co-headquartered in both Beijing and Dallas. As of June of 2012, NQ claimed it had about 200 million registered user accounts.
As I'm sure almost all of you know, Carson Block, of research firm Muddy Waters, claims that the company is a massive fraud and a "shell game." Among other things, Mr. Block has claimed on Bloomberg TV that almost 90% of NQ's major revenue was non-existent, claiming the company is its own biggest customer.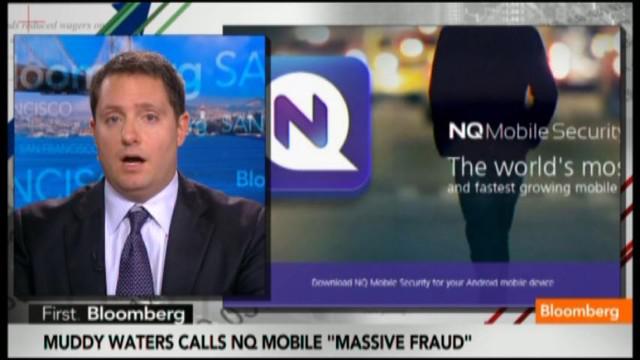 NQ has refuted Block's claims, and the year-long dance to prove the company's legitimacy was born.
Of late, the shorts seem to have been getting the upper hand, as NQ has mysteriously failed to produce its 2013 annual report, nor has it been able to produce a third party report that is supposed to prove or disprove whether or not the company is acting in a fraudulent manner.
As investors wait for those two items, the stock price has been a rollercoaster ride - dipping when the company filed for an extension for its annual report and skyrocketing this past Friday on higher guidance issued by the company.
Shorts are Squeezed Out on "No News" News
Imagine my surprise as I walked downtown on Friday and saw Seeking Alpha's breaking news on NQ pop up on my phone. The news read:
Citing enterprise (NationSky) strength, Mobile now expects Q1 revenue to top prior guidance of $75M-$76M; the consensus is at $75.3M. NQ is also setting Q2 revenue guidance of $83M-$84M, above a $78.9M consensus.
NQ's enterprise mobility revenue rose 53% Q/Q in Q4 and made up 35% of revenue, albeit while pressuring the company's gross margin.
Separately, NQ has announced it's selling up to a 5.88% stake in its FL Mobile (mobile gaming) unit to Bison Capital and other investors for $25.
The deal gives FL a "post-money valuation" of $425M, and (notably) features a redemption right if FL Mobile doesn't do an IPO within 12 months of its closing.
Shares were crushed two weeks ago after NQ further delayed the filing of its 2013 annual report, and had fallen further since. Over half the float was shorted as of May 15; a squeeze appears to be in full effect today.
Surely this means exoneration for NQ, right? Not necessarily.
As a product of this news, the stock opened the day running as much as 25%.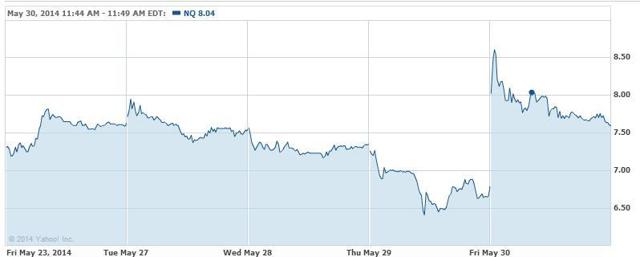 As you can see, the hysteria hit its peak in the morning, pushing shares of NQ Mobile higher by nearly 25%. As the day continued, the stock gave back a lot of its gains - why could this be?
Could that be a product of just having no more short to squeeze out? The morning's run was surely fueled by the massive short interest in the company heading into the trading day.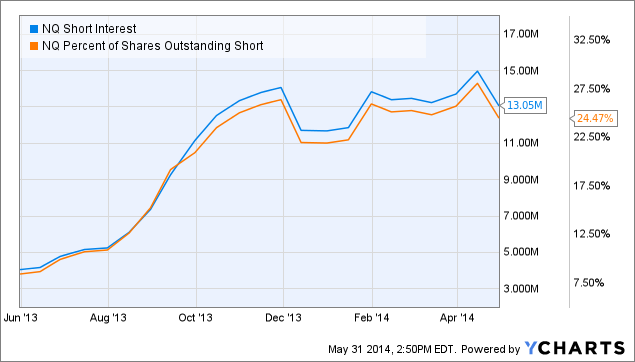 NQ Short Interest data by YCharts
There was massive short interest in NQ leading up to Friday - and for good reason, in this investor's opinion.
Or, perhaps the paring of the stock's gains was for another reason - people started to realize that the news offered on Friday didn't include anything with regards to the company's annual report, an audit opinion, or audited financials. What investors have deemed "the missing link" from NQ, has yet to show up. I'll go one step further and say that when the audit does show up, it's still likely to be meaningless.
As you can see from NQ's site, no such documentation has been filed with the SEC. Nor has the company filed the required 8-K to accompany the news of its raised guidance. It has several more days to do so and will likely do so in the coming week.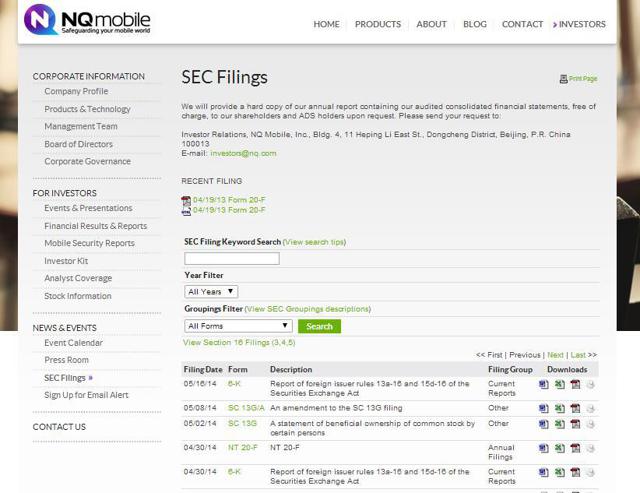 What this news really means, for the time being, is nothing.
What I mean by that is that the validity of this news - essentially raising guidance - is bound by the fact that the company has to be legitimate. If the company winds up being fraudulent, the guidance (or anything else directly from the company and not from an objective third party) is meaningless.
Just to tap into the mindset of people who are long companies like NQ in the midst of massive questions is - in and of itself - enough of a task to warrant its own article. SA Contributor "Overanalytical" wrote a nice piece the other day talking about emotion and how it skews the views of longs who are in a stock that has tons of outstanding questions surrounding it - similar to the situation NQ is in right now.
Simply put, if you're a fund manager or institutional investor, it's downright irresponsible to have other people's money tied up in a stock like NQ, when so many other opportunities - literally thousands - are out there.
Aside from even more analysis that NQ's relationship with Yidatong appears to be "unnecessary and even financially detrimental" to NQ, longs continue to plead their case.
In an article that continues to identify issues surrounding NQ, some key questions were raised. Courtesy of Goldbaum Research:
Why hasn't NQ Mobile negotiated with China Mobile (NYSE:CHL) to directly bill their users like other companies instead of relying on Yidatong, given the supposed strong business relationship NQ has with China Mobile?
Do they believe a recent market share report showing NQ Mobile has less than 3% market share for mobile security apps in China is accurate? If not, why?
Why does NQ Mobile seem to be doing so much more marketing for the Inmotion SCV transport devices in China when compared to its core business of mobile security apps?
What percentage of the Inmotion SCV company does NQ Mobile actually own, if any?
There is no doubt about it - questions about NQ Mobile continue to loom.
NQ's Audit is a Lose/Lose Situation, It Seems
Which brings us to the audit.
The purpose of an audit is to address GAAP, not the underlying business model. Therefore, an audit opinion does not - I repeat, does not - necessarily equal a sound business model. Auditors are auditing the accounting process behind arriving at the numbers that are publicly disclosed - they are not performing a full audit of the business model to determine whether or not those numbers were derived from legitimate sales, etc. For the most part, auditors use the numbers the company gives them. I know this from being on the inside of a company while it was being audited, having a friend that works for PwC who I bounced questions off of, and from following the public markets for years.
Check out PwC's official definition of a public company financial statement audit: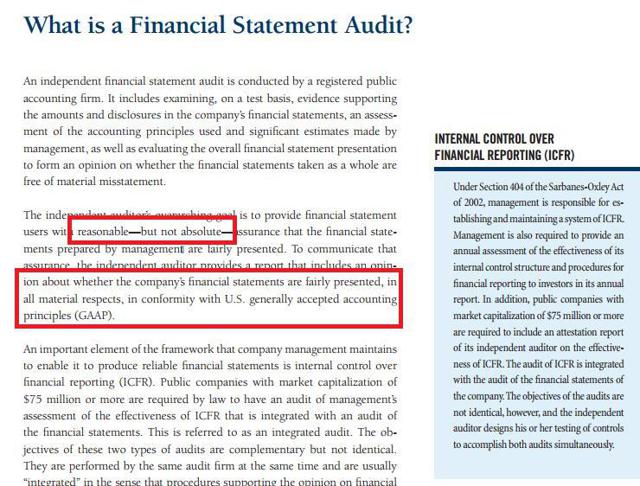 An audit is often wrongfully hidden behind by management and longs of a company that is in question. They try and use it as a shield; investors who don't know what an audit entails and simply think it's an audit of the business model are generally very impressed when it comes back "clean."
For instance, we have plenty of information that causes me to believe that Herbalife (NYSE:HLF) is intrinsically running an enterprise which I think is fraudulent. Herbalife has had audited financials forever, and Herbalife longs continue to cite them as proof that the business model is sound. Except, again, the audit doesn't determine whether or not Herbalife is a pyramid scheme, just that its numbers are booked in accordance to GAAP. If the audit really determined everything, why would the FTC, SEC, DOJ, and FBI all have gotten involved after the company's audit came back "clean" earlier in the year this year?
Don't believe me? Think ole' Quoth is just trying to pen a "hit piece" on NQ and stretching the truth? Ask a guy like Cramer, he knows a little bit about the stock market. While the Herbalife audit was in discussion, Cramer set a bunch of longs right by telling them the audit isn't about whether or not Herbalife is a pyramid scheme, it's just about abiding by GAAP:
(source - Jim Cramer, who has blocked me on Twitter)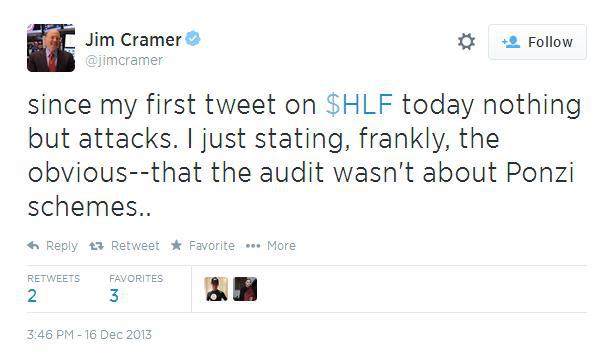 Again, companies like Enron, WorldCom, Crazy Eddie's - they all came up with clean audits.
Don't believe me still? Pop on over, on Twitter, to visit my buddy Sam Antar - a former felon who now works on exposing white collar fraud. Sam was the CFO for Crazy Eddie's during the height of its fraud. Sam personally swindled several auditors into thinking that Crazy Eddie had far more inventory than it did. Crazy Eddie's, of course, received clean audit after clean audit before the fraud was discovered.
Ipso facto, this is why an audit is a lose/lose for NQ. Let's identify the two possible outcomes for NQ's audit:
1. The audit opinion comes back clean, the stock will likely rally under false pretenses, but we know nothing new about whether or not NQ's business model is intrinsically sound. (This is similar to the company's response of moving cash to a new bank account to prove they have it - the allegations aren't that they don't have the cash, it's the means by which they acquired it - a case study in smoke and mirrors.)
2. The audit is held up, for one reason or another, which is what would seem to be the case right now. Either a going concern is issued or the auditors take issue with items (or, worse, the auditors potentially resign). This would likely spell disaster for NQ's long investors for both the short, and the long term.
The Risk of Total Loss Is Real
The risk of loss with NQ remains extremely real. Some people take these articles as "crying wolf," but if there's one person that can reconsider or one less person that gets fleeced if NQ turns out to be a full fledged fraud, it'll be worth it.
As an additional reminder, SA Contributor "The Pump Stopper" published a piece earlier this month, claiming that NQ Mobile is under investigation by the government. The article read:
I have shocking NEW information: Per a SEC Freedom of Information Act Request - there is an ongoing Law Enforcement Investigation into NQ now as well!

Muddy Waters has criticized that the Special Committee isn't truly independent and even offered to pay for an independent accounting firm to evaluate the credibility of the investigation. Now it looks like there is a truly independent party that works for the US Government here to investigate as well!

I highlight the specific relevant language out of the FOIA document:

"We are withholding records responsive to your request under 5 U.S.C. 552 (B) (7) (A), 17 CFR 200.80 (7) (I). This exemption protects from disclosure records compiled for law enforcement purposes, the release of which could reasonably be expected to interfere with law enforcement activities."

From the Department of Justice Guide to the Freedom of Information Act:

"The first subpart of Exemption 7 of the Freedom of Information Act, Exemption 7, authorizes the withholding of 'records or information compiled for law enforcement purposes, but only to the extent that production of such law enforcement records or information . . . could reasonably be expected to interfere with enforcement proceedings.'"

THIS IS IRREFUTABLE EVIDENCE THAT A LAW ENFORCEMENT INVESTIGATION INTO NQ MOBILE IS CURRENTLY UNDER WAY
At this point, NQ is nothing more than a lottery ticket gamble for those that are going long the company. Yes, there's a chance of major reward if the company is found to be exonerated, but the chances of that continue to look slim.
Until such a day where NQ is demonstrably, totally exonerated, the risk of total loss is real. I'd avoid NQ Mobile here.
Sources
(1) Press release and IR image sourced from NQ Mobile's Investor Relations site, available here.
Disclosure: I have no positions in any stocks mentioned, and no plans to initiate any positions within the next 72 hours. I wrote this article myself, and it expresses my own opinions. I am not receiving compensation for it (other than from Seeking Alpha). I have no business relationship with any company whose stock is mentioned in this article.