Today's tech industry is one of the most fast paced, dynamic, high growth and high risk industries in the world. Companies come to dominate their sector within years and old behemoths can fall fast (just look at the rise of Facebook and the fall of MySpace). Of course this reality is not limited to internet websites or apps; even hardware manufacturers can fall victim to the cruelty of this industry. A prime example is BlackBerry (NASDAQ:BBRY), once the dominate force in smartphones and business is today barely hanging on to life, losing billions of dollars each quarter and struggling to maintain its small market share. The lesson of BlackBerry is that its leadership failed to accept and adapt to the new reality - touch screens were here to stay. Tech Companies must always be mindful of change and seek out innovative opportunities for growth. Advanced Micro Devices (NYSE:AMD) is similar in some ways to BlackBerry, in the last few years, profits have turned into losses, revenue has declined and it has been struggling against powerful rivals. Unlike Blackberry, however, their management has recognized the problems in time and begun to move the company in a profitable direction. Despite this the stock price has been falling and the market has shown an opportunity for the intelligent investor to buy AMD at a bargain.
AMD Undervalued
The current price for a share is $4.00, which comes to a total market capitalization of just $3.05 billion. Yet, AMD is a company with assets of $4.1 billion, including $2.7 billion of current assets and $0.9 billion of cash and marketable securities. Furthermore, AMD's enterprise value is $4.3 billion (41% higher than their market cap) and has working capital of $1.3 billion (43% of the market cap value). All these point to an enterprise that is undervalued in the market; the question now is whether or not AMD can return to stable profits and regain their lost market capitalization.
Q1 2014 Results
AMD earned a profit of $12 million or $0.02 per share in the first quarter of 2014 on sales of $1.4 billion and operating income of $66 million. This was the company's third profitable quarter in a row and represents an increase in revenues of 28% from Q1 2013. These are reassuring results but also consider:
The last four quarters have seen total net profit of $43 million
Second Quarter revenues are estimated (by management) to increase by 3% from Q1 2014 which is a 24% growth from Q2 2013
Management is focused on improving profitability by focusing on growth segments and reducing operating expenses by 30% since the start of 2012
These strong results from a typically weak first quarter along with expected sales growth are encouraging, but there are far more important things to consider when analyzing AMD.
Strategy
I mentioned earlier that it's critically important for tech companies to constantly innovate and be mindful of changes within the tech industry. In the past AMD's focus has been on their 'PC solutions' business, but in the last couple of years management has switched their focus to 'Graphics and Visual Solutions'. This is a smart plan because they are turning focus away from the sector where Intel (NASDAQ:INTC) is the dominant player and shifting into a sector where they themselves are a top player. Additionally, management has decided to steer away from the "high volume, low margin" business of smartphone processors and instead focus on tablets, two in ones, laptops, and dedicated gaming consoles. This is a critically important strategy because it will allow AMD to increase both sales and profitability while avoiding their biggest competitor Intel as much as possible. The results of this strategy are shown in the chart below:
| | | |
| --- | --- | --- |
| | 2012 | 2013 |
| Computing Solutions | $4,005 | $3,104 |
| Graphic & Visual Sol. | $1,417 | $2,193 |
| Other | - | $2 |
| Total | $5,422 | $5,299 |
Sales of their Graphics solutions have increased 55% from 2012 while sales of their PC solutions have decreased 22% (largely due to stiff competition from Intel). It's not only the sales that are the issue, operating profits from their PC solutions segment have been negative the last two years (a loss of $231 million in 2012 and $22 million in 2013), while their Graphics solutions segment has had growing operating profits the last three years ($51 million in 2011, $103 million in 2012, $216 million in 2013). This trend has continued into the first quarter of 2014 with operating profits of $91 million for their graphic solutions business while they still ran a slight loss of $3 million on their PC solutions business. The management of AMD has promised to continue this strategy into 2016 and remain focused on generating profits each quarter and to pay down long-term debt. I believe this is a winning strategy that will return the company to profitability this fiscal year and increase their stability as well as their growth potential.
Stock Performance
The graph below shows AMD's stock price going back to when they were last profitable - in 2011. Back then the company's PC solutions segment was doing great and their stock price topped $8.50 per share.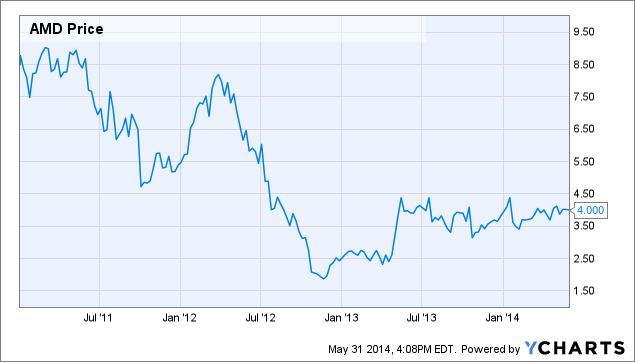 Since then, the price has fallen as the company's sales decreased and their profits disappeared. The fall was justified. But, the current price is not reflecting the progress AMD has made the last four quarters and is certainly not showing the future value and potential this company has. Other things to consider:
AMD has the lowest Price to Sales ratio in the industry at just 0.55 compared to an industry average of 17.79 and Intel's 2.54
Trailing P/E ratio is a misleading 83.3 due to low profits, forward P/E ratio is a much more reasonable 17.3
The stock price increased to above $8 per share when it released results showing a profitable 2011, another strong increase could be expected when profitable fiscal 2014 results are released
Conclusion
With AMD's new strategy already showing signs of turning the company back into a profit machine and with the great potential of growth from their new graphics focused approach, AMD can look to deliver and exceed investors' expectations. Furthermore, as sales and profits improve, AMD's stock price will increase to reflect the true value of this company. I rate as a strong buy at $4 per share.
Disclosure: I have no positions in any stocks mentioned, and no plans to initiate any positions within the next 72 hours. I wrote this article myself, and it expresses my own opinions. I am not receiving compensation for it (other than from Seeking Alpha). I have no business relationship with any company whose stock is mentioned in this article.