As mentioned in the long term forecast of gold prices, investor demand with fear of the world economy and low returns on the other investments has been the main drive behind the upward gold price trend.
In the long run gold prices surge when the government's official policy is low interest rates, accumulating deficits, and quantitative easing.
How to Benefit From the Price Movement?
As mentioned earlier, investing in physical gold has some drawbacks when compared to other investments tools like shares, bonds, and property that give dividends, coupons, and rent. An option would be to invest in gold mining companies to gain exposure to dividends and capital gains.
Newmont (NEM), one of the biggest gold producers, has assets and operations in the United States, Australia, Peru, Indonesia, Ghana, Canada, New Zealand and Mexico. As of December 31, 2009, Newmont had proven and probable gold reserves of approximately 91.8 million equity ounces. Newmont stock (NEM) on NYSE has a 52-week high and low of 63.38 and 41.45, respectively.
Pointing to a recent analyst opinion, GMP analysts George Albino and Matthew Sheppard agree that Newmont is in a good position to outperform, stating that their challenge is increasing gold production.
How To Trade Newmont?
Newmont is performing well and the stock price is well above its main support levels. This makes it risky to enter into a long position. If you already hold Newmont stocks, great, hold on to them. But if you are looking for an entry point you might want to wait for the prices to lower to reduce the risk of your trade.
Gold prices are bouncing back from the strong resistance level of $1260 area and will likely drop lower before gaining the momentum and the volume necessary to cross over the June high. Assuming we are right, stocks of Newmont could consolidate with fall of the gold prices.
A pull back towards the $55.5 area provides a good opportunity to enter into a long position. If the scenario holds, with an upward move on gold prices, stock will resume the upward trend and break the resistance level at $63. Once it closes above this level with good volume, it has a lot of room to grow in making a new high.
click to enlarge image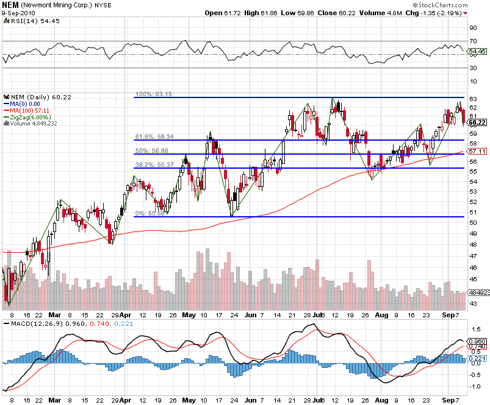 Chart courtesy of Stockcharts.com
The stock has a short-term support at $58.5 and a strong one at $53. As shown in the chart, the $55.5 and $58.5 levels are Fibonacci retracements that confirm with the price support levels.
Disclosure: No positions