In the ongoing search for strong dividend paying stocks, it's becoming increasingly clear that foreign dividend stocks need to be considered.
With that in mind, this week we screened for foreign dividend stocks that trade in the US as ADRs, with upcoming 2010 dividend payouts, debt/equity below 1, and low next-year PEG ratios.
(Note: the ex-dividend dates and payouts listed below are approximate dates and amounts, based on recent history, as some of these dividends haven't been declared yet. Verify dates and payouts with your broker before investing.)
Here are brief profiles for these 6 stocks:
Banco Santander (STD): A financial group operating principally in Spain, the United Kingdom, Portugal, other European countries, Brazil and other Latin American countries and the United States, offering a range of financial products. It operates in 4 segments: Continental Europe, United Kingdom, Latin America and Sovereign. STD pays approx. $.16/share quarterly – its next ex-dividend date should be around Oct. 13th.
(STD is currently listed in our High Dividend Stocks by Sector Tables, in the Financials section.)
Eni SpA (NYSE:E): Italy-based Eni is in the oil and gas, power generation, petrochemicals, oilfield services and engineering industries. Eni has operations in 77 countries as of December 31, 2009. It operates in five segments: Exploration & Production, Gas & Power, Refining & Marketing, Petrochemicals and Other segments. Eni pays semi-annually. Its next ADR ex-dividend date is Sept. 17th, with a payout equivalent to 1 Euro/share.

Ensco plc (NYSE:ESV): UK-based Ensco is an offshore contract drilling company. As of February 15, 2010, Ensco's offshore rig fleet included 42 jackup rigs, four ultra-deepwater semisubmersible rigs and one barge rig. Additionally, it had four ultra-deepwater semisubmersible rigs under construction. Ensco's operations are concentrated in the regions of Asia Pacific, which includes Asia, the Middle East and Australia, Europe and Africa, and North and South America. It operates under four segments: Deepwater, Asia Pacific, Europe and Africa, and North and South America. Ensco pays $.35/share quarterly. Its next ex-dividend date should be approx. Dec. 1st.
Toronto Dominion Bank (NYSE:TD): A Canadian bank serving approximately 17 million customers in four segments: Canadian Personal and Commercial Banking, including TD Canada Trust and TD Insurance; Wealth Management, including TD Waterhouse and an investment in TD AMERITRADE Holding Corporation (TD Ameritrade); U.S. Personal and Commercial Banking, including TD Bank, America's Most Convenient Bank, and Wholesale Banking, including TD Securities. The Bank also acts as online financial services firm, with more than 5.5 million online customers. On June 11, 2009, TD Waterhouse Canada Inc., a subsidiary of the Bank, acquired thinkorswim Canada, Inc., an online options trading brokerage. TD pays approx. $.58/share quarterly. Its next ex-dividend date should be around Oct. 1st.

Total SA (NYSE:TOT): France's Total is the fifth largest publicly-traded integrated international oil and gas company in the world. An integrated international oil and gas company, with operations in more than 130 countries, TOTAL engages in all aspects of the petroleum industry, including Upstream operations (oil and gas exploration, development and production, liquefied natural gas (LNG) and Downstream operations (refining, marketing and the trading and shipping of crude oil and petroleum products). It also produces base chemicals (petrochemicals and fertilizers) and specialty chemicals for the industrial and consumer markets. In addition, TOTAL has interests in the coal mining and power generation sectors, as well as a financial interest in Sanofi-Aventis. It is also active in solar-photovoltaic power, both in Upstream and Downstream activities. TOTAL's worldwide operations are conducted through four business segments: Upstream, Downstream, Corporate and Chemicals.
Total pays semi-annually. Its next ex-dividend date should be around Nov. 9th, with an approx. $1.61 payout, based on 2009's Nov. payout. But this hasn't been declared yet.
Willis Group Holdings (WSH): A UK-based global insurance broker. Through its subsidiaries, Willis develops and delivers professional insurance, reinsurance, risk management, financial and human resource consulting and actuarial services to corporations, public entities and institutions around the world. Willis has more than 400 offices in nearly 120 countries, with a global team of approximately 17,000 Associates serving clients in virtually every part of the world. WSH pays $.26/share quarterly. Its next ex-dividend date should be around Sept. 28th.

Here are selected Financial metrics for these firms: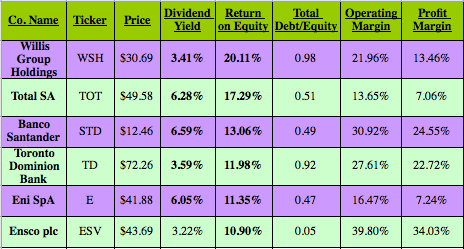 Here are Valuation metrics:
click to enlarge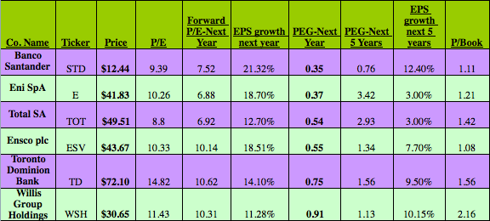 As you can see from the table above, the good next-year growth prospects for these stocks are translating into low next year PEG ratios. The next-year PEG ratios, however, are much more attractive, at present, than the 5-year PEG valuations, and appear to support taking a shorter-term view of some of these equities.

One conservatively bullish strategy that would also give you more downside protection and even higher yields, would be to sell cash secured put options on these stocks. As the following table illustrates, there are high yielding cash secured puts for all of these foreign dividend stocks. Excepting WSH, all of these trades expire in Jan-Feb. 2011, approx. 5-6 months: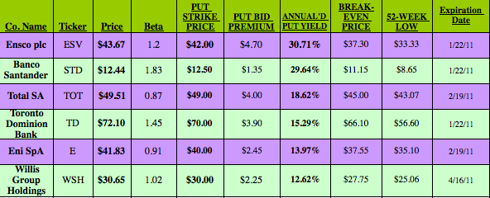 Disclosure: No positions at this time.
Disclaimer: This article is for informational purposes only, and isn't intended as investment advice.