Disney (NYSE:DIS) is on track to deliver one of its stronger years in the company's history, which is reflected in the company's stock trading at an all-time high. The Disney film "Frozen," a two-time Academy Award film, is leading the way, with $1.22 billion in worldwide box office sales since its Disney Studios Film debut last November.
Disney is a conglomerate, with six divisions that each are leaders in their respective industries, and its ability to leverage the success of a film like "Frozen" is one of its key strengths. Iconic films and characters are just part of the equation of a successful Disney. Disney's stock value is made up from ESPN, Disney Parks and Resorts, Consumer Products and Interactive Media, Disney Channel, Disney Studios, and ABC Broadcasting.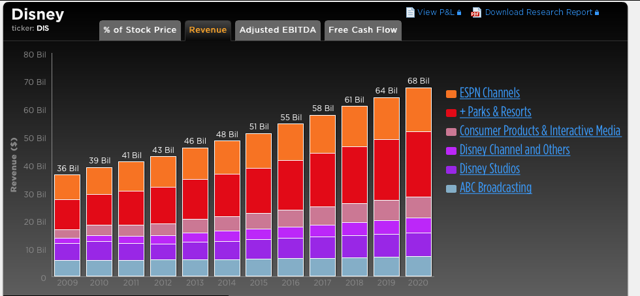 Click to enlarge
Source: Trefis Disney Total Revenue from 2009 to 2020
ESPN accounts for 35% of Disney's stock price. ESPN, provides both live and taped coverage of sports, and is cashing in on the 2014 history-breaking NBA Playoffs. The first round of the NBA playoffs has seen the most game 7s in NBA history. Not only has this increased viewers, but every extra game is millions more in revenue for ESPN. Further, Disney will collect the biggest paycheck of the NBA season, with ABC owning the rights to the NBA Finals. In 2012, the advertisers paid a neat $1,000,000 for a minute of airtime. There is no reason to doubt that type of advertisement demand for the 2014 NBA Finals, which will be a rematch between the Miami Heat and San Antonio Spurs. Miami beat the Spurs last year, and is looking for a third consecutive NBA title.
ESPN is in the midst of the 'perfect storm' for sports, in which the NBA Finals game will only be one of many huge sporting events ESPN will broadcast. Mike Tirico, announcer for ESPN's Monday Night Football explains;
Thursday, June 12, All in one day, I'll be in Rio with the rest of our team getting set for the opening day of the World Cup soccer tournament. We'll also be airing the first day of the U.S. Open Golf Championship at Pinehurst in North Carolina. And on ABC, they'll be airing game 4 of the NBA finals, likely in Miami. On that day, like every other day around this place, SportsCenter will act as the hub in and around all of these huge events, keeping everyone connected.
ESPN covers all these games due to the fact that they have multiple cable channels and an online platform that extends to mobile apps allowing for the maximum number of viewers, which in turn drives ad revenue.
In 2014, Disney has also seen records broken in its film division. Disney Studios is no stranger to success, but what is interesting about the year 2014 is that Pixar will not release a film for Disney. Pixar, one of the great success stories involving the late Steve Jobs and its 2005 acquisition by Disney for $7.4 billion, has released a film every summer for eight straight years. Since Disney acquired Pixar, it has enjoyed the fact that Pixar films consistently are box office hits, ranging from Wall-E, which grossed $521 million worldwide, to Toy Story 3, which holds the Pixar record at $1.063 billion since the film's 2010 release. So with Pixar pushing its next movie into 2015, at the cost of 5% of its staff, this year looked bleak for Disney and its film arm of the company. Disney was able to rely on its tenured production company Beuna Vista, which during last November released "Frozen," an animated film that has shattered previously held records to make a new one. The film has grossed $1.220 billion to become the number one animated film and fifth overall in box office history. Disney has already introduced the film's characters into its theme parks and will continue to generate revenue from this global hit for years. Robert Iger, Disney CEO, discusses the film's ripple effect felt throughout the company;
Our unique ability to leverage content throughout the company . . . will be evident in our results from years to come. Passion for this film is so extraordinary, beyond what we imagined. It's hard to believe it wouldn't sustain itself for a long time.
Disney has done an incredible job throughout its history in being able to take a success like "Frozen" and integrate it into its theme parks and being able to develop cartoons which it airs on its Disney Channels or ABC. An inverse example would be something from the Disney Parks turned into a successful Disney film. This is something Disney showed it can do with extreme success, as the fan favorite ride "Pirates of the Caribbean" was developed by Disney's Bueno Vista into four films that have grossed over $3.7 billion.
These examples show how Disney can continue to succeed, despite hitting all-time highs in the market and selling at relatively high P/E of 20. Disney has a bright future, as the company continues to leverage and integrate its acquisitions, from ESPN, the worldwide leader in sports coverage, to Pixar and Marvel, generating blockbuster films that all continue to supply content to a neverending global demand.
Disclosure: I have no positions in any stocks mentioned, but may initiate a long position in DIS over the next 72 hours. I wrote this article myself, and it expresses my own opinions. I am not receiving compensation for it (other than from Seeking Alpha). I have no business relationship with any company whose stock is mentioned in this article.