Since Bret Jensen highlighted KBR: An Undervalued LNG Play For 2014 - the stock has sunk $32 to $24 in a rising market. Why?
KBR is global Engineering and Construction Company. It was spun out off from Halliburton in 2006. It operates in 4 segments: 1) Hydrocarbons, 2) Government & Power, 3) Infrastructure, 4) Services & Other. KBR has recently restated its 2013 earnings due to weakness in accounting controls in its Canadian subsidiary. Overall impact to valuation do not appear to be material.
Cash Return
KBR has no debt and 1.1 billion in cash. High amount of cash is needed in the business due to working capital.
The nature of the business is that earnings and cash flow are somewhat lumpy and dependent on the projects the company is getting working on. KBR produces quite a bit of cash, its current cash return is 8% and average cash return since 2008 is 10% - which is extremely robust.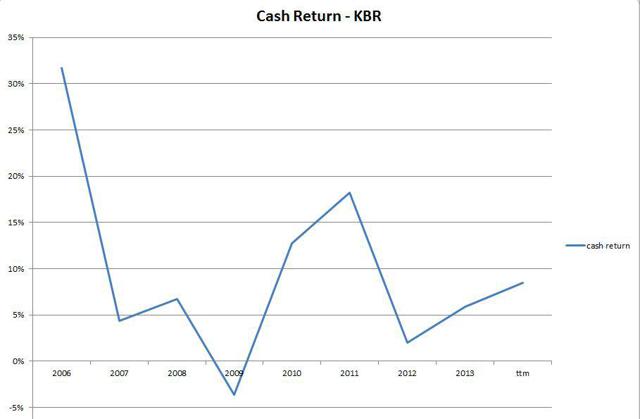 We can calculate cash return by adding free cash flow (cash from operations minus capital expenditures) to net interest expense (interest expense minus interest income), and then dividing the sum by enterprise value (market cap plus long-term debt, minus cash). We add back interest expense to free cash flow so that capital structure doesn't impact cash return. Therefore, cash Return = (Free Cash Flow + Net Interest Expense) / (Enterprise Value).
Since 2008 KBR has bought back 20 million shares thus returning substantial capital to shareholders.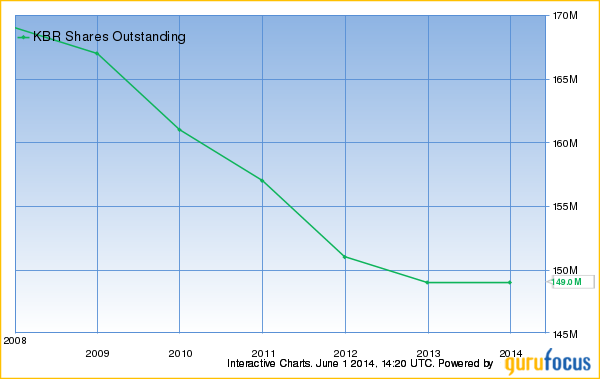 Valuation
KBR seems to trading in-line with median Price/Earnings and Price/Sales ratios but is substantially undervalued with respect to median Price/Book ratio.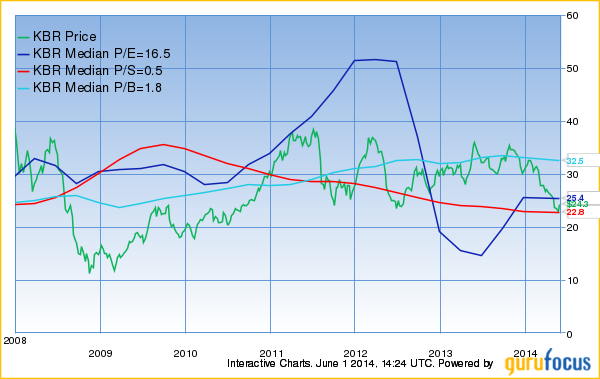 The weakness in share price is likely due to the company delivering negative earnings surprises in the last two quarters as well as the recent accounting restatement. The accounting restatement was caused by material weakness in the company's Canada operation.

Source: Thomson-Reuters.
Thomson-Reuters is projecting a PEG of 0.8 which is towards the low end of its 5 year average.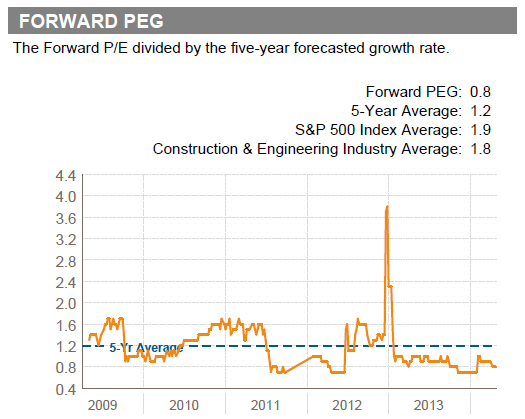 Source: Thomson-Reuters
Conclusions
KBR was a major US defense contractor active in the Iraq war. Since 2011 the revenues coming from the Iraq war has come down dramatically. The company's petrochemical segment is ramping up, driven by fracking boom in North America and is expected to increase revenue and cash return in the quarters ahead.
The company had an order backlog of over 14 Billion at the end of 2013. The company does seem to be in a "sweet spot" with respect to the boom in petrochemicals and LNG and is very active in bidding for LNG infrastructure projects worldwide.
Overall, I would put KBR on my short list of long candidates and see if the company can deliver to expectations in the quarters ahead, particularly in its LNG and Petrochemical sector.
Disclosure: I have no positions in any stocks mentioned, and no plans to initiate any positions within the next 72 hours. I wrote this article myself, and it expresses my own opinions. I am not receiving compensation for it. I have no business relationship with any company whose stock is mentioned in this article.