Verizon Communications Inc. (NYSE:VZ) stock underperformed the market in the last years; since the beginning of 2013, VZ's stock has gained only 15.5%, while the S&P 500 index has risen 34.9%, and the Nasdaq Composite Index has risen 40.5%. Nevertheless, VZ's stock is an excellent combination of good value and solid growth high-yielding dividend stock, and in this article, I will explain why, in my opinion, Verizon's stock is a promising long-term investment.
Company Profile (from Verizon website)
Verizon Communications Inc., headquartered in New York, is a leader in delivering broadband and other wireline and wireless communication innovations to mass market, business, government and wholesale customers.
Business Units
Verizon is comprised of two reportable business segments. Financial information and operating metrics are available for Wireline and Verizon Wireless.
Valuation Metrics
The table below presents the valuation metrics of VZ, the data were taken from Yahoo Finance and finviz.com.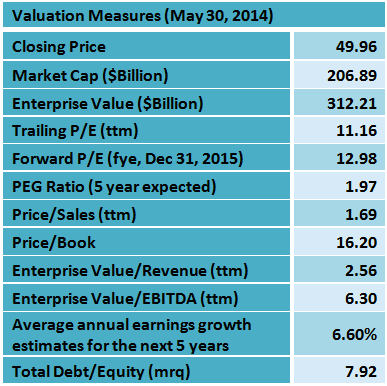 Verizon's valuation metrics are very good; the trailing P/E is low at 11.16, and the Enterprise Value/EBITDA ratio is very low at 6.30. According to James P. O'Shaughnessy, the Enterprise Value/EBITDA ratio is the best-performing single value factor. In his impressive book What Works on Wall Street, Mr. O'Shaughnessy demonstrates that 46 years back-testing, from 1963 to 2009, have shown that companies with the lowest EV/ EBITDA ratio had given the best return. Mr. O'Shaughnessy explains that EV/ EBITDA is a better way to assess value - that is, how cheap or expensive it is - than looking at the PE ratio alone. The EV/ EBITDA is neutral to a company's capital structure and capital expenditures. Stocks that have very high debt levels often have low PE ratios, but this does not necessarily mean that they are cheap in relation to other securities.
Latest Quarter Results
On April 24, Verizon reported its first-quarter 2014 financial results, which missed EPS expectations by $0.03 (3.40%) but beat Street's consensus on revenues. The company reported its fifth consecutive quarter of double-digit percentage growth in operating income and earnings per share. First-quarter 2014 results included the impact of February's close of the $130 billion transaction to acquire full ownership of Verizon Wireless. Verizon reported $1.15 in EPS in first-quarter 2014, compared with 68 cents per share in first-quarter 2013. On an adjusted basis (non-GAAP), Verizon reported EPS of 84 cents in first-quarter 2014, compared with 68 cents per share in first-quarter 2013 - an increase of 23.5 percent.
In the report, Lowell McAdam, Verizon chairman and CEO, said:
Verizon has delivered double-digit earnings growth in eight of the past nine quarters, and in first-quarter 2014 we posted our strongest consolidated revenue growth in five quarters. With the wireless transaction now behind us, we have great confidence in our ability to sustain these strong results. We are already seeing the expected earnings accretion from the transaction. The full access we now have to the significant cash flows of Verizon Wireless is energizing our efforts to provide customers with product and service innovations and to enable powerful solutions to some of the world's biggest challenges.
Dividend
Verizon has been paying uninterrupted dividends since 1983. The forward annual dividend yield is high at 4.24%, and the payout ratio is at 47%. The annual rate of dividend growth over the past three years was at 2.5%, over the past five years was at 3.1%, and over the past ten years was at 3.0%.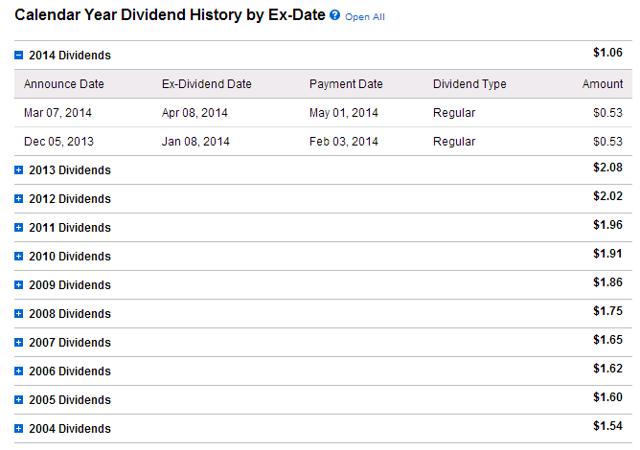 Source: Charles Schwab
Since Verizon is generating much free cash flow and the payout ratio is not excessive, I believe that the company is well-positioned to achieve steady dividend growth going forward.
Competitors
A comparison of key fundamental data between Verizon and its main competitors is shown in the table below.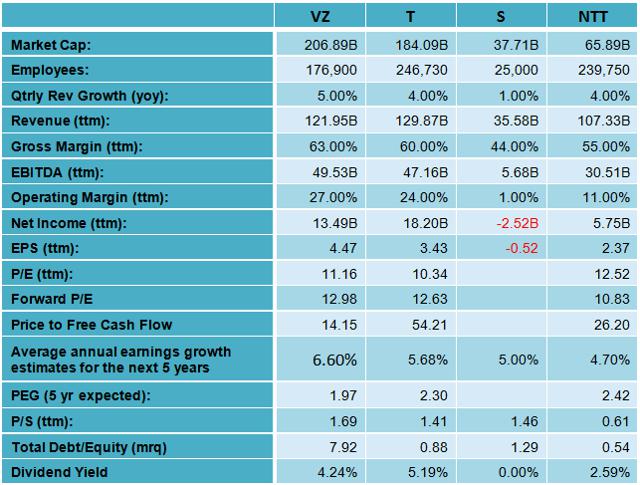 Verizon has the lowest price-to-free-cash-flow ratio among the stocks in the group, and the strongest earnings growth prospects. However, Verizon also has the highest debt-to-equity ratio.
Technical Analysis
The charts below give some technical analysis information.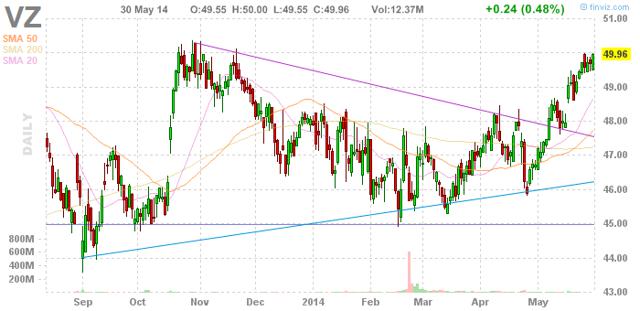 Chart: finviz.com
The VZ stock price is 2.95% above its 20-day simple moving average, 4.84% above its 50-day simple moving average and 5.73% above its 200-day simple moving average. That indicates a short-term, a mid-term and a long-term uptrend.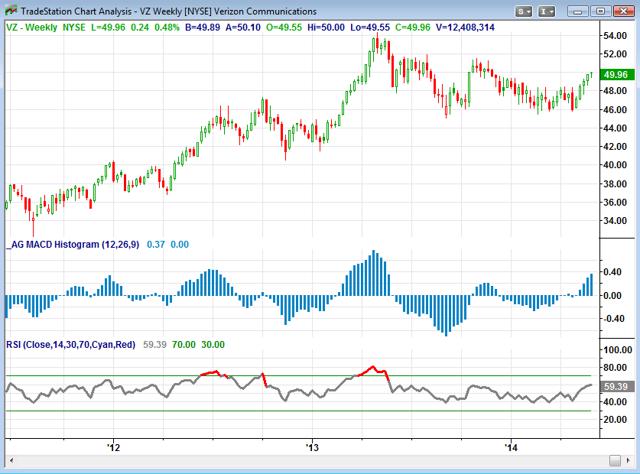 Chart: TradeStation Group, Inc.
The weekly MACD histogram, a particularly valuable indicator by technicians, is at 0.37 and ascending, which is a bullish signal (a rising MACD histogram that is crossing the zero line from below is considered an extremely bullish signal). The RSI oscillator is at 59.39, which does not indicate oversold or overbought conditions.
Analyst Opinion
Analysts opinion is divided but most of them recommend the stock. Among the thirty two analysts covering the stock, nine rate it as a strong buy, fourteen rate it as a buy, and nine rate it as a hold.
TipRanks is a website that ranks experts (analysts and bloggers) according to their performance. According to TipRanks, among the analysts covering VZ stock, there are only five analysts who have the four or five star rating, four of them recommend the stock.
Major Developments
On February 21, Verizon announced that it has completed its acquisition of Vodafone Group Plc's (NASDAQ:VOD) 45 percent indirect interest in Verizon Wireless in a transaction valued at approximately $130 billion. As previously announced, the transaction is immediately accretive to Verizon's earnings per share by approximately 10 percent, excluding any non-operational adjustments.
In my opinion, Verizon's decision to acquire full ownership of Verizon Wireless is very positive for the company. Verizon Wireless is the U.S. wireless industry leader in network performance, profitability and cash flow. Verizon Wireless was the network performance leader in the rankings of wireless providers in the United States in the first Root Metrics National RootScore Report, issued in March. Furthermore, the company has a substantial lead over competitors in building out its advanced 4G LTE network. Wireless will continue to be the growth engine for the company's profits as more people are using sophisticated services for smartphones. Verizon is continuing to enhance its 4G LTE smartphone lineup, and at the end of the first quarter, smartphones accounted for more than 72 percent of the Verizon Wireless retail postpaid customer phone base, up from 70 percent at year-end 2013.
Conclusion
Verizon will continue to benefit from the remarkable leadership of its wireless segment. Verizon has compelling valuation metrics and good earnings growth prospects; its EV/EBITDA ratio is very low at 6.30. Verizon is generating a lot of cash; trailing 12-month free cash flow rose a strong 26%, to $21.3 billion, in 1Q14, and its ttm price to free cash flow of 14.15 is very low. All these factors bring me to the conclusion that VZ stock is a smart long-term investment. Furthermore, the very rich growing dividend represents a gratifying income.
Disclosure: I have no positions in any stocks mentioned, but may initiate a long position in VZ over the next 72 hours. I wrote this article myself, and it expresses my own opinions. I am not receiving compensation for it (other than from Seeking Alpha). I have no business relationship with any company whose stock is mentioned in this article.