Apple (NASDAQ:AAPL) has been on quite a run after posting its latest quarterly results. The stock is up over 20% in under six weeks and has handily outperformed the S&P looking back just a short time: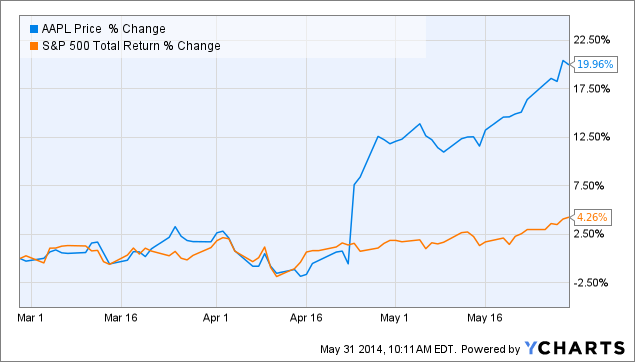 Should shareholders start taking profits? Of course, to a large degree that depends on each shareholder's personal situation and investing strategy.
At this point, it would be a good idea to review the company's valuation to help decide on what to do going forward.
Discounted Cash Flow (DCF) Valuation
The average estimate as shown on Yahoo Finance for AAPL's next five years EPS growth is 15.19%. Using that figure for five years, followed by 8% for the next 20 years, and plugging in a discount rate of 10% gives us a fair value number of $1059. And that does NOT include the tangible book value of the company (an extra $132 per share).
The DCF Fair Value calculation is only as accurate as its inputs, so it is important to weigh the odds of AAPL living up to the 15.2% five year growth that analysts are expecting. Looking backwards at the earnings growth gives us some data to compare:
Last five years: about 50% average earnings growth per year
Last ten years: about 65% average earnings growth per year
Obviously AAPL has been phenomenal. As one would expect, the earnings were particularly explosive when a new iPhone was released and the upcoming iPhone 6 is expected to be released in a few months. The exact timing is still a secret with rumors flying all around; some news may be revealed at this Monday's (June 2) WWDC 2014 Apple event. Certainly some interesting things will be revealed on Monday and it will be interesting to see what the reactions are to the event.
In any case, what excites me about AAPL's valuation and upcoming products is that AAPL does not need to be wildly successful with them for the stock to still be undervalued. As noted above, analysts are expecting about 15.2% growth for the next five years and that corresponds to a far lower growth than what the company has accomplished in AAPL's history. Add in the consideration that AAPL is buying back a substantial number of shares to boost EPS and the growth expectations of the analysts seems well within the company's grasp.
It's always good to see low expectations in a stock that one is bullish on, and the bar is set fairly low for AAPL going forward. As long as something does not go very wrong with future product releases, the company should have little trouble reaching the expected EPS growth. The upside is considerable if AAPL can beat the estimates.
Dividend Discount Model (DDM) Valuation
The DDM method is a variation of the DCF method. The DDM was the brainchild of John Burr Williams in the 1930s who thought that a stock's worth should be calculated as the present value of all the dividends to ever be paid on it.
AAPL's current dividend is $13.16 (annualized), which corresponds to a current payout ratio of 31.4%. I will assume 8% dividend growth (the amount of AAPL's last increase) for five years followed by a terminal dividend growth of 6% and an assumption of a terminal payout ratio of 70%. Using those inputs gives a Fair Value for the stock of $770.56.
The DDM valuation is a highly conservative method of valuing a stock and is usually used for mature companies with slow growth and a high payout ratio. It is not surprising that the Fair Value figure comes in well below the value reached by using a DCF method for a growth stock like AAPL. It is very good to see that even with this conservative valuation approach, AAPL is considered a bargain.
What if Macro Events Turn Sour?
The market looks expensive to me. So I wrote an SA article about recession-resistant stocks and I always sanity check other stocks that I am interested in; I take a quick peek at how they performed during the Great Recession. In the case of AAPL, it dropped 24.1% in that period. That drop would have placed it 12th out of 30 stocks if it were slotted into the table that I created in the above mentioned article.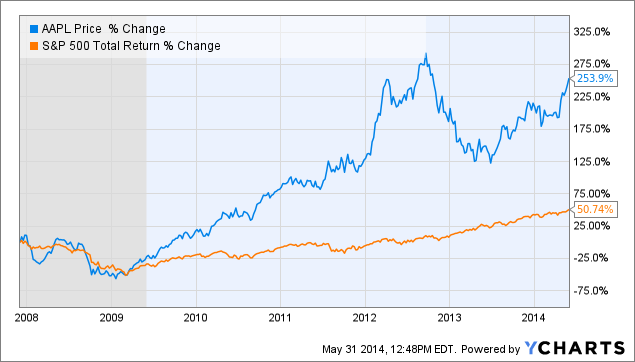 The shaded area of the above graph is the so-called Great Recession time period. AAPL outperformed the S&P during the recession and of course blasted off for several years after it.
Considering the industry that Apple is in and the fact that consumer disposable income - as well as consumer confidence - is critical for their sales, it is a very good sign that the company fared so well during economic hard times. Apple products are often cited as having a devoted following and I think that the recession and post-recession performance is indicative of that principle of loyalty. At a time when many people tried to save money whenever possible, Apple's products were still important to them and were still bought.
Stock Buybacks
I love stock buybacks. When a company lowers the number of shares outstanding, my ownership percentage of that company rises. If a company buys back shares when the price of the stock is depressed, it is an enormous source of shareholder value.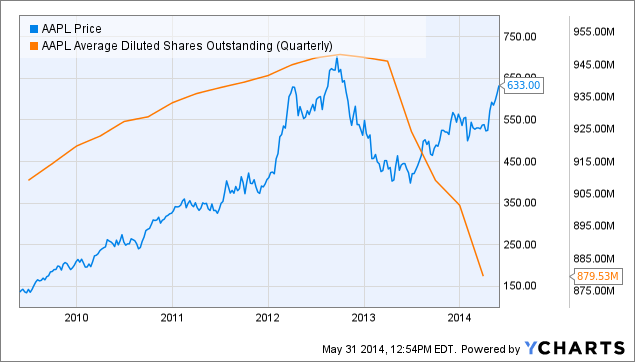 When Apple announced their additional $50 billion share buyback plan in April 2013, it was the largest authorization in history and corresponded (at the time) to about 13% of the outstanding shares. When Apple spent $14 billion of that authorized amount in February 2014 it was a greater amount than all but three companies (excluding Apple itself) spent on buybacks in all of 2013.
Furthermore, Apple has been extremely good at buying back shares at low prices. With the stock now well off the recent lows, those buybacks have been a great investment for the company and its shareholders.
Conclusion
By averaging the DCF and DDM valuation methods, I reach a Fair Value of $914.78. That implies a 44.5% upside for AAPL stock.
I believe that my analysis is actually a rather conservative one. I did not include tangible book value into my valuation calculations. For many companies, book value is hard to pin down and is not necessarily reflective of actual asset worth. In AAPL's case, the majority of the book value is cold hard cash and that part of it certainly does add to the Fair Value of the shares.
While a quick glance at a price chart may make it seem that this is a good time to take some profits from the stock, it may actually be a fantastic time to buy the stock instead. I've shown the valuation to be very compelling and we are at a point in time just before the company is likely to (some are still in rumor stage) introduce many new initiatives including:
iPhone 6
iWatch
iHome
iPayments
The fact that AAPL performed reasonably well during the last recession is icing on the cake. For me that is a "sleep at night" factor during these high market valuation times.
I certainly have no plans to sell any AAPL stock and may be looking to increase my holdings in the near future.
Disclosure: I am long AAPL. I wrote this article myself, and it expresses my own opinions. I am not receiving compensation for it (other than from Seeking Alpha). I have no business relationship with any company whose stock is mentioned in this article.