The first five months of 2014 are over, and for Apple (NASDAQ:AAPL), it's been a tale of two vastly different periods. January featured a huge iPhone miss that sent Apple shares back below $500. Apple responded by buying back a huge amount of stock, which helped shares stay fairly constant over the next couple of months. The second period began when Apple announced a huge iPhone blowout in April, raised the dividend, increased the buyback, and announced a stock split. Apple shares have rallied strongly since, and are now sitting at their highest point in nearly two years.
Now that June has started, it's time for the real fun to begin. This week will be highlighted by Apple's Worldwide Developers Conference, which will set up the rest of the year for the company. While some are expecting new products and services to be announced, most anything new should be rather small. This conference is about setting up items that will drive future launches. Additionally, this is the final week where Apple shares will trade for several hundred dollars a share. With Apple shares soaring in recent weeks, excitement and investor confidence are high when it comes to Apple. Now, it's show time for the company.
Apple WWDC:
As I mentioned above, WWDC sets up the rest of the year for Apple. At last year's conference, Apple unveiled OS X 10.9 (Mavericks), as well as iOS 7. The company also announced iTunes Radio, and unveiled new Macbook Air and Mac Pro models. You may see small scale items unveiled like this again, and iOS 8 should be shown off as well. While you most likely won't see any new iPhones or iPads at this event, there are those looking for something extraordinary. The most talked about items are an iWatch, some sort of mobile payments platform, and home automation items. Like many other tech giants, Apple is trying to get more involved in your daily life. Investors and consumers may also be listening for additional details on how Apple will integrate Beats.
Everyone will also be looking for clues on when Apple may release its next generation of iPhones and iPads. Most are calling for two new larger screen phones, and it may be a staggered launch with the smaller one first. Some rumors say an August launch for the first one, while others think Apple will just have a regular September launch. The timing will certainly be key for Apple's fiscal Q4 period, because an August launch would pull revenues forward a bit.
In my most recent Apple article, I discussed how Apple shares declined a bit after last year's WWDC event. The majority of June 2013 was not good for Apple shares, but as the first half of the year came to a close, Apple shares started to rise. Shares jumped more than $100 in about a month and a half. With shares jumping recently, Apple may be due for a pullback. According to another contributor on this site, WWDC may be the perfect buy the rumor, sell the news event. According to that article, every year since 2000 the week of WWDC produced a loss for Apple. Should Apple decline throughout the week, it will be interesting to see if buyers come in on Friday in an effort to play a potential post-split pop.
Latest analyst opinions and estimates:
There's been two analyst themes to track, what analysts think of Apple in general, and what the analyst crowd thinks of the Beats deal. While analysts are still a bit mixed in regards to the deal, some opinions are improving. This deal is more about content and services than the hardware. As I said recently, even though a $3 billion purchase is outside of what Apple normally does, that price tag is relatively small in the world of Apple. Beats does control a large share of the premium headphone market. It's not like Apple is spending $25 billion or $30 billion to acquire a Twitter (NYSE:TWTR) or Netflix (NASDAQ:NFLX). At a price of $3 billion, this deal does not have to be 100% perfect.
The other side of Apple in regards to analysts is the price target and estimates piece. In terms of estimates, we're in a dead period now. Most analysts won't change their estimates until after WWDC and until we get closer to the quarter's end. However, it will be interesting to see what happens with price targets. With the recent run in shares, Apple has surpassed a number of analyst targets. If you are an analyst with a high $500s or low $600s target, do you now raise your target with Apple at $633? Some analysts may be waiting to change their targets until after WWDC and the split, and that's perfectly reasonable. An analyst at Bernstein recently raised his target from $615 to $700, which will be $100 after the split. He is very bullish on the next three to six months for Apple, although he admits at this point his longer-term view is more cloudy.
In one of my Apple articles a few weeks ago, I updated my Apple price target to about $619. I said in that article that I would not update my target until after the split, but due to the recent momentum in shares, I'm going to hike my target today. I am doing this because I feel that Apple is gaining more momentum in regards to new products than I did recently, and I believe that analysts will be hiking estimates a little thanks to the Beats deal. Currently, my new Apple price target is a little under $663, so we'll round things off post-split and call it $95.00. I wouldn't be surprised if we get a pullback this week, as WWDC has done that to Apple in the past, but I do believe we'll all see a pop right after the split. Once we get to Q3 earnings in July and closer to new product launches, things should heat up again.
An update on short interest:
One item I've tracked extensively in regards to Apple is short interest. While Apple has never been a heavily shorted stock, some investors like to see how short interest is trending. Short interest can show how opinions regarding Apple are changing over time. In the chart below, I've charted Apple's short interest from April 2012 until mid-May 2014.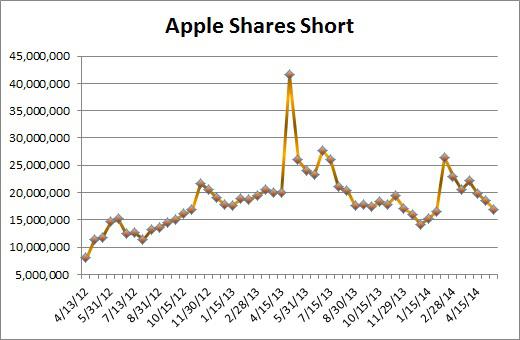 In the most recent short interest update, Apple had about 16.86 million shares short. This is the lowest Apple's short interest has been since the end of January 2014. Obviously, there was a small bump in short interest in early February, as the poor January result fueled the bear camp. Since then, short interest has come down, but remember too that the outstanding share count is dropping as well.
Final thoughts:
Apple will take center stage this week as the company's developer conference heats up. The usual operating system updates should be unveiled, and some are looking for new products and services as well. This will also be the last week before the split takes effect, so it will be interesting to see if a WWDC pullback does occur. I've upped my price target on Apple today, and I think investors should buy if a pullback does come. Short interest is coming down, and I think you'll see some analyst price target hikes once the split occurs. In the end, this week may have some new product/service announcements, but they probably won't be game changers for the company. This week is all about setting Apple up for the rest of the year, when new iPhones and iPads will see their highly-awaited launches.
Disclosure: I have no positions in any stocks mentioned, and no plans to initiate any positions within the next 72 hours. I wrote this article myself, and it expresses my own opinions. I am not receiving compensation for it (other than from Seeking Alpha). I have no business relationship with any company whose stock is mentioned in this article.
Additional disclosure: Investors are always reminded that before making any investment, you should do your own proper due diligence on any name directly or indirectly mentioned in this article. Investors should also consider seeking advice from a broker or financial adviser before making any investment decisions. Any material in this article should be considered general information, and not relied on as a formal investment recommendation.