Last week I forecast that the stock market would likely rally to test its 200-DMA. We didn't quite get there, but that's largely due to the fact that no one was actively trading the market last week.
Indeed, thanks to a holiday week that entailed both Labor Day and Rosh Hashanna, market volume was truly abysmal. In fact, last week saw even lower market volume than during the April 2010 top, which should give you an idea of just how few participants were involved: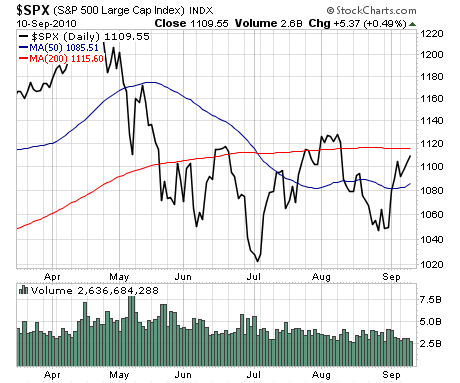 Due to the light participation, the market was essentially tossed this way and that by a handful of traders/ institutions, which made for a volatile week in terms of intra-day action with stocks often swinging 1% on the intra-day.
Indeed, the only truly significant developments from a technical perspective were that the S&P 500 broke above resistance at 1,100 and then rose to challenge 1,110.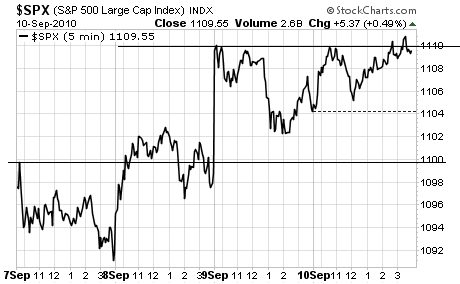 Which brings us to today.
First off, the most important item to note is that it's options expiration week. And it's not just any options expiration week, it's quarterly options expiration week. So this is THE week for Wall Street to thrash the market to insure the greatest number of contracts expire worthless. So the likelihood of an extremely volatile week is very high.
The most obvious pathway would be for stocks to finally challenge and perhaps even break above their 200-DMA at 1115. If volume stays light, then this outcome becomes even more likely.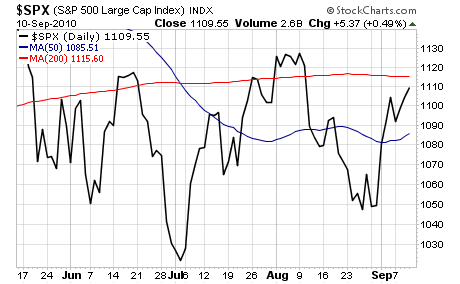 Depending on just how aggressive Wall Street gets, we could even see a test of 1,131 on the S&P 500. As noted in last week's forecast, this would represent an 8.8% rally similar to that which occurred during the early July ramp job.
From today's levels (1,109), a rally to 1131 would only mean stocks going another 2% higher. We've certainly seen that kind of action during other options expiration weeks before.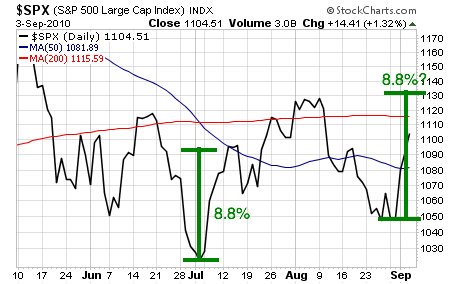 The primary issues that could dampen a break out like this are the euro and Europe's continued banking problems.
The European banking crisis has now spread to Ireland where the Anglo Irish bank (OTC:AGCPF) is to be broken up after suffering the largest loss in Irish history. This was accompanied by announcements that Deutsche Bank (DB), Germany's largest bank with net assets almost equal to Germany's GDP, would need to raise $10+ billion in additional capital.
This latter story is of MASSIVE import. Germany is largely held to be one of, if not THE most financially solvent members of the European Union. If its largest bank needs to raise a capital amount equal to one sixth of its total equity, then you can only imagine how undercapitalized some of the less fiscally prudent banks in the less solvent countries of the European Union are.
I would also like to point out how the Deutsche Bank story echoes what occurred in the US banking system in Spring 2008. Remember how the Wall Street CEOs kept proclaiming that "the worst was over," while their banks were frantically raising capital time and again?
Looks to me like the European banking system has taken a page straight out of the US banking system's "how to manage a systemic collapse" playbook. If the ultimate outcome is similar for Europe's financial system, then we're well on our way to a full-scale systemic Crisis over there.
Indeed, the euro has both broken below and failed to reclaim its 50-DMA: a very bearish development. As I write this, the currency is just sitting on the trend-line that has supported it for most of the last month.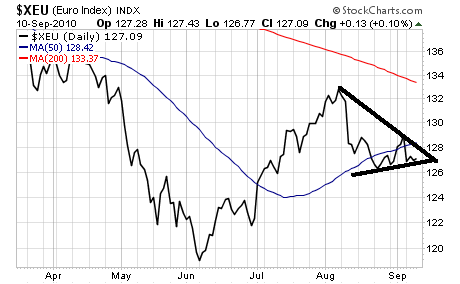 There is the potential for a "pop" here to re-test the downward sloping trend-line of the larger wedge pattern. But given the shakiness of the European banking system it's just as likely we'll see a break below support at 127 too. And if the Euro takes out 126, then we're back in Crisis mode and likely going to 122 and ultimately re-testing the June low of 118.
In conclusion, my overall forecast for this week is that stocks will likely test their 200-DMA thanks to the usual options expiration week ramp job. We could even see a spike above the 200-DMA and a re-test of the August high at 1131 on the S&P 500.
However, all of this bullish action hinges on things not crumbling in Europe. So keep an eye on the euro and all things European this week for clues as to whether we're heading lower sooner rather than later.
Intermediate term, I am SUPER bearish. But I have to respect what the charts are telling us. And right now the charts are telling us that stocks may have some additional room to the upside before they go back into Collapse mode.

However, I continue to anticipate a full-scale Collapse/ Crash this Autumn. All the ingredients are there: low volume, my Crash indicator is "On," multiple Hindenburg Omens, and a massive Head and Shoulders pattern in the S&P 500… the issue is simply waiting for the "Lehman" event to kick everything off.

Given that the Sovereign Debt Crisis is presently occurring in Europe, that's where the "Lehman" event will likely come from. And since Europe has already followed the US's "phony stress test accompanied by claims that the 'worst is over' while simultaneously raising huge amounts of capital" playbook, I have a feeling the "Lehman" event is coming sooner rather than later.