The food sector is seeing a recent wave of merger and acquisition deals and more could be coming. For example, Tyson Foods (NYSE:TSN) recently offered to buy Hillshire Brands (NYSE:HSH) for about $6.8 billion. Not all food stocks are bargains, but there are still a few that remain deeply undervalued. I recently wrote about a $6 food stock bargain, and detailed why G. Willi-Food (NASDAQ:WILC) could also be a takeover target, especially since a billionaire just took a major stake in that cash-rich company. However, now I would like to take a closer look at ConAgra (NYSE:CAG) which offers investors a solid yield and upside potential.
ConAgra Foods owns many well-known brands which include: Swiss Miss, Healthy Choice, Slim Jim, Hebrew National, Wesson, Hunt's, Orville Redenbacher's, Chef Boyardee, Libby's, Jiffy Pop, Bertolli Pasta, Dennison's Chili and many more. ConAgra is also a leader in private store brands with cereals, pastas, sauces, crackers, cookies and more. The food business is relatively recession-proof and it typically offers very steady cash flow. Because of this, food stocks often achieve premium valuations and are ideal for risk-averse investors.
ConAgra shares appear undervalued when compared to other food stocks. Many food stocks trade for between 20 to 35 times earnings depending on growth rates and other factors, but ConAgra trades for just around 13 times earnings. Analysts expect this company to earn $2.23 per share in 2014 and about $2.37 in 2015. A recent Barron's article suggests that ConAgra shares could have 33% upside due to the cheap valuation of this stock relative to the rest of the industry. In addition to the significant upside potential, this stock offers investors an above-average yield of 3.2%. ConAgra also has a history of raising the dividend which makes this an ideal stock for income investors. For example, in 2007 the quarterly dividend was 17 cents per share. However, thanks to regular increases, the quarterly dividend is now 25 cents per share. That is an increase of about 45%, in the past several years.
ConAgra is a huge company with nearly $18 billion per year in annual revenues. If I had to pick one issue as a potential downside risk or concern, it would be the balance sheet which has about $244 million in cash and nearly $9.5 billion in debt. I always prefer to invest in companies with cash-rich balance sheets, (which is one reason why G. Willi-Food is my top stock pick in this sector) however, I am willing to make an exception with ConAgra because with roughly $18 billion in revenues, the debt load appears manageable. Also, since this is a food company with very steady cash flow, the debt is less of a concern. In March, ConAgra reported earnings of 58 cents per share on a GAAP basis, and nearly $4.4 billion in revenues for the third quarter. These results continue to indicate that the debt level is manageable.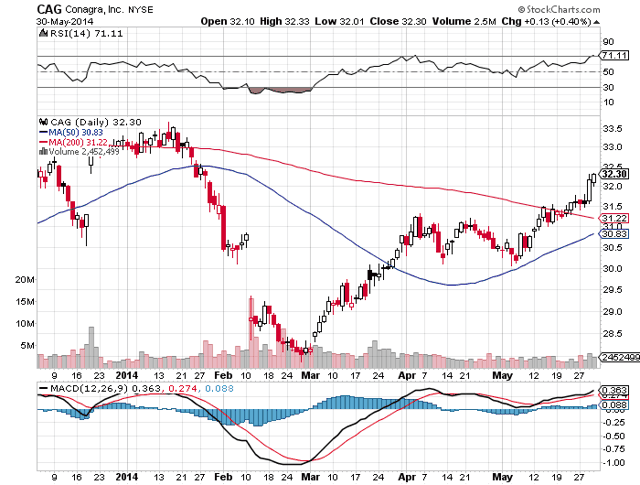 As the chart above shows, this stock has been trending higher. That could be a sign that the market is waking up to the value this stock offers. Patient investors might want to wait for pullbacks to the 50-day moving average of $30.83 or the 200-day moving average which is $31.22 per share. These are typically strong support levels and if the market has a bad day or two, investors might get a chance to buy at these more ideal levels.
Here are some key points for ConAgra Foods, Inc.:
Current share price: $32.30
The 52 week range is $28.09 to $37.28
Earnings estimates for fiscal year 2014: $2.23 per share
Earnings estimates for fiscal year 2015: $2.37 per share
Annual dividend: $1 per share which yields 3.2%
Data is sourced from Yahoo Finance. No guarantees or representations
are made. Hawkinvest is not a registered investment advisor and does
not provide specific investment advice. The information is for
informational purposes only. You should always consult a financial
advisor.
Disclosure: I am long CAG, WILC. I wrote this article myself, and it expresses my own opinions. I am not receiving compensation for it (other than from Seeking Alpha). I have no business relationship with any company whose stock is mentioned in this article.