Contango Oil & Gas (NYSEMKT:MCF) presents a compelling opportunity for investors willing to look beyond the headlines of drilling bans and the current natural gas glut toward a world that remains starved for energy. Emerging economies continue to demand increasing amounts of oil and gas, while true alternatives remain in their infancy. And with commodities in general looking more attractive vis-à-vis easily printed fiat currency, history may yet play out in a way that puts Contango among the beneficiaries rather than the victims. Did we mention the company is cheap?
Contango's high-margin, easily accessible, proved and developed reserves of natural gas in the Gulf of Mexico can be seen as a huge tank of gas that can be monetized in a predictable way, subject to volatility in natural gas prices. Even at current depressed prices, the company's value exceeds the market price. If we consider Contango's capable and shareholder-friendly management, "free" options on future exploration, and a debt-free balance sheet, Contango becomes a compelling situation with low downside and material upside.
Contango — Cost Structure vs. Industry Average ($ per Mcfe), 2008-09
The company's total cost per unit of natural gas equivalents (Mcfe) is less than half the industry average. This enables Contango to make money even in times of depressed natural gas prices. The low cost structure is a testament to Ken Peak's sound operating philosophy and able management.
click to enlarge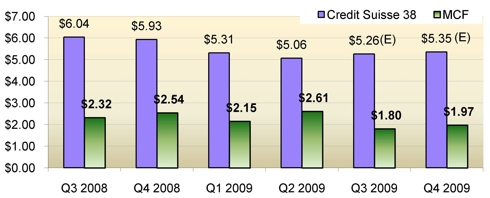 Note: Total cost structure includes operating costs (including production taxes), interest expense, general and administrative expenses, and DD&A for 38 companies followed by Credit Suisse.
Source: Company presentation dated April 2010, The Manual of Ideas.
While we view Contango as a "good" business, we want to be perfectly clear: No commodity-producing company is a good company if "good" is defined as possessing pricing power due to product differentiation or brand value. One firm's natural gas is as good as the next firm's natural gas, so the only way to be a "good" commodity producer is to be a low-cost producer. While many companies claim to be low-cost producers, Contango actually meets the test.
Depletion, depreciation and amortization (DD&A) is roughly $1.25 per Mcfe. Adding this DD&A expense to cash costs such as lease operating expenses and G&A, we arrive at an operating expense of slightly more than $2 per Mcfe, before income taxes. As a result, natural gas prices would need to drop to roughly $2 per Mcfe to erase profitability (excluding dry hole costs). This is the mark of a low-cost producer.
The near-term trajectory of natural gas prices remains uncertain, but it seems reasonable to assume that prices will increase from $4 per Mcf over time. Prices will likely need to exceed $6 per Mcf for producers to earn a 10% return on capital, according to UBS. Contango CEO Ken Peak estimates that industry participants would earn 5-10% returns, on average, at $6 per Mcf. In other words, the industry may be losing money from a full-cycle cost perspective at recent natural gas prices. Contango's low cost structure limits the downside, while natural gas price increases would create material equity upside.
The following chart shows Contango's unusual efficiency. As the per-employee data suggests, the company does business by outsourcing almost everything to third parties (it just hired its eighth employee!), except functions directly related to maximizing value. Foremost among the latter are decisions on capital allocation, i.e., buybacks versus exploration spending.
Contango — per-Share, per-Mcfe and per-Employee Operating Data
The company's financials reflect an industry-leading level of efficiency and profitability.

EBITDAX = earnings before interest, taxes, depreciation, depletion, amortization, exploration expense
* For the twelve months ended or as of March 31, 2010.
Source: Company presentation dated August 25 2010, The Manual of Ideas.
Contango's Ken Peak is a no-nonsense CEO and a shrewd capital allocator. Unlike CEOs who have a habit of plowing free cash flow right back into exploration projects, Peak evaluates the merits of exploration versus other uses of cash, including acquiring Contango's own reserves by repurchasing stock. Over the past year, the latter option has looked attractive, and Contango has bought back more than $50 million of stock, implicitly acquiring high-margin reserves at roughly $2 per Mcfe. Finally, Peak is 64 years old, owns roughly 20% of Contango, and has been opportunistically looking at selling the company at a large premium. A deal almost came to fruition last year, but crumbling natural gas prices and tight credit scuttled a sale, giving us another bite at the proverbial apple.
Estimating the Value of Contango
Contango has no debt, $40 million of cash, and proven developed reserves of 19 Mcfe per share. With the recent market price at $47 per share, we are paying slightly more than $2 per Mcfe of high-margin reserves. This represents an attractive entry point, even with natural gas prices trading at a depressed level of $4 per Mcfe (December 2011 natural gas futures trade at roughly $5.50 per Mcfe).
Our analysis suggests a value of $1.0-1.7 billion, or $64-107 per share, based on the three valuation approaches summarized in the following chart. This is the same methodology we have used in the past, updated to reflect the latest available data.
Contango — What Are The Shares Worth?
We use three approaches to arrive at a valuation meaningfully higher than recent market value.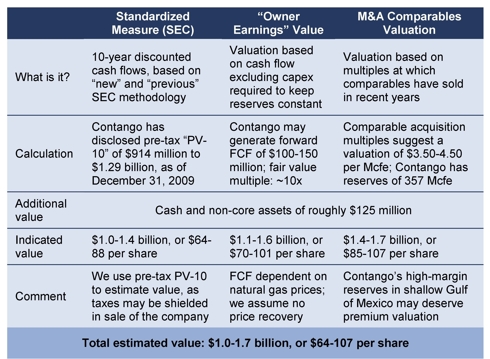 Source: Company filings, Manual of Ideas analysis.
We judge Contango Oil & Gas to have strong downside protection due to (1) a capable, shareholder-friendly, heavily incentivized CEO, (2) a strong, deleveraged balance sheet, (3) a position as low-cost producer in the natural gas industry, (4) a successful exploration track record, and (5) an unusually disciplined approach to capital allocation, including large, value-accretive share repurchases.
Q&A on Contango:

Q: Contango has been a value investor favorite for the past couple of years, but the stock has not performed as expected. Why is this going to change?
A: There is, of course, no guarantee that Contango shares will perform well in the future, but we view the risk-reward trade-off as compelling. Given Contango's able and investor-friendly CEO and the company's valuable proved and developed reserves, it is difficult to envision a scenario in which shareholders suffer permanent impairment of an investment at the recent stock price.
Meanwhile, the shares retain large upside potential, mainly due to the company's potential desirability as an acquisition candidate as well as management's demonstrated ability to add reserves at low cost. We concede that Contango does not have the kind of equity upside that a highly levered company might have.
Q: The company recently drilled two dry holes. Doesn't this negate all the talk of exploration skill?
A: We don't think so. Contango's overall cost of adding new reserves is still exceedingly low. CEO Peak put it well: "Disappointment seems like too much of an understatement for one dry hole, let alone two. Stepping back though, we are one for three in this year's exploration program with a fourth well drilling (Eloise South) and one more wildcat exploration well – our on-shore south Texas prospect – planned prior to the end of this fiscal year…"
Contango's capex plan calls for the drilling of 4 wildcat GOM wells at $15 million each and 15 ConterraJ/V wells at $1.5 million per well, resulting in total capex of approximately $85 million before any success capex. The company is able to fund this capex organically, as it has $40 million of net cash and monthly pre-tax cash flow $15 million. The company expects to spud the first GOM well offshore Texas (permit in hand) in mid October.
Q: What is the impact of the GOM oil spill on Contango?
A: The company put out a statement on the oil spill impact on May 6th, in which it stated that there was no immediate impact to Contango. However, neither the company, nor anyone else, can accurately predict what the government might do in the short and long term with regard to regulatory requirements.
Contango's operations are entirely situated in water depths of less than 200 feet, and the technology and safety mechanisms available at those depths are well established. Deep water drilling is the more risky type of drilling and the one that will probably come under greater scrutiny. As a result, unless regulators overreach, Contango's operations should not be materially impacted by greater regulation.
Disclosure: No position