Copper, aka Dr. Copper, has long been known as the "metal with a PhD in economics."
But what about oil? Isn't oil, in some ways, a much more powerful barometer for both the state of the global economy and the general economic mood?
Copper is revered as an economic bellwether because it is used in so many things. From washing machines to vehicle wiring to housing construction, the red metal shows up most everywhere. But copper is also subject to manipulation more so than oil, in part because of storage factors (copper is easier to warehouse) and in part because the copper market is so small, relatively speaking — small enough to get pushed around by stuff like this:
Copper fell the most in a week after a report that Chinese regulators are investigating positions in rubber futures spurred speculation that some traders may be forced to sell commodities…

"The actions in China overnight are simply a warning shot to speculators," said Alex Heath, the head of industrial-metals trading at Royal Bank of Canada Europe in London. "Liquidation by a number of local brokers on hearing about the investigation unnerved the whole market."

- Bloomberg, Copper Falls Most in a Week on Report of Chinese Investigation
And in fact, with China looming so large these days, ol' doc copper has become even more of a speculative football than it's been in the past. The red metal is turning into a fast-buck exposure vehicle for anyone dreaming of those 64 million vacant Chinese properties and all the air conditioners sure to be installed.
Crude oil is subject to speculative pressures too, of course, but let's not forget that oil is the most important commodity in the world. (Sorry gold. You're up there, but…)
I mean, come on: Wars have been fought over oil. How many wars have been fought over copper? The insatiable global demand for energy, and the geographical diversity of buyers and sellers, further makes it hard to distort the oil market.
And right now the message of the oil market is 'blah.'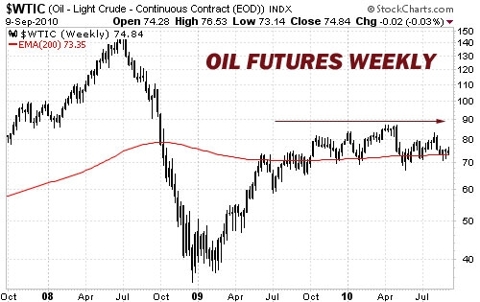 As you can see from the chart, oil has done a whole lot of nothin' over the past year and a half or so. After humping back up to the 200 week EMA like an old man climbing stairs, crude has spent most of its time in an uninspired range… trapped in the '70s, like an endless episode of Starsky and Hutch.
If you're a card-carrying peak oil theorist, this is kind of a weird phenomenon. If you're a true believer in the "emerging markets century," it's also a bit of a weird phenomenon.
I mean, what about those three billion new capitalists? What about that $2500 car that's selling like hotcakes in India? All the easy oil is gone! Oil should be killing it! Right?
You would think so, especially given the powerful E.M. drivers in play.
Try this news flow on for size:
Growth uber alles! That's a lot of good news. You can throw in a positive ISM number and better than expected jobs data from America too.
And what did oil do? Jack squat. Why might this be? Well, in part because we have more oil in storage now than we've seen in decades.
As Fortune reports in "What Peak Oil? Why an Oil Glut is Ahead,"
Despite the Iraq War and the resulting production disruptions, despite the moratorium on drilling in the Gulf, despite turmoil in Nigeria and ongoing cross-border transshipment quarrels in Central Asia and the multiple, repeated declarations that "peak oil" has arrived and supplies will inevitably dwindle, the United States has more petroleum on hand today than it has had since at least the beginning of the first Gulf War.
In addition to an oil glut, we also have a gasoline glut. The Summer 2010 driving season wasn't all it was cracked up to be in the good old US of A, and the stockpiles of gasoline normally worked through by now are still around. This is more bad news for the oil price, as refiners will have less need to replenish gasoline stocks (and thus less need for crude as a raw input).
Flat as a BRIC
So, okay. Crude oil is feeling blah because we've got black stuff coming out our ears, with yet more supply coming online via Central Asia and Iraq.
But does that say much about the rest of the global economy? What about emerging markets — we just scanned the good news, those are still hot, right?
Cue the weekly charts…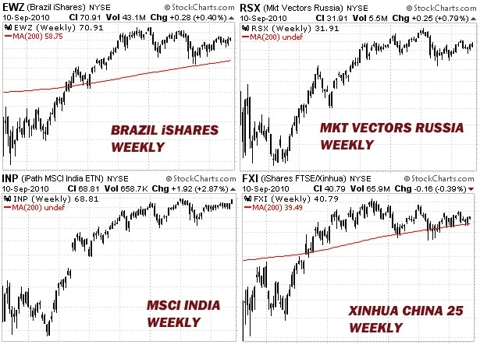 What we have above are long-term charts for the major BRIC ETFs: Brazil, Russia, India, China. Notice a pattern here? They all look like oil… flat, range bound and listless.
Here is what I get from this:
It may be the "emerging markets century," but the U.S. economy still dominates.
As it stands, Uncle Sam is still in a deep, deep funk.
Emerging markets may be the future… but the future isn't here yet.
The global economic recovery is hitting "stall speed."
We got a boost from the 2009 stimulus juice, but our problems are bigger still.
When an airplane threatens to stall, you know what happens next.
As long as we're talking E.M., this piece gave me a laugh: Goldman Sees $80 Trillion Emerging-Nation Stock Market by 2030.
The market value of emerging-market stocks may surge more than fivefold to $80 trillion in two decades, overtaking developed nations, as China becomes the world's largest stock market, Goldman Sachs Group Inc. said.

Faster economic expansion and growing capital markets may lift emerging nations' share of world equity capitalization to 55 percent by 2030 from 31 percent today…
Come on, are you kidding me? Things are so in flux at this point, we don't even know what 2013 is going to look like, let alone 2030.
China, for all we know, could turn out to be the world's biggest protectionism casualty, or otherwise reveal itself as a giant potemkin village / ponzi scheme, or find itself engulfed by a real-estate-fueled social and financial crisis. (Puff pieces like Goldman's, of course, remind you how badly the i-banks want a share of future business with the dragon.)
Something else amusing — while Goldman Sachs entertains bullish visions of E.M. ecstasy 20 years out, their near term view is a heck of a lot more sober.
Here's Jan Hatzius, Goldman's chief economist (via ZRH):
We strongly disagree with the notion that the recent slowdown in activity is a temporary "soft patch" in an otherwise fairly decent recovery… On the contrary, we believe that the stronger growth of late 2009/early 2010 was a temporary "firm patch" in an otherwise extremely anemic recovery, and there is a sizable (25%-30%) risk of a renewed recession.
Let's throw one more weekly chart in for good measure…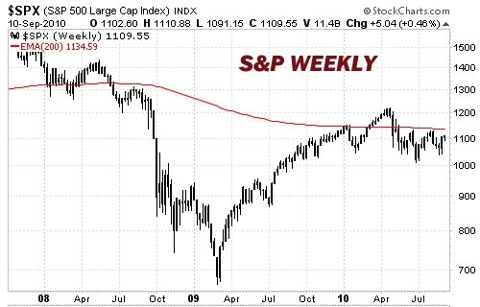 Sluggish head and shoulders anyone?
In estimating a 25% – 30% chance of renewed recession, I'd wager Goldman's chief economist is being conservative. The "stall speed" trajectories of so many markets paint a gloomier picture.
Disclosure: As active traders, authors may have positions long or short in any securities mentioned. Full disclaimer can be found here.