Since my previous positive mention in an article entitled 4 Reasons Why Hartford Financial Can Continue To Rally, published January 2, 2013, shares of Hartford Financial Services Group Inc. (NYSE:HIG) are up more than 46%.
Short Interest
In my previous piece, one of the primary reasons why I was bullish on HIG was high short interest. At the time of my previous mention, HIG short interest stood at 42 million shares or 10.6% of the float. As shown by the chart below, short interest in HIG has fallen substantially. In my opinion, the decrease in short interest means that the potential for a sharp move higher is less likely that was previously the case. Short covering over the past year and a half has helped HIG shares surge but short interest no longer remains a bullish factor.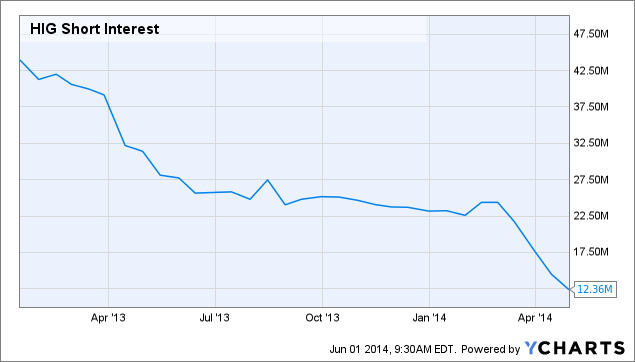 HIG Short Interest data by YCharts
Valuation
In addition to the high short interest, another reason why I had been bullish on HIG was the valuation. At the time of my previous piece, HIG had been trading at less than half of tangible book value. The low valuation made HIG attractive because the market had been pricing in significant negatives. However, as HIG shares have rallied, the price to tangible book value has also increased. That said, it must be noted that HIG is still trading at valuations much below historic highs. For this reason, I do not believe HIG shares are highly risky at current levels. I certainly would not be short HIG due to the valuation.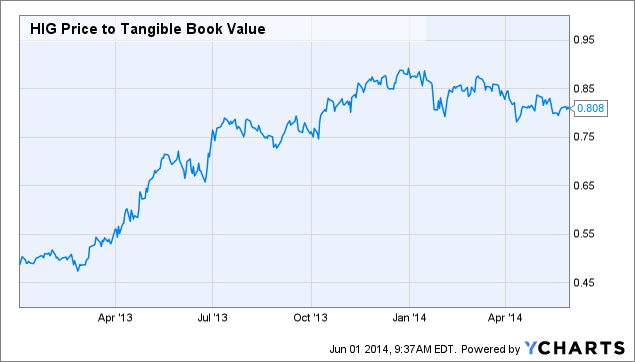 HIG Price to Tangible Book Value data by YCharts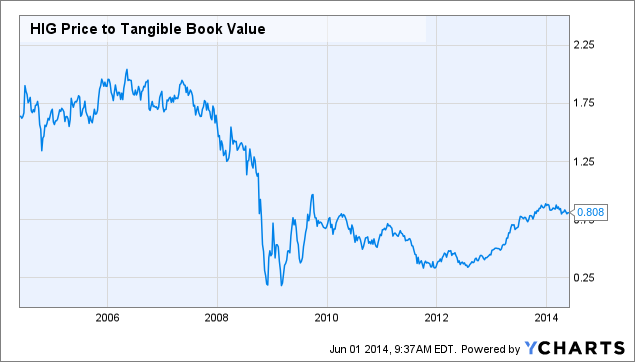 HIG Price to Tangible Book Value data by YCharts
Tepper Takes Profits
Another reason why I had been bullish on HIG was news that David Tepper had significantly increased his stake. However, Tepper recently sold his HIG stake. Tepper's move makes sense given his recent negative comments about the outlook for the markets.
Interest Rates Falling
As shown by the chart below, there has been a high correlation between HIG and interest rates. HIG shares have tended to rise when interest rates move up and fall when interest rates move down. This relationship makes sense because higher interest rates are, generally speaking, a positive for HIG because the company can generate more income from its fixed income investments. Of late, interest rates have been moving lower. The 10 year rate has fallen from 3% to 2.45%, a significant drop. However, despite this move, HIG shares remain close to recent highs. To me this suggests that HIG shares may be vulnerable if interest rates do not move higher.
Conclusion
After a considerable move higher, I believe it is time to take some profits in HIG. The lower short interest, higher valuation, Tepper sale, and falling interest rates are all reasons why my outlook for HIG is less bullish than it had been. In my opinion, of these factors, currently, the most important one is interest rates. If rates move higher I believe HIG can continue to move higher. However, if rates do not move higher, I believe HIG shares will have a difficult time moving higher.
Disclosure: I have no positions in any stocks mentioned, and no plans to initiate any positions within the next 72 hours. I wrote this article myself, and it expresses my own opinions. I am not receiving compensation for it (other than from Seeking Alpha). I have no business relationship with any company whose stock is mentioned in this article.