Enterprise Products Partners L.P. (NYSE:EPD) might be an interesting alternative for investors who are seeking domestic oil and gas business exposure, but for some reason want to diversify away from a Kinder Morgan (NYSE:KMI) centric portfolio. Due to its high market capitalization, robust asset footprint and industry-leading position in the energy business, the Kinder Morgan family of businesses has a large representation in investors' income portfolios. I am long Kinder Morgan Energy Partners (NYSE:KMP) and have repeatedly recommended the energy business for investors who want to build sustainable, long-term wealth and who desire reliable income streams.
The energy business is clearly a good place to be if one is looking for cash flow and distribution growth and I can hardly imagine any other sector offering a better risk/reward ratio than U.S. oil and gas sector; and this goes for all segments of the value chain: upstream, midstream and downstream.
The following chart has been taking from Enterprise Products Partners' most recent NAPTP MLP Conference and highlights the outstanding growth prospects of North American energy businesses.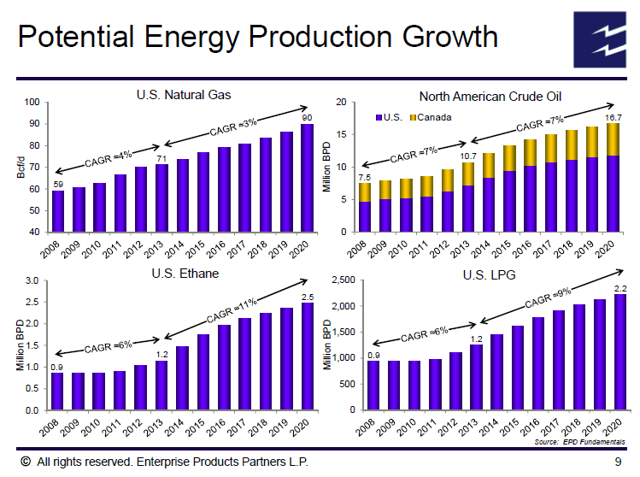 Click to enlarge
(Source: Enterprise Products Partners L.P. NAPTP MLP Investor Conference May 22, 2014)
U.S. energy businesses benefit from an unprecedented capital expenditure boom driven by shale oil and natural gas discoveries across the United States. Surging energy infrastructure investments in storage facilities, transportation networks, refinery capacity are setting the United States up for energy independence. At the same time, new export opportunities are about to be unlocked.
Enterprise Products Partners, in my opinion, is in a good position to benefit from increased domestic oil and natural gas production and increased demand for storage and processing capacity.
Unit performance
Enterprise Products Partners' units have done well for shareholders over the last two years and have shown a high degree of resilience in light of overall volatile equity markets: Units are up more than 57% over the last two years and approximately 26% over the last twelve month. Units also just marked a new 52-week High at $75.10.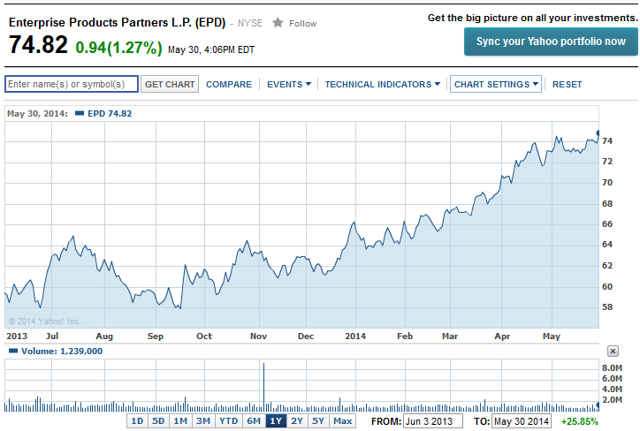 Click to enlarge
(Source: Yahoo Finance)
Attractive asset footprint
One of the key reasons investors could consider Enterprise Products Partners as an alternative to Kinder Morgan, is because of its outstanding operations footprint which connects most of the important domestic shale basins. Enterprise Products Partners operates approximately 51,000 miles of crude oil, NGL and natural gas pipelines, 24 natural processing plants and continuously invests in export capabilities: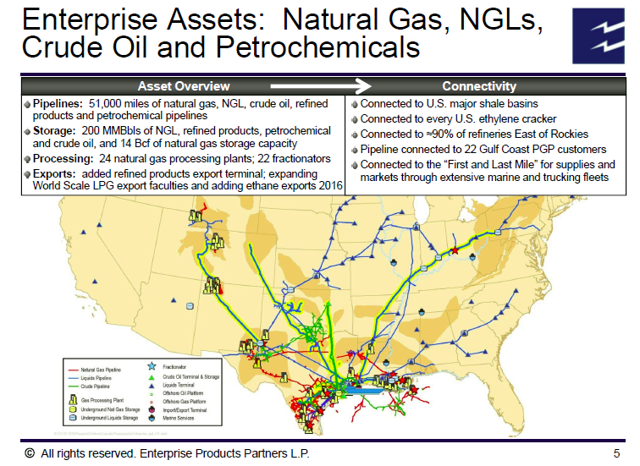 Click to enlarge
(Source: Enterprise Products Partners L.P. NAPTP MLP Investor Conference May 22, 2014)
Outstanding financial performance and cash flow growth
And Enterprise Products Partners' financial performance has not been less impressive than the well-publicized one of Kinder Morgan.
Enterprise Products Partners increased its gross operating margin from $3.3 billion in 2010 to $4.8 billion in 2013: A total increase of 45% and a compound annual growth rate of 13%. I think Enterprise Products Partners can reasonably achieve a full-year 2014 gross operating margin of $5.3 billion which would represent another 10% y-o-y increase.
Enterprise Products Partners' underlying distributable cash flow (not including non-recurring proceeds from asset sales, insurance recoveries etc.) have been steadily rising over the last three years as well. In 2010 Enterprise Products Partners achieved $2.2 billion in underlying distributable cash flow which ultimately rose to $3.7 billion in 2013: An increase of 68% or a compound annual growth rate of 19% which clearly is a respectable rate of cash flow growth.
At the same time, distributions have been rising steadily. Enterprise Products Partners paid investors $2.32 per unit in 2010 while it shelled out $2.74 per unit in 2013: An attractive annual growth rate in distributions of 6%.
Bottom line
I think Enterprise Products Partners is a valid alternative to industry champion Kinder Morgan. With an expected full-year 2014 distribution of $2.84 per unit, EPD yields approximately 3.80% which is not as high as KMI's 5.03% yield, but still respectable. Moreover, Enterprise Products Partners does not pay General Partner incentive distribution rights which is a competitive advantage to other MLPs in the sector.
Enterprise Products Partners invests heavily in new capital projects such as the Aegis Ethane Pipeline which is expected to come online in 2015 or its new PDH facility which will allow Enterprise Products Partners to increase is polymer-grade propylene production with an expected completion date in 2016. EPD's capital growth projects should support further increases in distributable cash flow and distributions for unitholders in the coming years. Strong Buy for long-term investors.
Disclosure: I am long KMP. I wrote this article myself, and it expresses my own opinions. I am not receiving compensation for it (other than from Seeking Alpha). I have no business relationship with any company whose stock is mentioned in this article.