Year-to-date, shares of DryShips (NASDAQ:DRYS), Diana Shipping (NYSE:DSX), and Navios Maritime Holdings (NYSE:NM) have dropped 31%, 16% and 17.6%, respectively. Nevertheless, these dry bulk shipping stocks still have a great upside potential because the market conditions are improving for the dry bulk carrier industry.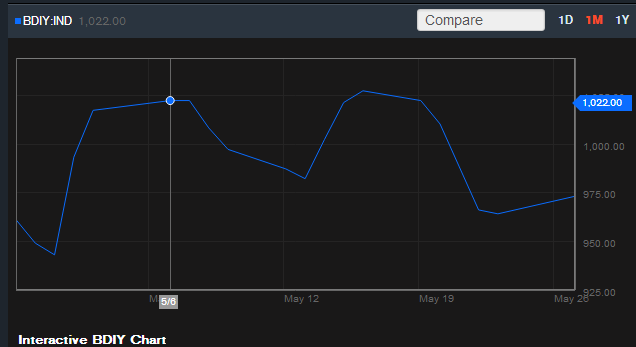 Source: Bloomberg
The Baltic Dry Index [BDI] is a good indicator of the dry bulk activity in the world. The index is formed of weighted averages of the Baltic Capesize, Panamax, Handysize and Supramax indices. Since the beginning of the year, the index has dropped more than 50% due to decrease in iron ore demand from China due to its New Year. However, there is an improvement in the index over the past few days. Therefore, an upward movement in the index means that there has been a surge in at least any one of the four above-mentioned indices.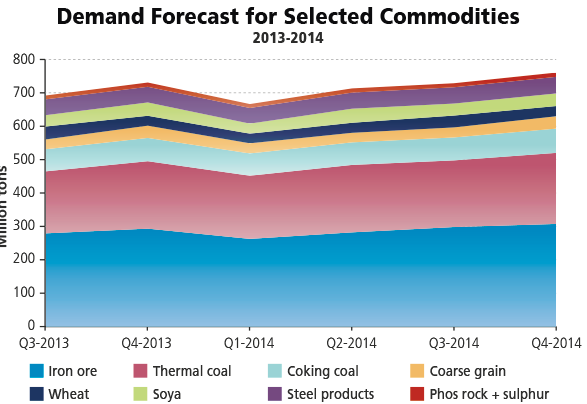 Source: bimco.org
Growth of dry bulk shippers is wholly dependent on the trade of commodities such as iron ore, coal, wheat and grain. According to BIMCO forecast, demand for almost the major commodities will increase this year, which is positive news for dry bulk shippers. Demand for iron ore and coal will also increase this year that will drive the demand for dry bulk vessels. Both iron ore and coal represent 60% of the global dry bulk trade volume. China is the world's largest importer while Australia is the world's largest exporter of iron ore and coal.
Due to rising steel consumption, Chinese demand for iron ore will remain strong this year. Last year, China's iron ore imports increased 10% year-on-year to 820 million tons. Crude steel production in the country will rise 3% to 815 million tons this year, as a result, its iron ore exports are expected to rise 6% to a record of 870 million tons. Due to increase in iron ore imports, China's dependence on foreign ore will increase from 72% in 2013 to 77% in 2016. Australia expects that its iron ore shipments will rise 19% to a record 687 million tons this year, and climb to 749 million tons next year.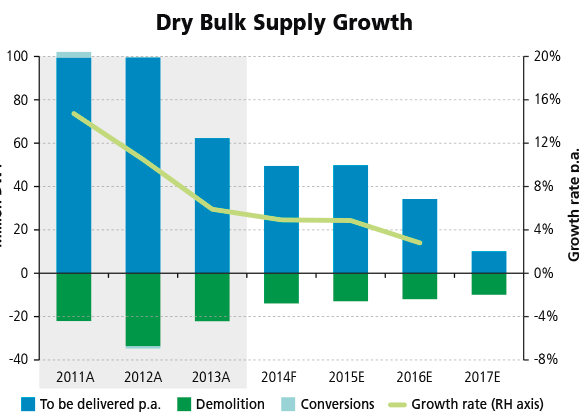 Source: bimco.org
One of the major problems for dry bulk shippers is the oversupply of ships. Supply growth is one variable that affects fleet utilization and shipping rates. BIMCO forecasted low growth in the dry bulk fleet this year. In 2013, 22.2 million DWT was demolished. BIMCO forecasted that 14 million DWT (or 1.9% of the current fleet) will be demolished in 2014. Last year, the drybulk fleet increased by 40 million DWT in net terms, which equals to 5.9% of the total fleet. BIMCO forecasts that 2014 holds 47 million DWT of newbuild capacity in store, which will be offset by 14 million DWT, leaving the fleet to bring supply growth of around 4.5%. Such a growth rate denotes an 11-year low.
Increase in China's iron ore imports will lead to a rise in the demand for dry bulk vessels, as a result, spot rates will increase. According to Clarkson Capital Markets, Capesize vessel rates will reach $24,301 per day in 2015 from recent rates of around $8,400. Rates of Panamax vessels are expected to jump at least 65%. From the above analysis, it is sure that dry bulk vessels demand and rates will improve this and next year. Let's briefly touch upon how the above mentioned dry bulk companies will be affected by the rise in rates.
DryShips

Source: 2013 Annual Report
DryShips owns a fleet of 42 drybulk carriers (including newbuildings), comprising 12 Capesize, 28 Panamax and 2 Supramax, with a combined deadweight tonnage of about 4.4 million tons. The chart shows us that 3 of the 12 Capesize vessels are expected to get free within the next two years. Besides this, its two Panamax vessels will free up in 2015.
Diana Shipping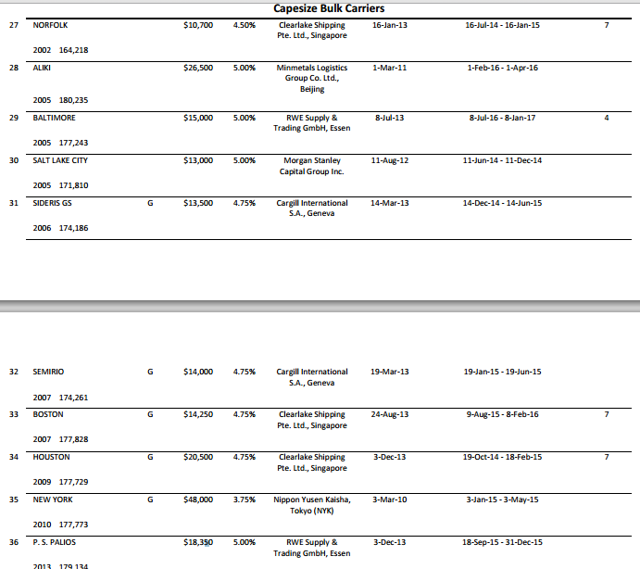 Source: Third quarter results ended March 31, 2014
Diana Shipping owns a fleet of 38 dry bulk vessels (2 Newcastlemax, 10 Capesize, 3 Post-Panamax, 3 Kamsarmax and 20 Panamax). According to the above chart, 7 out of the 10 Capesize vessels will be free within the next two years. All of Diana's 20 Panamax vessels are employed primarily on medium to short-term time, and all of them will expire within this and next year.
Navios Maritime

Source: Navios.com
Navios Maritime operates 30 vessels (2 Ultra-Handymax, 14 Pananmax, 8 Capesize and 5 Container) with a carrying capacity of 3,061,929 dwt and an average age of 7 years on a dwt basis. The chart shows us that only 3 of the 8 Navios Capesize vessels will get free within the next two years.
From the above charts, we can see that all the above mentioned dry bulk shipping stocks will benefit from the increase in vessels rates. However, Diana Shipping will benefit most from the upcoming wing in Capesize vessel rates as 7 of its Capesize vessels will free within the next two years.
Bottom Line
Increasing iron ore imports from China is positive for dry bulk shipping companies like DryShips, Diana Shipping and Navios Maritime. Higher iron ore imports means additional demand for ships, especially Capesize vessels. As a result, shipping rates will rise. All the above mentioned dry bulk stocks will benefit from an expected dry bulk market recovery, but I believe Diana Shipping will benefit more as compared to DryShips and Navios Maritime.
Disclosure: I have no positions in any stocks mentioned, and no plans to initiate any positions within the next 72 hours. I wrote this article myself, and it expresses my own opinions. I am not receiving compensation for it (other than from Seeking Alpha). I have no business relationship with any company whose stock is mentioned in this article.