By now, AthenaHealth (NASDAQ:ATHN) investors have taken notice of Greenlight Capital's David Einhorn and his latest short sale announcement against the company. Normally, this would strike fear into those looking to invest in ATHN's stock, but I believe it has created a great buying opportunity. Upon announcing his shorting theory on AthenaHealth, shares dipped to just below $110.00 per share, but have since rebounded back to the $126.00 range where the stock traded before the announcement. Einhorn has a long history of making such moves, but some of his most recent calls to short certain stocks haven't panned out so well.
Einhorn's short call on Keurig Green Mountain (NASDAQ:GMCR) cost him and his followers hundreds of millions in losses with GMCR. GMCR's stock has risen from under $20 per share all the way to $116 a share recently. He was loudly negative on Chipotle Mexican Grill (NYSE:CMG), which did not pan out very well for him either, as Chipotle's stock has recently set a historical high, trading above $620 per share and continues to expand and operate at high margins. His short call on CMG turned out to be a worst performer of 2013. The problem with Einhorn's theory on ATHN is similar to the one he used with GMCR and CMG, and those seeking to short AthenaHealth based on Einhorn's recommendation should be very careful.
ATHN recently began to draw down on its earnings potential to invest in growing the business infrastructure through new products and spending on Research & Development. This is how many investors fail in today's market, because they are too busy looking at the numbers that are announced during the earnings report, and they panic react with emotions and sell their positions, rather than understand the reason for the numbers. Einhorn's GMCR roasting should be a lesson to his followers not to be so hasty to heed his advice, just because of his billionaire hedge fund status. I fully believe he, and those who short the stock based on his advice, will take the same losses with AthenaHealth, but in quicker fashion.
Current Short Interest
AthenaHealth's stock has recovered back to the level where it was trading prior to Einhorn's short announcement in recent weeks, even as the short interest has increased, but is still down around 40% off its 52-week high. Momentum has been shifting back into the stock, as evidenced by the chart below, and now trades just above $126.00 per share. As of the most recent short interest report, shorts have increased their position to 8.345 million shares shorted in the stock. This likely represents some of the shorting called for by Einhorn, and equals about 35% of the total Outstanding Shares. The high short interest coupled with a low share float, sets up a dangerous situation for short sellers, especially when a company is producing the growth and margins that AthenaHealth is accustomed to reporting.
Earnings Projections
Annual Earnings Estimates ATHN
12/2014
12/2015
USD
Growth %
USD
Growth %
High
0.89
1,171.4
1.36
52.8
Low
0.68
871.4
0.88
29.4
Mean
0.79
1,028.6
1.17
48.1
Median
0.78
1,014.3
1.21
55.1
30 Days Ago
0.94
1,242.9
1.14
21.3
60 Days Ago
0.94
1,242.9
1.14
21.3
90 Days Ago
0.94
1,242.9
1.14
21.3
Number of Estimates
5
5
AthenaHealth falls in my category of prime candidates for investors to consider for a long-term position. The company has surprisingly beaten analyst estimates 4 out of the last 5 quarters to the upside. Current Year 2014 earnings are projected to fall in the $1.04 range. The yearly estimates are lower than what the company reported in 2013 ($1.16), and clearly show how confused analysts have been to pinpoint AthenaHealth's business model. Revenue growth has ranged 30% YOY or better, and the upcoming 3rd and 4th quarters are the company's strongest earnings periods. If AthenaHealth can deliver surprising positive earnings results when it reports Q2 2014 earnings in July, then it would be suffice to say it will beat the 2014 yearly earnings projections fairly easily, which should give shares a nice boost.
I believe that AthenaHealth's business model is completely misunderstood by analysts following the company. This is apparent from the recent CNBC Interview with several analysts who were entirely lost when it came to understanding how the company profits and what they do for their customers. The confusion was so severe, that the analysts were comparing the company to other companies in an entirely different business world. So, how do you value a company that is the first in its own market niche? Certainly, the company deserves a higher valuation because it has no competitors and is producing margins above 55% each reporting period. Bloomberg also had a great interview with the CEO of AthenaHealth, Jonathan Bush, and even then, the interviewers seemed completely lost, as he tried to explain the business and how the company would continue to be successful in providing services to healthcare providers.
Recent Chart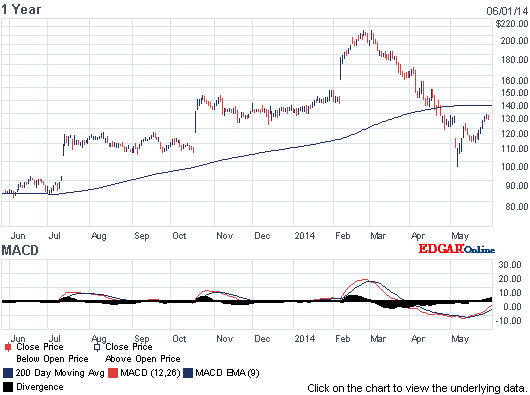 Shares look poised to recover back up towards the $160-$170 range. High short interest in the stock, coupled with the recovering share price and 30% YOY growth, puts AthenaHealth on the top of my list of value stocks to own for the long term. In my opinion, following David Einhorn's advice to short ATHN is a very bad idea for your portfolio.
Disclosure: I am long ATHN. I wrote this article myself, and it expresses my own opinions. I am not receiving compensation for it (other than from Seeking Alpha). I have no business relationship with any company whose stock is mentioned in this article.