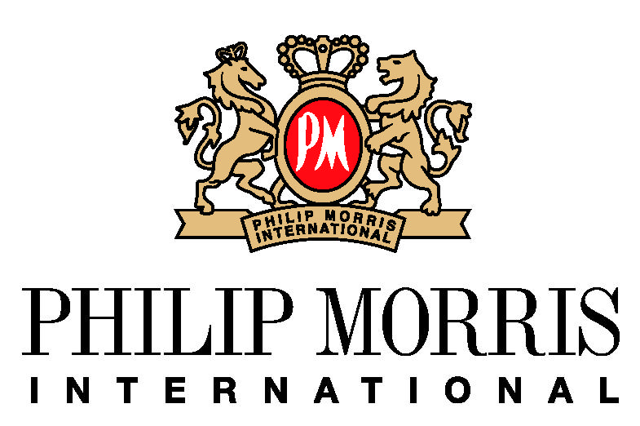 Philip Morris (NYSE:PM) sells Marlboro, Parliament, Virginia Slims, and several other cigarette brands internationally. They do not sell tobacco products in the United States; Philip Morris' sister company Altria (NYSE:MO) sells the same brands domestically.
Philip Morris derived its $80 billion 2013 revenues by region as follows:
| | |
| --- | --- |
| European Union (EU) | 27.54% |
| Eastern Europe, Middle East, & Africa (EEMA): | 28.08% |
| Asia: | 33.64% |
| Latin America & Canada (LA&C): | 10.74% |
Source: 2013 Annual Report
Current Events
Philip Morris grew revenues 3.4% in 2013 while gaining or holding market share in 23 out of the company's top 30 markets. This growth falls short of managements long-term expected growth rate of 4% to 6%, but is impressive considering the volume decline in international cigarettes for 2013.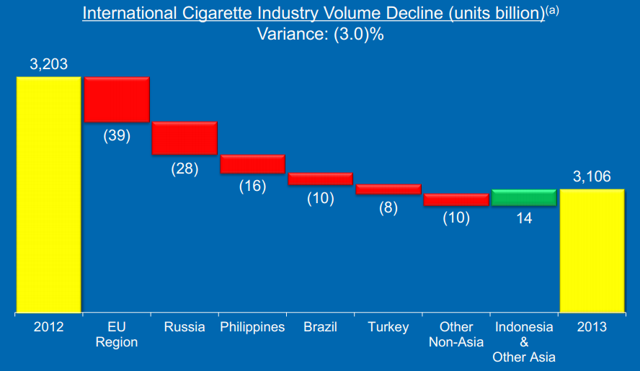 Source: CAGNY Conference Presentation
Philip Morris has been able to grow revenues despite declines in overall cigarette volume by gaining market share in 3 out of 4 of the company's reported regions.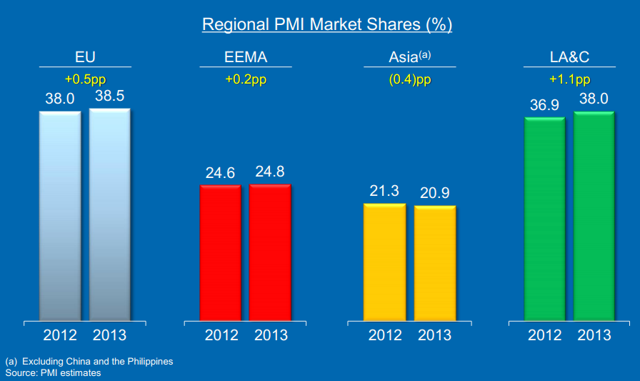 The company has gained market share on the strength of its flagship brand, Marlboro. Philip Morris has a significant opportunity to expand and continue growing in the emerging markets. As more people are lifted out of poverty in emerging markets, they will continue to switch to premium products. Marlboro's position as a premium cigarette brand will benefit it as emerging market demographic trends continue.
Shareholder Return
Shareholders of Philip Morris can expect strong total returns going forward. The company has repurchased over 25% of its shares since being spun-off 6 years ago. Further, the company pays out the majority of its earnings as dividends. Shareholders can expect a CAGR of 10% to 14% from dividends (4%), share repurchases (4%), and growth (2% to 6%). The company's management expects growth of 4% to 6% going forward; 2014 growth was only 3.4% in 2013.
Valuation
Philip Morris appears to be either fairly valued or undervalued compared to its peers based on the company's PE ratio.
| | | |
| --- | --- | --- |
| Ticker | Company | P/E |
| PM | Philip Morris International, Inc. | 17.16 |
| | British American Tobacco plc | 17.60 |
| MO | Altria Group Inc. | 19.24 |
| | Reynolds American Inc. | 21.07 |
| | Lorillard, Inc. | 20.38 |
| | Vector Group Ltd. | 52.27 |
Further, Philip Morris' PE ratio of 17.16 is lower than the S&P 500's current PE ratio of 19.20. The company appears to be undervalued relative to other businesses today.
Consecutive Years of Dividend Increases
Philip Morris has increased its dividend each year since being spun off from Altria in 2008. If you include Altria's dividend history, Philip Morris has paid dividends for 39 consecutive years.
Why it matters: The Dividend Aristocrats (stocks with 25-plus years of rising dividends) have outperformed the S&P 500 over the last 10 years by 2.88 percentage points per year.
Source: S&P 500 Dividend Aristocrats Factsheet, February 28 2014, page 2
Dividend Yield
Philip Morris has a dividend yield of 4.25%, ranking it at 9 out of 112 businesses with 25+ years of dividend payments without a decrease.
Why it Matters: Stocks with higher dividend yields have historically outperformed stocks with lower dividend yields. The highest-yielding quintile of stocks outperformed the lowest-yielding quintile by 1.76 percentage points per year from 1928 to 2013.
Source: Dividends: A Review of Historical Returns
Payout Ratio
Philip Morris pays out the majority of its earnings to shareholders. The company's payout ratio is 71.10%, ranking it at 95 out of 112 businesses with 25+ years of dividend payments without a decrease. The company's high payout ratio means it is unlikely the business will be able to grow dividends faster than overall company growth.
Why it Matters: High-yield, low-payout ratio stocks outperformed high-yield, high-payout ratio stocks by 8.2 percentage points per year from 1990 to 2006.
Source: High Yield, Low Payout by Barefoot, Patel, & Yao, page 3
Long-Term Growth Rate
Philip Morris has grown per share revenue by 8.63% over the last 6 years. This strong growth ranks the business at 11 out of 112 businesses with a long history of dividend increases.
Why it Matters: Growing dividend stocks have outperformed stocks with unchanging dividends by 2.4 percentage points per year from 1972 to 2013.
Source: Rising Dividends Fund, Oppenheimer, page 4
Long-Term Volatility
Philip Morris' long-term standard deviation of 24.05% ranks it at 33 out of 112. The company's fairly low standard deviation is due to the strong, predictable cash flows the business generates in both prosperous times and during recessions.
Why it Matters: The S&P Low Volatility index outperformed the S&P 500 by 2 percentage points per year for the 20-year period ending September 30th, 2011.
Source: Low & Slow Could Win the Race, page 3
Conclusion
Philip Morris has increased its dividend every year since spinning off from Altria in 2008. In addition, the company's revenue per share has increased each year since 2008. The company ranks in the Top 10 based on the 8 Rules of Dividend Investing.
The tobacco industry is incredibly profitable and minimally effected by recessions. Philip Morris International is globally diversified and likely to continue rewarding shareholders through its stable cash flows derived from its strong brands.
Disclosure: The author has no positions in any stocks mentioned, and no plans to initiate any positions within the next 72 hours. The author wrote this article themselves, and it expresses their own opinions. The author is not receiving compensation for it (other than from Seeking Alpha). The author has no business relationship with any company whose stock is mentioned in this article.