SodaStream International Ltd. (NASDAQ:SODA) has been much under fire lately after the company reported weak first-quarter results. The Israel-based home carbonation product maker reported first quarter results on May 14, 2014 which saw revenues increase only marginally by less than 1% y-o-y. However, investors completely lost it and panicked over the company's announcement of weaker sales in its important U.S. market. The graph below depicts the geographic breakdown of SodaStream's sales in the first quarter of 2014: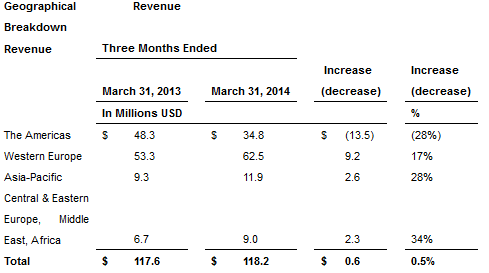 (Source: SodaStream Investor Relations Website)
The Americas accounted for roughly 41% of total sales in the first quarter of 2013. After revenues slid 28% y-o-y, the Americas now account for only 29% of SodaStream's total revenues, but remain the second most important market for the company after Western Europe.
In addition to falling revenues in the Americas, higher cost of revenues and higher operating expenses seriously crushed the company's first-quarter operating income which fell from $13.6 million in the year-ago quarter to just $2.3 million in the most recent quarter: A whopping decline of 83% y-o-y. Correspondingly, SodaStream's net income per diluted share fell off a cliff and declined 86% from $0.57 in the first quarter of 2013 to $0.08 in the most recent quarter.
Strategic threat from alternative home beverage systems
The Coca-Cola Company (NYSE:KO) teamed up with Green Mountain Coffee Roasters, Inc. (NASDAQ:GMCR) at the beginning of the year to build an at-home beverage system. Not only did the two companies enter into a long-term development partnership agreement, but they also announced that Coca-Cola will be taking a 10% equity stake in Green Mountain Coffee Roasters in an attempt to underline the strategic importance of the deal. Coca-Cola's press release laid out the deal terms at the time:
ATLANTA, Ga. and WATERBURY, Vt. (February 5, 2014) - The Coca-Cola Company and Green Mountain Coffee Roasters, Inc. announced today that the companies have signed a 10-year agreement to collaborate on the development and introduction of The Coca-Cola Company's global brand portfolio for use in GMCR's forthcoming Keurig Cold™ at-home beverage system. Under the global strategic agreement, GMCR and The Coca-Cola Company will cooperate to bring the Keurig Cold™ beverage system to consumers around the world. In an effort to align long-term interests, the companies also entered into a Common Stock Purchase Agreement whereby The Coca-Cola Company will purchase a 10% minority equity position in GMCR.

Under the terms of the equity agreement, The Coca-Cola Company will acquire 16,684,139 newly issued shares in GMCR for approximately $1.25 billion, which represents an approximate 10% ownership in GMCR (after giving effect to the issuance). The newly issued shares have been priced at $74.98, which represents the trailing 50-trading-day volume weighted average price ("VWAP") as of market close today.
GMCR's Keurig Cold beverage system certainly received a massive credibility boost from Coca-Cola's endorsement. Moreover, innovative and alternative drink delivery systems pose a significant threat to SodaStream's products which, after all, could prompt a strategic alliance between SodaStream and PepsiCo, Inc. (NYSE:PEP).
PepsiCo certainly does not have the technology in place to come up with an alternative system and I consider it not very likely that PepsiCo indeed wants to develop its own technology. It makes much more strategic sense for PepsiCo to leverage SodaStream's manufacturing capabilities to develop a single-serve cold drink delivery system.
Share performance
SodaStream's shares have been thrown under the bus over the last twelve month leading to a negative return of almost 46%. Since the beginning of the year, SodaStream's shares have lost more than 22%. Barclays' recent SodaStream downgrade certainly didn't help the shares either. On May 22, 2014 Barclays downgraded the company to Underweight with a target price of $35 (previously $40).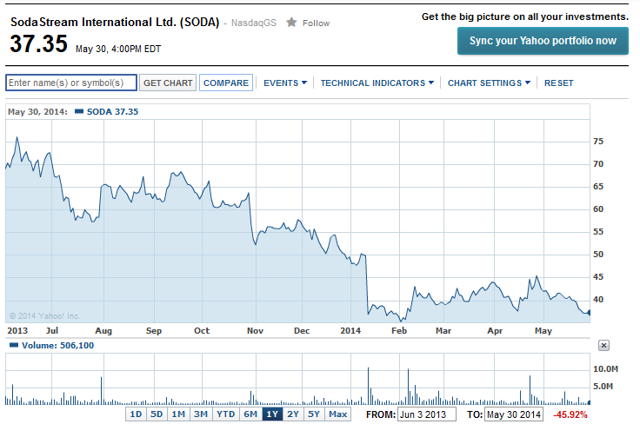 Conclusion
SodaStream is not an easy call at the moment and uncertainty remains high. However, a potential partnership agreement with PepsiCo, which would rival the agreement between Coca-Cola and Green Mountain Coffee Roasters, to collaborate on a single-serve cold drink delivery system could be a major catalyst for the stock.
PepsiCo's strong U.S. market position would also help alleviate investor concerns about eroding sales in the U.S. market and would fundamentally transform the company and broaden its appeal to consumers. With hurtful sales declines, eroding profitability, strategic threats from alternative home beverage systems, high uncertainty surrounding the stock and at 17x forward earnings, I consider the stock to be a Sell. However, a potential partnership between SodaStream and PepsiCo certainly would be a game changer requiring an update of the underlying investment thesis.
Disclosure: I have no positions in any stocks mentioned, and no plans to initiate any positions within the next 72 hours. I wrote this article myself, and it expresses my own opinions. I am not receiving compensation for it (other than from Seeking Alpha). I have no business relationship with any company whose stock is mentioned in this article.