Here we are again. $8.00.
Nokia (NYSE:NOK) shares have zoomed from $7.24 on May 16th to close at $8.13 on Friday, an impressive 12% gain in a short 2-week time window. We have to rewind almost 5 months, to Jan. 10th, to see the last time NOK closed above $8.00. Alcaraz Research had penned a good Seeking Alpha article titled Nokia: The $8 Barrier Should Be Breached Soon that summarized the company's Q1/14 performance. However, I was a little confused since the title of the article suggested further upside in NOK, but the conclusion of the article was that NOK was a "HOLD". Now that the $8 barrier has been breached, I would argue, as I had in a previous article, that the major price barrier is the $8.20-8.30 range and not the $8 mark. From the graph below, one can see that the $8.20-8.30 area had served as a strong support area in 2010 and 2011, and it is this last resistance that prevents NOK from reaching $10.00 (barring any major meltdown in the overall market).

Click to enlarge
Microsoft's (MSFT) acquisition of Nokia's Devices and Services Division finally became a reality on April 25th, after repeated delays that stemmed from a multi-billion dollar tax dispute with India (still ongoing), as well as Chinese concerns that the deal will negatively impact Nokia's patent licensing practices with Chinese manufacturers. One of the promises that Nokia had made was to return a portion of the 5.6 billion Euros from this transaction to shareholders. Indeed, the company's Annual General Meeting, scheduled for June 17th, calls for a vote to distribute an ordinary dividend, as well as a special dividend, to shareholders:
The Board proposes to the Annual General Meeting that an ordinary dividend of EUR 0.11 per share be paid for the fiscal year 2013. In addition the Board proposes that in line with the capital structure optimization program decided by the Board a special dividend of EUR 0.26 per share be paid. The aggregate dividend would be paid to shareholders registered in the Register of Shareholders of the Company on the record date of the dividend payment, June 23, 2014. The Board proposes that the dividend will be paid on or about July 3, 2014.
This is welcome news to institutional investors as many had exited their position in NOK when the dividend was scrapped in 2013. If both dividends are approved, and I fully expect them to be, it will translate to EUR 0.37, or USD 0.50, which would represent a 6.2% return based on Friday's closing price of $8.13.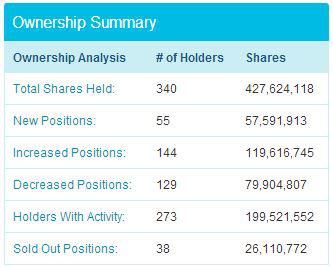 In anticipation of the closing of the Microsoft-Nokia deal and an imminent return of capital to investors, institutions were accumulating shares of NOK in Q1/14 in the US. As per Nasdaq, approximately 71 million net shares were purchased, representing almost 2% of the shares outstanding. An increase in institutional holdings is often a positive sign for the future performance of the stock. As always, Seppo Sahrakorpi keeps an excellent blog on the largest holders of NOK in the NYSE and in Helsinki.
There has also been a number of important upgrades in the past 3 weeks that has helped fuel NOK shares to $8.13. On the corporate front, Moody's, Standard & Poor's, and Fitch Ratings all upgraded Nokia's long-term debt credit and outlook ratings. From an investment standpoint, NOK was upgraded by Jefferies from a Hold to a Buy with a price target of EUR 7.41 ($10.11). Last week, Canaccord Genuity reiterated its Buy rating on NOK and increased its price target to $11.00.
Fundamentally, Nokia remains a long-term strong buy in my books. Although the NSN division is now the major revenue generator, its prospects do not particularly excite me after a 17% year-over-year decrease in sales. The key in unlocking Nokia's true value lies in its patent portfolio and mapping services. After a long patent dispute, Nokia and HTC finally agreed on a patent and "technology collaboration agreement." Although HTC accounts for less than 3% of the phones sold globally in 2013, the win is significant for Nokia as it represents a victory against Google's (NASDAQ:GOOG) Android operating system. Samsung (OTC:SSNLF), another handset manufacturer that relies heavily on Android, has agreed to binding arbitration with Nokia. The arbitration outcome will conclude in 2015, which will be a significant driver for NOK share price. My view here mirrors those of Jefferies and Canaccord. Location and mapping will also be a driver, albeit a smaller one, for Nokia. The major customer for Nokia's HERE platform is Microsoft, who has signed a 4-year licensing deal. On May 30th, Nokia acquired Desti, which uses artificial intelligence and natural language processing for contextual search, to bolster its HERE technology. This is an excellent move by Nokia to stay competitive with other players in the field such as Google and Yelp.
Altogether, the news that has come out on Nokia has been overwhelmingly positive in the last 3 weeks. Will that be enough to drive NOK over $8.20 and propel it towards $10.00? I am more optimistic this time around than in January when it topped out at this level. I had sold the majority of my call options in January when NOK was rejected at $8.20, but bought back a small position of NOK shares in the low $7's. I am watching that $8.20-8.30 level closely again, and if this ceiling is broken, I am expecting a quick ride to $10.00 and will be loading up on call options.
Disclosure: I am long NOK. I wrote this article myself, and it expresses my own opinions. I am not receiving compensation for it (other than from Seeking Alpha). I have no business relationship with any company whose stock is mentioned in this article.