2013 was a difficult year for The Coca-Cola Company (NYSE:KO). Its share price moved only 9.8% last year, from $37.60 per share to $41.31 per share. Year-to-date, the stock dropped more than 0.4%. Nevertheless, the stock still has a great upside potential.
Coca-Cola operates and competes in the beverage industry. The industry has been negatively impacted by the decline in CSD (carbonated soft drinks) consumption over the past five years. This is largely caused by the fact that Americans are turning to healthier beverage options. The industry is expected to witness low growth in upcoming years. The decreasing demand for CSDs is largely responsible for this decline. Between 2010 and 2015, the global beverage market is forecast to grow a rate of less than 2% a year to $1,900 billion by the end of the five-year period.
Although the industry is in decline, Coca-Cola has managed to maintain its earnings. To counteract the declining demand for CSD in the United States, the company has been focusing on emerging markets to improve its revenue. It currently generates 80% of its income from the countries outside the U.S. Coca-Cola has great growth opportunities in emerging markets like China, India and Brazil. Emerging markets are less saturated, and provide a growth opportunity for soft drink companies. The level of consumption in China, India and Brazil is much lower than the U.S., which could translate into growth in volumes for a very long time.
China is a major growth market for Coca-Cola. It has operated in China since 1979. China is the third-largest country for Coca-Cola by revenues, and it's also a big part of the company's expected growth in sales over the next decade. Coca-Cola leads the soft drink market in China, and holds a 16% market share by total volume in 2012. Between 2012-2017, the carbonated soft drinks market in the country is expected to grow at a CAGR of 3.5% to $13.2 billion by the end of 2017. Due to growing health awareness among consumers, juices are becoming popular among Chinese customers. Fruit/vegetable juice market is the largest segment of the Chinese beverage market. By 2017, the Chinese juice market is expected to generate annual sales of $25 billion. As a market leader in this segment, Coca-Cola is well-positioned to benefit from the growing juice market in China.
Coca-Cola is increasing its spending in China, as the company and its bottlers aim to double global revenues to $200 billion in 10 years to 2020. Since 1979, the company has invested more than $5 billion in China, including $3 billion between 2009 and 2011. It plans to invest more than $4 billion in China in 2015-2017. The investment will be used to build factories and add new products to meet demand and counter rising competition. Coca-Cola plans to open as many as two facilities each year in China over the next decade.
Another important growth market for Coca-Cola is Brazil. Brazil, with its large urban population, provides the company with a strong potential customer base. It holds a 27% market share in the Brazilian beverage industry. Brazil accounted for 7% of Coca-Cola's sales by volume last year. The company is an official sponsor of the 20th World Cup, considered along with the Olympics as one of the world's top sporting events. According to Coca-Cola spokeswoman, Kate Wharton:
"The 2014 FIFA World Cup is the most important marketing initiative for the company in 2014 -- in terms of both short-term volume growth and long-term brand-health scores."
Due to the 2014 FIFA World Cup and Olympics Games in 2016, a large number of people will visit Brazil, which in turn, will increase the demand for cold beverages in the country. The Brazilian beverage market is expected to grow at a CAGR of 6% to over $54 billion by 2017. Over the last four years, the company has spent about $31 million solely for the purpose of the football World Cup. This huge spending could help to attract more customers for its soft drinks. Coca-Cola plans to invest $7.6 billion in Brazil from 2012-2016 to build its soda-making and distribution businesses.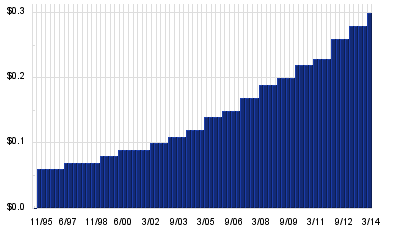 Source: dividendchannel.com
Coca-Cola is also attractive for dividend investors, offering a current yield of 3%. The company has paid a quarterly dividend since 1920, and has increased dividends in each of the last 50 years. Over the past ten years, Coca-Cola has increased its annual dividend by 9.8% per year, which is quite nice. A 9.8% growth in dividends translates into the dividend payment doubling almost every seven years. Analysts are expecting that the company will report revenue of $46.99 billion this year and $48.95 billion next year. EPS is estimated to be $2.09 and $2.24 in 2014 and 2015, respectively. As the company's revenue is expected to grow, so are its dividends. Its current dividend payout ratio is only 58.60%, which leaves room for future payout growth. With more than $9.1 billion in cash, it has the ability to pay dividends for at least 2 years.
Bottom Line
The future of Coca-Cola looks bright. The company will bounce back from its negative growth in 2013 from increasing focus on emerging markets and marketing that will counteract the decline in demand for CSD in the United States. Both China and Brazil represent a range of growth opportunities. Coca-Cola is a core holding for long-term dividend investors. Its current decline presents a good opportunity to buy the stock. In my opinion, Coca-Cola is an attractive investment for long-term investors.
Disclosure: I have no positions in any stocks mentioned, and no plans to initiate any positions within the next 72 hours. I wrote this article myself, and it expresses my own opinions. I am not receiving compensation for it (other than from Seeking Alpha). I have no business relationship with any company whose stock is mentioned in this article.