An uncertain political environment in Thailand has not dampened its developing market the way that many expected.
In this economically healthy Southeast Asian nation, military commanders recently declared martial law and took the reins of power from civilian leaders. Though the Thai military initially denied orchestrating a coup, the suspension of the Thai constitution and the announced ban on large public gatherings are telling signs. In a grave situation like this, one might expect that Thai stocks would tumble precipitously. Instead, the Thai stock market is easily taking the chaotic developments in stride.
On May 28, the Stock Exchange of Thailand rose by nearly 1 percent. For a country in the throes of political crisis, this type of performance is striking.
Warning Signs
Of course, investors in Thai companies had plenty of warning, as the nation's political situation has steadily been worsening for some time now. Furthermore, Thailand has experienced twelve coups since the end of absolute monarchy in 1932. Thailand's history of coups ensures that Thailand has learned how to deal with these crises with business-like calm. The analysts at Nomura Securities have demonstrated that, on average, the Thai equity market rises over 3% in the first month after a military coup.
Thai Companies Shine
Of course, Thai companies themselves deserve part of the credit for Thailand's market stability. The iShares MSCI Thailand Capped ETF (NYSEARCA:THD) is an investment that can rely on a solid, well-earned foundation of investor trust.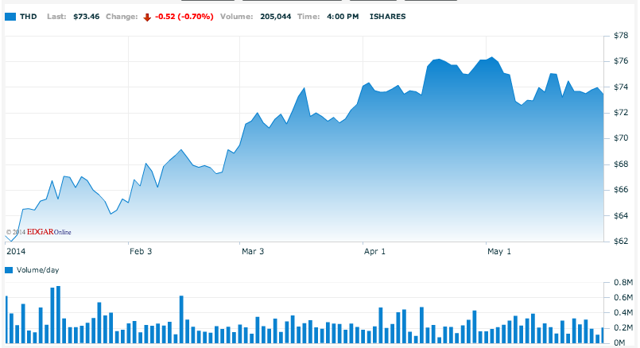 Source: Nasdaq.com
Siam Commercial Bank (OTCPK:SMUUY) (OTCPK:SMCBF) and Bumrungrad Hospital (BH.TB) are two other Thai stocks that can count on loyal investors who won't abandon ship without strong cause. Bumrungrad, with a world class facility and medical team, has long been a destination for Thais, Southeast Asians, and expats alike - as costs are very low, and quality of care high, relative to Western standards. This hidden gem in Bangkok will likely weather this political storm quite well. As indicated below, BH.TB has gained strength in May.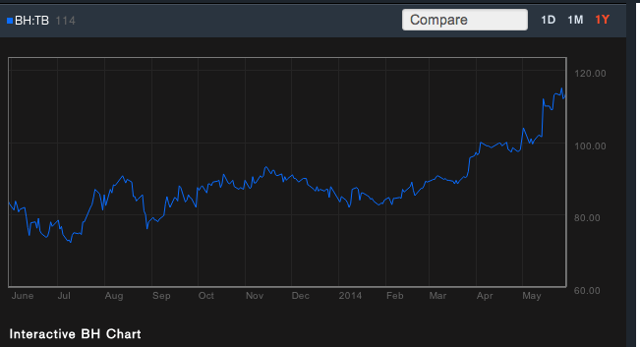 Source: Bloomberg
The resilience of Thailand's financial sector teaches a lesson about the importance of cultural factors. In the dichotomy of the West, military takeovers are often inherently negative and harbingers of fiscal disaster. In Thailand, people fed up with corruption may feel that direct military intervention is the fastest, more sure avenue for national stability. Thailand's rice farmers largely support the takeover, as does Suthep Thaugsuban, the leader of Thailand's anti-government reform movement.
Intrigue For Investors
With one of Southeast Asia's largest and most stable economies, Thailand has long intrigued investors and travelers from around the world. The World Bank notes Thailand as "one of the great development success stories…an upper middle income economy...."
In the past few months, anti-government protests have threatened to mar Thailand's international image. However questionable their methods, it is reasonable to assume that the Thai military is indeed trying to end governmental deadlock and malaise. Though it is easy to argue that a direct military takeover is always counterproductive, Thailand will chart its own course based on its own need and expectations.
Signs of Resilience in Emerging Markets
This year, there has been a lot of concern about the state of emerging markets. As always, investors are wary of high volatility.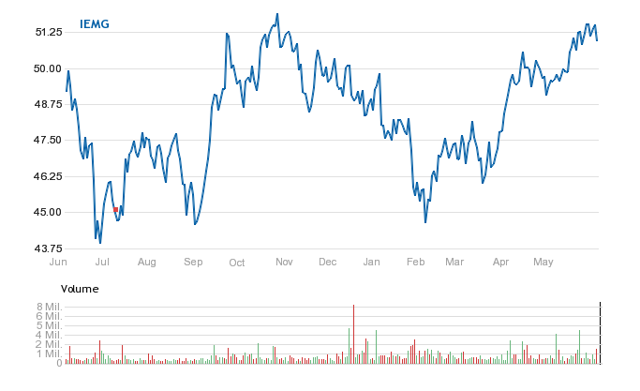 Source: U.S. News Money
While there have been some disappointing developments, it is easy to make too much of these. Looking at the long-term picture, countries like Thailand prove that modern markets are more interconnected and resilient than ever -- and that investors in emerging markets are fully able to look at the big picture.
Thailand At A Turning Point
This is a turning point for Thailand. In the coming weeks and months, the military's decisions will greatly influence the future of this nation as a vibrant investment hub.
As noted, however, Thai stocks are well-poised to weather problems that might cause disastrous free fall in other nations.
In spite of the ongoing unrest, fine opportunities in the Thai stock market should remain viable choices into the indefinite future.
We invite readers wishing to join the discussion on Thailand and other emerging markets to click the +FOLLOW button above the title of this article and follow @DRDInvestments on twitter.
Disclosure: I have no positions in any stocks mentioned, and no plans to initiate any positions within the next 72 hours. I wrote this article myself, and it expresses my own opinions. I am not receiving compensation for it (other than from Seeking Alpha). I have no business relationship with any company whose stock is mentioned in this article.