General Motors (NYSE:GM) is facing very trying times. Recently, it has come to light that as many as 13 people died because of an ignition switch defect in GM cars. Starting in February, GM started recalling over 2.5 million small vehicles affected by the defect.
While the defect itself is a serious blow to GM's reputation, GM's questionable response to the deaths is even more damaging. Not only has GM refused to disclose information about the accidents in question, they have even shown reluctance to talk to accident survivors and relatives of the deceased.
The Impacts of Death-Related Accidents
It is hard to overestimate the potential impact of the defect-related accidents. This is the most deaths associated with a vehicle safety issue since 2000. That year saw Ford (NYSE:F) recall Explorers that were equipped with faulty Firestone tires. A public relations disaster, the Ford-Firestone controversy contributed materially to Ford's gradual decline over the course of the past decade.
Today, Ford has recovered much of the cachet that it lost in 2000. Nevertheless, it is almost certain that the automaker lost many customers in the aftermath of this safety controversy.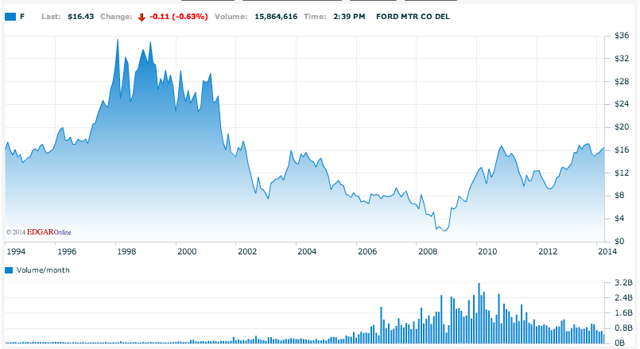 Click to enlarge
Source: Nasdaq.com
GM's ignition switch debacle could cause a similar loss of faith on the part of the public. Like Ford before it, GM's response to this tragedy demonstrates an attitude nearly guaranteed to stoke public anger. So far, journalists have identified 12 of the deceased victims. These fatalities occurred in 10 distinct accidents throughout the United States and Canada. The first death occurred in 2004 while the last fatality occurred as recently as June 2013. Almost all of these incidents were single-vehicle crashes in which drivers lost control, leading to a head-on collision with a stationary object. In all of these cases, vehicle air bags did not deploy, a tell-tale sign of vehicular power failure.
GM Questionably Silent
GM initially estimated that the ignition defect played a factor in at least 32 car accidents, a number now revised to 47. When contacted by investigative journalists, GM refused to release victim names. In GM's version of the story, this policy was adopted due to privacy concerns. If one can credit statements from relatives of the deceased victims, a different picture unfolds. According to these sources, GM has refused to privately discuss these deaths with survivors.
Statements from law enforcement officials have also cast GM's response in a poor light. Current and former police officers allege that the automaker's reticence has had a negative impact on crash investigations.
Social Media Punishes GM
GM is facing a public relations nightmare of expansive proportions. This growing controversy involves fewer deaths than the Ford-Firestone debacle. On the other hand, the potential for backlash is arguably greater in 2014 than in 2000. In the intervening years, the growth of social media and online culture has fostered a new spirit of defiance towards corporate callousness. Back in 2000, social media was in its infancy. In that era, traditional media channels still had an outsized influence on the mainstream of public thought.
2014 presents a world where online networks trumpet David-and-Goliath stories of ordinary people hurt by vast corporations. This environment foster more accountability for the mistakes and evasions of corporations in crisis. This is an age of fast-moving, viral online stories.
It isn't hard to imagine the public identifying strongly with victims like Gene Erickson. Wholly or in part, this 25-year-old's premature death was attributable to GM's failures. The public may also take to heart the story of Amy Rademaker, a 15-year-old crash victim who was lost to the world before she had a chance to experience the fullness of life.
Conclusion for GM Investors
Time will tell how deeply and seriously these tragic stories can tarnish GM's corporate brand and its stock.
For now, it's clear that this recall and GM's less-than-adequate response has taken its toll on GM stock.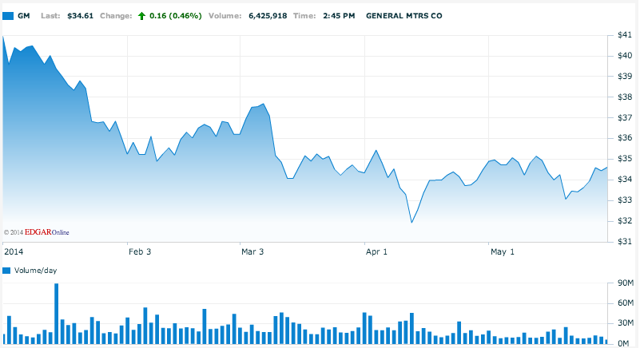 Click to enlarge
Source: Nasdaq.com
While GM does appear to be making positive moves abroad, in the growing Chinese market, mired in negative press and still yet to fully emerge from bankruptcy, GM apparently lacks the flexibility to innovate, compared with surging companies like Tesla (NASDAQ:TSLA).
The electric car market seems to be taking off, with new policies for emissions standards and subsidies for renewables set to be rolled out by the Obama administration and several states. Ford recently announced its rollout of 3,500 plug-ins, while Nissan (OTCPK:NSANY), has already moved over 100,000 units of its all-electric Leaf.
Until GM has turned its reputation around, it will likely be difficult for the company to keep up with its competitors.
We suggest investors take some profits in GM until the company has shown clearer signals of how it will respond and move forward post-recall.
We invite readers wishing to join the discussion on GM to click the +FOLLOW button at the top of the article and follow @DRDInvestments on twitter.
Disclosure: I have no positions in any stocks mentioned, and no plans to initiate any positions within the next 72 hours. I wrote this article myself, and it expresses my own opinions. I am not receiving compensation for it (other than from Seeking Alpha). I have no business relationship with any company whose stock is mentioned in this article.