EPA Proposal
On June 2, The EPA will be making a proposal, concerning the supervision of carbon-dioxide emissions, produced by the United States' gas and coal-fired power plants.
This is the Obama administration's most comprehensive policy on global warming. The move, however, is only the first step in Obama's second term plan on climate change. After winning the 2008 presidential election, Obama spoke to a group of governors and officials in Los Angeles, reassuring them that global warming would be a top priority during his second-term presidency. "Now is the time to confront this challenge once and for all," he said. "Delay is not an option." And it seems Obama is willing to delay no more.
Early information indicates that the EPA is planning to set comprehensive limits on emissions for each state. The power companies operating in those states will then be presented with a number of choices for reducing their emissions, while using more efficient technology.
Peabody Suggests New Restrictions Could Hurt Low and Fixed Income Citizens Most
One company that is certainly not pleased - and could be significantly hurt - with this upcoming proposal is Peabody Energy (BTU). Based in Missouri, Peabody Energy holds the title of the largest coal company in the United States and ranks among the largest in the world.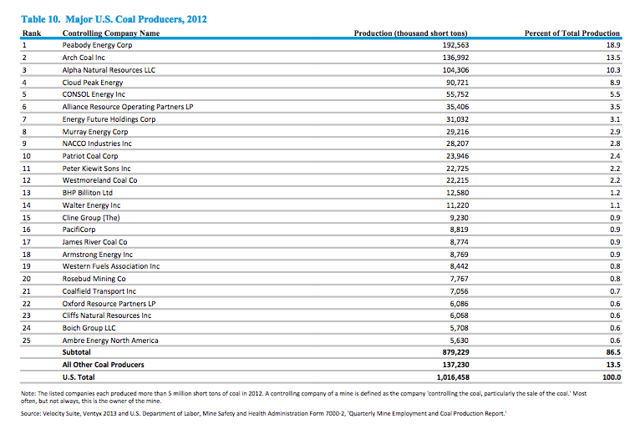 Source: EIA
Peabody Energy claimed after Obama's speech that restrictions on carbon emissions would damage American consumers.
In a statement, Peabody urged Washington to reconsider carbon plans further increasing energy prices - in effect, it said, it would be a regressive tax, hurting those with low and fixed incomes the most.
Issue of Carbon Capture & Storage
Many consider CCS, or carbon capture and storage, technology to be the real issue. CCS is when the carbon dioxide is captured from a source such as a power plant and transported to a storage site. The storage site, normally underground, ensures that the carbon dioxide will not enter the atmosphere. Despite coal companies warning of the costs to companies, the EPA supports CCS.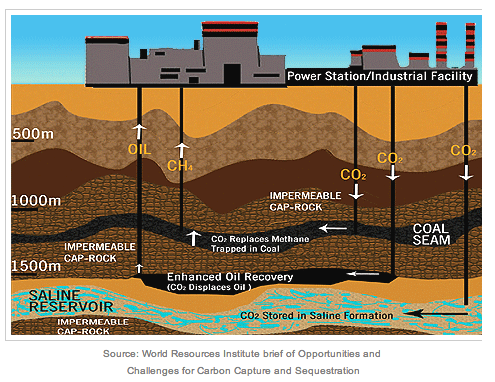 Source: Halliburton
Plants that can use CCS are expected to initially cost at least 75 percent more than current coal plants. And those costs won't lower unless a technological breakthrough occurs or utilities decide to invest more of their private funds. Considering the financial situation this is unlikely.
Peabody Energy faces the same monetary problem as other coal companies. The limits on building coal plants are tough enough that the only way to build new coal facilities will be if the plants use CCS.
BTU Short Interest Up, Stock in Decline
Shares of Peabody were the object of a large upsurge in short interest in the month of April. As of April 30th, there was short interest in the amount of 26,810,594 shares, an increase of 14.6% from the April 15th total of 23,405,136 shares, ARN reports. Currently, 9.9% of company stock is sold short.
BTU is also already showing signs of struggle in its fundamentals -- missing analyst estimates the past two quarters, by $0.19 and $1.42, respectively.
Coal stocks fell after the new proposals by the EPA that would limit the likelihood of companies producing the type of coal-fired plants that represent nearly half the U.S.'s electricity production.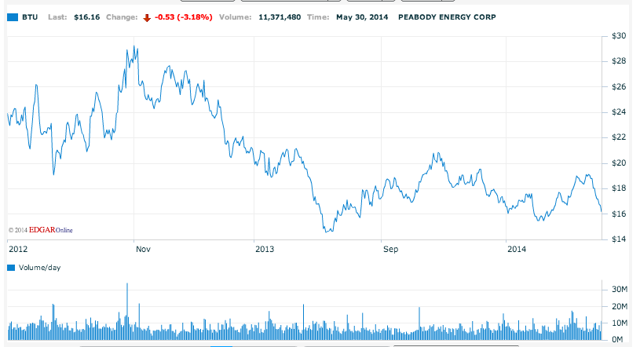 Source: Nasdaq.com
The EPA proposal to lower greenhouse emissions would also pressure existing coal-fired utilities into undergoing expensive upgrades. The possible profit-squeeze on has many investors deciding to sell.
Outlook for Peabody Investors in 2014
If the proposal goes through, success and progress can only be ensured if CCS technology becomes viable. The EPA is optimistic. The coal industry is not.
Investors might consider diversifying energy portfolios to include companies like Exelon (NYSE:EXC), which includes wind and solar generation. EXC, as well as renewable energy ETFs, such as First Trust ISE Global Wind Energy ETF (NYSEARCA:FAN), has risen significantly in advance of the EPA's announcement.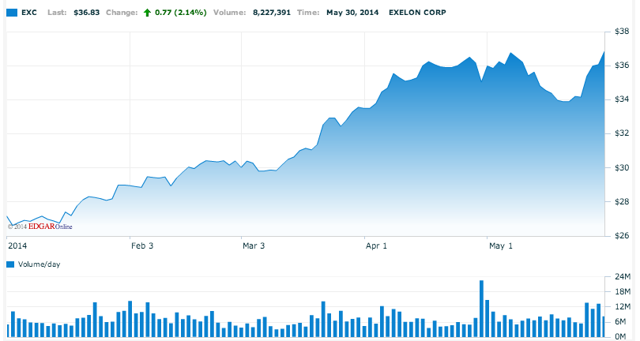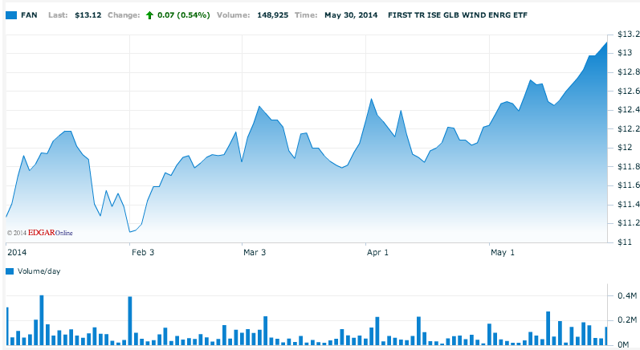 While major coal companies, including Peabody Energy, will likely ramp up mining and production in China and other developing markets to compensate - it's unclear how long these operations could take. On the other hand, this is clearly a positive sign for wind and solar companies to scale up.
We suggest investors consider shorting BTU before the decline accelerates.
Readers wishing to join the discussion on Peabody Energy and the changing energy industry should click the +FOLLOW button above the title of this article and follow @DRDInvestments on twitter.
Disclosure: I have no positions in any stocks mentioned, and no plans to initiate any positions within the next 72 hours. I wrote this article myself, and it expresses my own opinions. I am not receiving compensation for it (other than from Seeking Alpha). I have no business relationship with any company whose stock is mentioned in this article.