Weeks after the original talks were leaked to the public, Apple Inc (NASDAQ:AAPL) officially announced it was acquiring Beats Electronics LLC for $3 billion to shore up its music business. Instead of re-branding the company with the Apple logo, Apple will maintain the Beats brand. Jimmy Iovine, one of the founders of Beats, will resign as chairman of Vivendi SA's Interscope Records to work for Apple full time. Super producer Dr. Dre, will continue to produce music, yet is expected to play an active part in making Apple/Beats a success.
Attractive Entry Point
Beats is privately-held and is reported to have revenues of approximately $1 billion. That said, the purchase price of 3x revenue compares favorably to where competitors such as Pandora Media Inc (NYSE:P) (7x sales) or Sirius XM Holdings Inc (NASDAQ:SIRI) (5x sales) are currently trading. The transaction represents the largest acquisition Apple has ever made. However, the attractive entry point makes the transaction more saleable to potential critics who may question the deal's size, or the rationale for buying a headphone company with a nascent music streaming business.
The Rebirth of Cool
In partnering with Beats, Apple is expected to regain that "cool" factor. After all, Beats is to headphones as Apple is to the iPod. Kids willing to pay from $99 to $399 for premium headphones want to be associated with their favorite artist or professional athlete. The method behind the madness:
Companies like Bose may have revolutionized the premium headphone market (priced at $99 or higher), but Beats gave it mass appeal; consumers used to Apple earbuds have been blown away by Beats' bass-heavy sound. Furthermore, by having its headphones associated with hip hop artists like Little Wayne or Team USA, Beats has become a status symbol. For the hip and trendy, headphones say as much about a person as the brand of jeans or sneakers one wears.
Beats Music, the music streaming segment, has a reported 200,000 paying customers. If Beats can use its cool factor to convert headphone customers to music streaming customers, Beats Music could quickly gain market share in a crowded field. Some have gone so far as to call Beats the premier pop culture tastemaker. The sweetener is that a growing streaming business could serve as a hedge against declining sales at iTunes, Apple's music download business.
The Market Agrees
After the Apple/Beats talks were leaked a few weeks ago, the market's reaction was positive. Apple's share price increased from $593/share in mid-May to $614/share at May 23rd - a gain over 10%. Apparently, investors are more than "cool" with the transaction.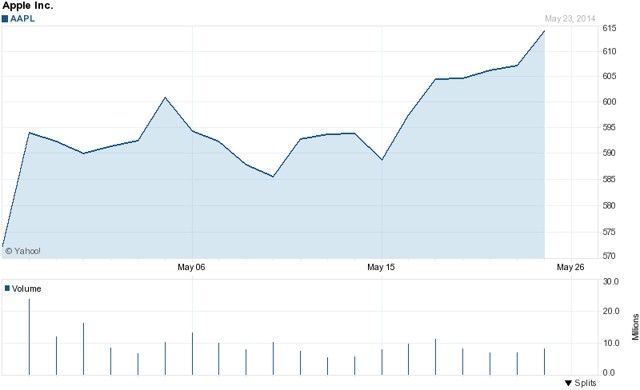 Conclusion
Apple officially announced its $3 billion acquisition of Beats. The deal value represents an attractive entry point. Strategically, Beats offers the cash flows of a premium headphone maker with commanding market share, the upside from a music streaming segment, and a potential hedge against declining music downloads within iTunes. It appears to be a no lose proposition for Apple.
Disclosure: I have no positions in any stocks mentioned, and no plans to initiate any positions within the next 72 hours. I wrote this article myself, and it expresses my own opinions. I am not receiving compensation for it (other than from Seeking Alpha). I have no business relationship with any company whose stock is mentioned in this article.