If you hold CSX Corp. (NYSE:CSX) and plan to continue to hold it from here, I'm not going to argue vehemently against that. The company has a ton of great characteristics, like its rail ownership in attractive geographies. CSX might very well keep on delivering excellent returns on the back of this competitive advantage. In the past, I've called it an excellent buy and hold. The main reason I'm jumping of the CSX wagon is that after a fine run-up, I think there are quite a few stocks with better prospects from a risk/return stand point. My first article on CSX was titled "CSX Undervalued Because Of Low Price Of Natural Gas," and many observations from that article still hold true today, except its price isn't as low anymore.
Outlook
The outlook is a little more rosy than it was before, when I wrote about this company. Coal is a key market for CSX, and the company has without exception struggled through quarters to replace this volume. It did so with limited success; I certainly hoped it would do better, but now there is some indication that the ever-declining coal volume will be increasing on the back of the rise of natural gas prices.
From the latest earnings call:
We expect domestic coal volume will grow in the second quarter as inventory levels have normalized and gas prices have increased to levels where most coals are more competitive fuel source. Export coal volume is expected to be neutral in the second quarter and our best estimate of 2014 volume remains in the mid 30 million ton range, reflecting soft global market conditions particularly in the thermal market.
This is pretty good news for CSX holders. The reason it doesn't really change my view of the stock is because the stock price, to an extent, already reflects this prospect. Over time, CSX stock has appreciated to its fair value. A fair value that is based on its mid-cycle earnings power. So when it's moving towards mid-cycle earnings, that doesn't really help. Meanwhile, I don't have an opinion on whether we will see the economy starting to boom anytime soon.
Competitive Advantage
CSX derives its competitive advantage from owning rail in densely populated regions of the U.S. Which means there is a lot of potential for business, as people generate freight. A railroad is not something that is easily copied by a competitor with enough capital. The existing railroad can usually increase capacity at more favorable economic terms when demand rises, or there simply isn't enough demand to support two railroads, which makes it impossible to fund construction of a second one, as it will just result in both lines running at a loss. In addition, there are often regulatory concerns a new incumbent would need to overcome.
Rail competes with other forms of long distance transportation that include trucking, airlines, pipelines and shipping. Usually rail is not positioned next to a shipping route. That's because shipping is hard to compete with, but luckily (for railroad shareholders) limited to areas connected by waterways. Creating a shipping route where there is none is at least as difficult as starting a second rail route. Pipelines can also transport at lower costs, but are obviously limited to transporting liquids. The more flexible options of trucking and airfreight are much more expensive than transport by rail because of much higher fuel costs.
Discounted Cash Flow Calculation
After having established that CSX's business is protected by a sustainable competitive advantage, I think it's justified to project cash flows 10 years into the future.
Over the last 10 years, the company has managed to grow earnings by an average of 16% per year. I don't believe it's highly likely the company will be able to accomplish that feat again. If only because management managed to grow margins by quite a lot over the past ten years, and that expansion is most likely not sustainable.
Given the company's competitive advantage, and the advantageous position of a railroad when taking environmental legislation into account, I estimate growing cash flows at 14% per year on average remains feasible.
Arriving at a reliable cash flow or earnings figure to base a DCF on is very hard, because the company throws of tons of cash, but also engages in a lot of capital spending. Because of the nature of the railroad business model, and as the spending history of the company shows, it isn't realistic to assume the business could continue running without significant capital spending.
However, there is a lot of variance in CAPEX, and the latest number of $2.2 billion is distortingly high. To adjust capital spending to a normalized level, I calculated the ratio between capital spending and revenue over the past ten years. Capital spending varies between 12% of revenue and 19% of revenue, but as it turns out, averages 15.25%. I did this to realize a more stable projection of free cash flow over the coming period of ten years. Subtracting this number from the latest TTM operating cash flows, I obtained a suitable FCF to base the DCF on.
Discounting against the S&P 500, I currently arrive at a net present value of $30.5. A very minor change from the result obtained in my previous calculation. At this point in time, that's only a fraction above the price the company is trading at.
Relative Value
By reader request, I valued CSX by DCF. Initially, I only compared the company to competitors: Norfolk Southern (NYSE:NSC), Union Pacific Corp. (NYSE:UNP), Canadian National Railway (NYSE:CNI) and Canadian Pacific Railway (NYSE:CP). I still don't know what type of valuation readers prefer, and that's why the graph below shows an EV/EBITDA comparison of CSX and other major railroads in North America. When I included the same chart a year back, it looked pretty similar, although CSX creeped up on a relative basis to all but Norfolk Southern. It remains the cheapest option among the railroads, on an EV/EBITDA basis.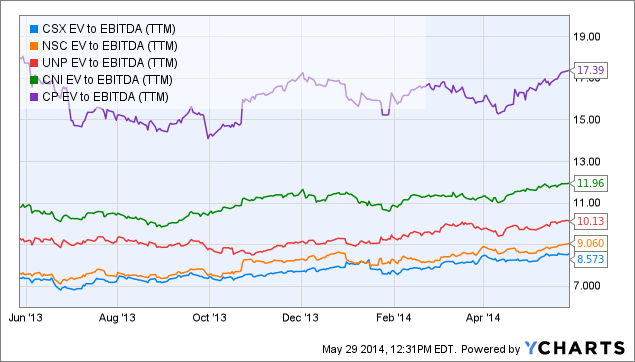 CSX EV to EBITDA (TTM) data by YCharts
Conclusion
Going close to a year back, my original thesis could be summed up like this:
CSX management is doing a great job with this company and these efforts are masked because of the drop in coal demand. These problems will turn out to be temporary or will get worked out and the business will shine and the stock price rise to a level more in line with valuations of competitors. If an increase in stock price of 25%-30% were to materialize, within reasonable time, that would be quite satisfactory.
This worked out pretty well, except competitors' stocks appreciated too, and its price is still not in line with competitors. Because a DCF gives a clearer sense of the valuation picture for this type of company, it's time to end my support for a buy here. I will have no problem re-evaluating if there is another opportunity to get CSX cheap again.
Disclosure: I have no positions in any stocks mentioned, and no plans to initiate any positions within the next 72 hours. I wrote this article myself, and it expresses my own opinions. I am not receiving compensation for it (other than from Seeking Alpha). I have no business relationship with any company whose stock is mentioned in this article.