Markets across the globe are showing green arrows today and the US futures are pointing higher as well. We are seeing a number of interesting stories this morning, which is good news as this is not a big 'Merger Monday'. It is beginning to appear to us that the activist investor movement is beginning to take its toll on management teams in various industries. We are reading more and more about spin-offs, buybacks, increased dividends and sale of businesses; all moves deployed by activists that management teams are now proactively deploying in moves that can only be described as pre-emptive.
The week is starting off strong, but our attention is focused upon three things this week: the energy complex, Apple and the tech industry and manufacturing stocks.
Chart of the Day:
We have been watching the industrials, the largest of the industrial names, the past few sessions and like what we see. We own a few of the names and the price action has been strong and getting stronger. If this momentum can continue, we could see another leg up on the Dow Jones Industrial Average and another string of new all-time highs.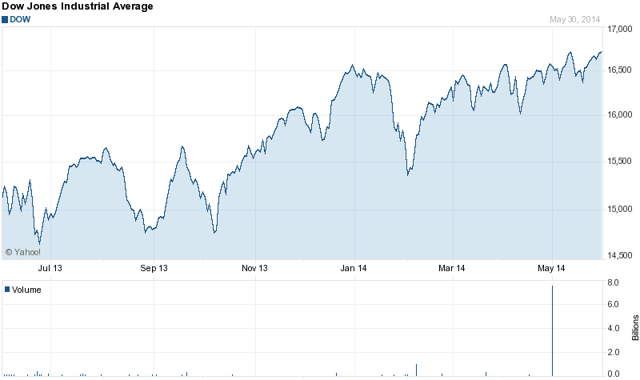 Source: Yahoo Finance
We have economic news today, and it is as follows:
ISM Index (10:00 a.m. EST): Est: 55.6
Construction Spending (10:00 a.m. EST): Est: 0.7%
Asian markets are higher today:
All Ordinaries -- up 0.47%
Shanghai Composite -- CLOSED
Nikkei 225 -- up 2.07%
NZSE 50 -- CLOSED
Seoul Composite -- up 0.35%
In Europe, markets are higher this morning:
CAC 40 -- up 0.06%
DAX -- up 0.21%
FTSE 100 -- up 0.27%
OSE -- up 0.01%
Shareholders Gaining Power?
We have seen numerous deals over the years that made plenty of sense for shareholders but maybe not so much so for politicians and/or company management. It would seem that management's goals would be aligned with investors', but that is not always the case - especially when dealing with management teams, which are highly compensated. It is almost a situation that is akin to not killing the goose that laid the golden egg. If you sell the company, usually some of the first job cuts are senior management, which is why golden parachutes exist; an incentive plan to allegedly better align management's interest in selling a company with the shareholders.
There are a number of deals we see get turned down that make all the sense in the world, such as Pfizer's (NYSE:PFE) recent offer for AstraZeneca (NYSE:AZN) and the hostile takeover that Potash Corporation of Saskatchewan (NYSE:POT) walked away from a few years back. Hindsight is always 20/20, but in our experience it usually makes sense to take an offer with a rich premium, especially when it is all equity and tax implications can be taken out of the equation.
Unless another bid emerges, it appears unlikely that internal growth alone will boost results enough to achieve Pfizer's previous offer.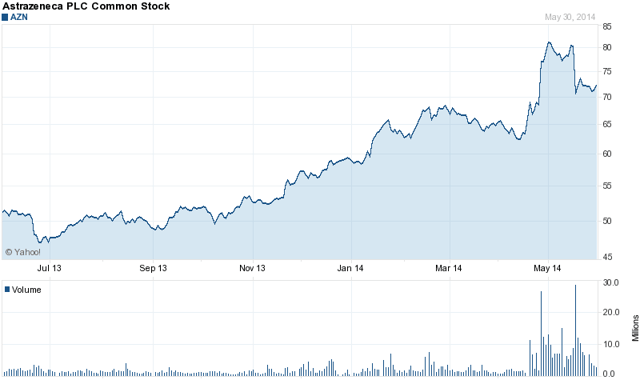 Source: Yahoo Finance
We bring all of this up today because of an article we ran across in the UK's Financial Times (located here) discussing shareholders in the company moving to have management's options and pay to achieving the offer price of Pfizer's deal. The argument here is that if management has spurned a deal based on the pipeline and their promise to deliver on it, then maybe they should back it up with their own wallets. It makes sense to us, it probably makes sense to most investors, but sadly it does not make sense to Pascal Soriot, AstraZeneca's CEO.
Activist Investor Makes Investment
Most of our readers are probably aware of Starboard Value LP due to our previous articles discussing the fund's battles with Darden Restaurants (NYSE:DRI). We thought it might be worthwhile to point out to readers that the fund recently took a 5.6% stake in MeadWestvaco (MWV). It is an interesting move as MeadWestvaco actually hit a 52-week high on Friday and has been a strong performer since its 52-week low back in late 2013.
It is not often that activists make moves against management teams when stocks are trading at 52-week highs. This could be an interesting battle.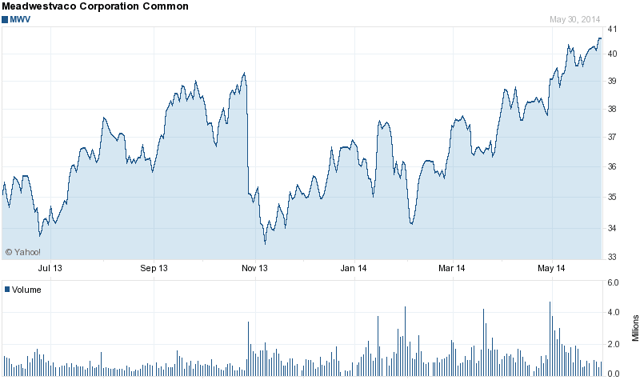 Source: Yahoo Finance
Starboard contends that even with shares at highs for the year that the company remains significantly undervalued in relation to the value of their assets. The fund, MeadWestvaco's fifth largest shareholder, appears to be pushing for a split with the company's specialty chemicals business. The sale of real estate is another key point that Starboard is asking for, but our guess is that they truly want to create some pure-plays with the first step being to get management to agree to either split the company in two or sell the chemicals business altogether.
Disclosure: I have no positions in any stocks mentioned, and no plans to initiate any positions within the next 72 hours. I wrote this article myself, and it expresses my own opinions. I am not receiving compensation for it (other than from Seeking Alpha). I have no business relationship with any company whose stock is mentioned in this article.