FHFA authorizes Fannie Mae (OTCQB:FNMA) and Freddie Mac (OTCQB:FMCC) to raise LTV limits to 125%: HUD Press Release
Deteriorating consumer finance conditions have made many homeowners fall short of previous HUD stimulus plans
Homeowners can only qualify if they are current on their mortgage payments, severely effecting the "effectiveness" of the program
The FHA continues to swallow up the mortgage origination market, which is no surprise considering the wild, bubblicious loan terms that they are offering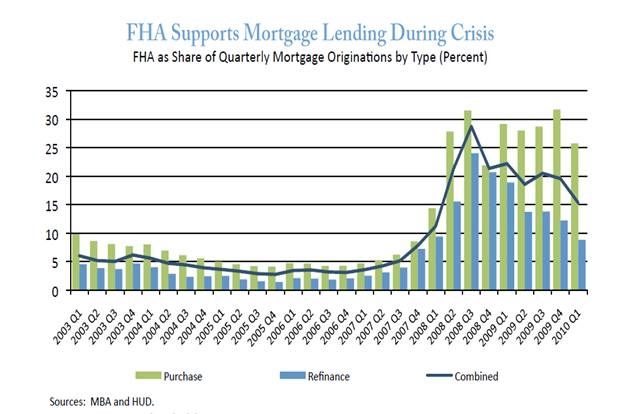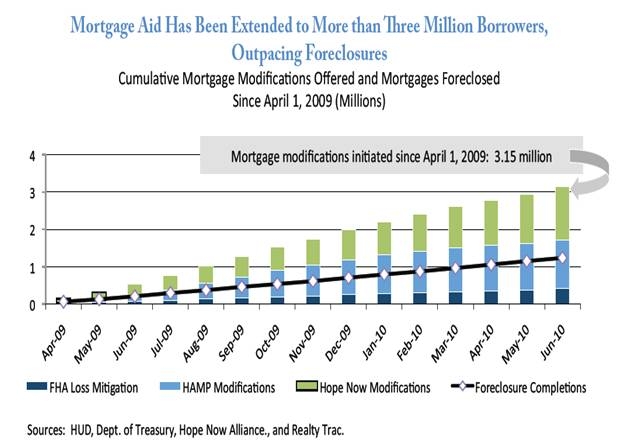 Of course, bubblicious initiatives such as this have allowed banks to show a mild increase in credit quality in their portfolios, which they have summarily taken full advantage of by releasing loss reserves and reducing loss provisions – thus increasing accounting profits and boosting bonuses.
However the concern remains, as banks are taking this improvement very optimistically by reducing their provisioning significantly, with most banks reporting a substantial decline in their provisions-to-charge offs ratio. Three banks, particularly BofA (NYSE:BAC), JPM and WFI have witnessed a massive decline in their provisions-to-charge offs ratio in 2Q10 to 84.8%, 58.9% and 49.5%, respectively. from 153.7%, 133.4% and 155.2% in 2Q09.
I know, those guys at BofA and JPM believe that tax payer funded 125% LTV loans during an ongoing housing depression has absolutely nothing to do with modest moderation or improvement in consumer metrics, and once these shenanigans prudent fiscal programs cease, the consumer will continue to pay all of their bills promptly and timely as their home values summarily increase while their employment status looks just rosy. See As I Made Very Clear In March, US Housing Has a Way to Fall and Are the Effects of Unemployment About to Shoot Through the Roof?.
For those who don't follow me regularly, I went in depth on this topic after JP Morgan's latest earnings release: After a Careful Review of JP Morgan's Earnings Release, I Must Ask – "What the Hell Are Those Boys Over at JP Morgan Thinking?"
As Excerpted from As I Made Very Clear In March, US Housing Has a Way to Fall: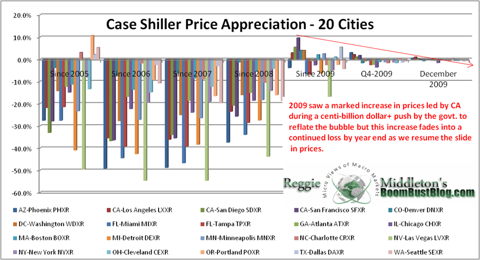 Click to enlarge
Trust me, the collateral behind many more mortgages will continue to depreciate materially as government giveaways and bubble blowing for housing fade.
The delinquency and NPA levels drifted down a bit, but they are still at very high levels. Charge-offs came down but the reduction in provisions has been quite disproportionate bringing down the allowance for loan losses. In 2Q10, the gross charge- offs declined 26.6% (q-o-q) to $6.2 billion (annualized charge off rate – 3.55%) from $8.4 billion in 1Q10 (annualized charge off rate – 4.74%). But the provisions for loan losses were slashed down 51.7% (q-o-q) to $3.4 billion (annualized rate – 1.9%) against $7.0 billion (annualized rate – 3.9%) in 1Q10. Consequently, the allowance for loan losses declined 6.2% (q-o-q) from $35.8 billion from $38.2 billion in 1Q10. Non performing loans and NPAs declined 5.1% (q-o-q) and 4.5% (q-o-q) respectively. Thus, the NPLs and NPAs as % of allowance for loan losses expanded to 45.1% and 50.7%, respectively from 44.6% and 49.8% in 1Q10. Delinquency rates, although moderated a bit, are still at high levels. Credit card – 30+ day delinquency rate was 4.96% and the real estate – 30+ day delinquency rate was 6.88%. The 30+ days delinquency rate for WaMu's credit impaired portfolio was 27.91%.
While the lower provisioning was able to beef up the bottom line in this quarter, the same is not sustainable in the future as JPM cannot afford to reduce its allowance for loan losses substantially. This is a one shot, blow your wad and go to sleep deal. There is no margin for error in the future, and one can only assume that the reason this was done was to pad accounting earnings and to take advantage of the extremely short term, and obviously naïve, memory of the financial media and retail/institutional investor. Given the high charge-off rates and delinquency levels, the provisioning will probably need to be bolstered again in the not too distant future.
Listen, even US Economic Cheerleader and Propaganda-in-Chief Ben Bernanke said it will be several years before growth and employment resumes. So…. What the hell are the boys (and girls) at JP Morgan doing?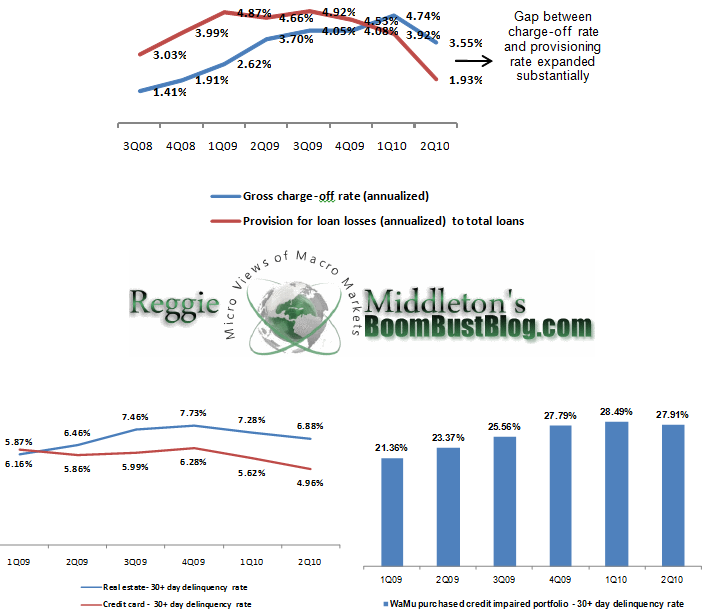 The reduced provisioning can help improve the bottom line, but it cannot conceal the weakness in core operations as reflected in the sagging revenues especially in the investment banking segment.
It should be obvious to all that this Federal Bubble Blowing will end up in a bubble popping. What will those over optimistic banks then have to do? Add back to those provisions, thus dropping profits. It will be too late for the taxpayer then, since the bonuses will have likely been long spent.
I will address these bank shenanigans in a later post, but in the meantime pro subscribers should peruse the mortgage lose and credit metrics sheet used for the US bank stress tests, updated for the 2nd quarter of 2010. The facts are right there for all to see:

SCAP Assumptions Updated_09082010 Web
The rest of this JPM Q2 review excerpted above can be downloaded by all paying subscribers (click here to subscribe) here:

JPM 2Q10 review
Subscribers should also review our forensic valuation reports, which have (thus far) proven to be right on the money in terms of JP Morgan:
Those that don't subscribe still have a lot of BoomBustBlog JPM opinion and analysis to chew on, including a free, condensed (but still about 15 pages) version of the forensic analysis above. You can find it below this pretty graphic from "An Unbiased Review of JP Morgan's Q1 2010 Results Yields Less Roses Than the Maintream Media Presents"…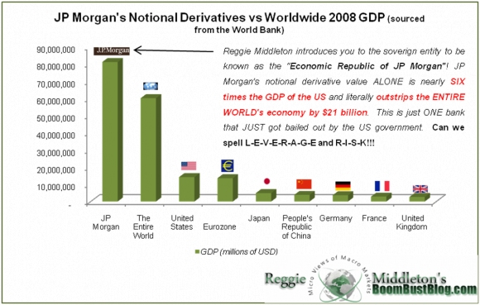 Click to enlarge
Yes, there is a typo in this graphic, it should be Trillion, Not Billon - for those who query, but this is notional value and not net exposure, I urge you to read the free analysis that accompanies this pretty picture below...
Disclosure: Short some banks