Walt Disney Co (NYSE:DIS) has shown a remarkable outperformance over the S&P 500 in the last 3 years. The company is enjoying the benefits of global developments which are greatly increasing the value of its business. There are now more screens per person on the planet than ever before. This drives the time consumers spend on media consumption and Disney is benefiting from this trend as a tier 1 content company.
Besides macro developments favoring the company, there are a few company specific characteristics that attract me to Disney's Stock: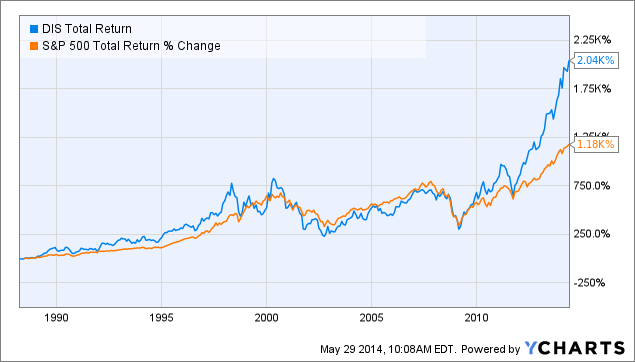 DIS Total Return Price data by YCharts
Disney's Library of content
The company has an irreplaceable library full of highly recognizable characters, who have already conquered the hearts and minds of many American and global citizens. This library of intellectual property can be harvested to create fresh content and merchandise that already has a head start when it comes out. Although content creation is a risky and volatile business, a library offers a more steady revenue flow. In addition it adds stability to box office gross of new releases.
ESPN
Then there is ESPN. ESPN has a large subscriber base which makes it hard to challenge its position by incumbents. Real time content is also less vulnerable to piracy issues. People are just not that interested to download an illegal copy, the day after the big game was on. Illegal streams are not always reliable enough to watch a real time game either. It's not an experience fans enjoy usually. An established sports network also has a competitive advantage because once it's big enough, the leagues want access to their large subscriber base. The threat of competition remains and keeps the company from being able to act like a monopolist but this position can be milked at least to some extent. Meanwhile it would be irrational for leagues to challenge the situation if the strategy is executed well. Although it really depends on the league's power as well. Obviously the NFL leaving ESPN is a bigger threat than the MSL leaving.
Disney's Board
Disney also fields a very interesting board of directors. Having directors that are specialists in a range of fields isn't that uncommon but still great to see at Disney as well. Disney has capital allocation and finance specialist, like Robert W. Matschullat - a private equity investor. But also branding specialists like Fred H. Langhammer - who was at Estee Lauder since 1975 and a content/media specialist in Monica C. Lozano - CEO of Impremedia. Who really make Disney's board stand out are the tech stars: Jack Dorsey - Founder of Twitter (NYSE:TWTR), Fleetic and Square, and Sheryl Sandberg - COO at Facebook (NASDAQ:FB).
The content business has perhaps not been in as much turmoil since the invention of the printing press and it's great to see these directors on the board to make sure the company doesn't make a fatal strategic mistake by not understanding in time how technology can change the way consumers want access to Disney's library of intellectual property.
Disney and Star Wars
Disney acquired the rights to Star Wars and all its characters, among other things when it bought Lucasfilm in 2012 for $4 billion. The franchise fits in to their overall portfolio very well. I'm not just mentioning this because I'm kind of a nerd but also because the next Star Wars release is scheduled for 2015. Disney got a very good deal when they picked up Lucasfilm for $4 billion.
So far the first releases of the two prior trilogies grossed best at the box office, which is weirdly enough the opposite of the way sequels perform for competitor DreamWorks Animation (NASDAQ:DWA). Adjusted for inflation* A New Hope and The Phantom Menace grossed over ~$2 billion and ~$1.5 billion respectively. Sure, this is a drop in a bucket on Disney's annual revenue but the franchise merchandises well and there are plans for spin-off movies.
This is a great example of how powerful the content library really is, because the next trilogy is almost guaranteed to achieve quite acceptable box office grosses. Box office blowouts also tend to have a higher % of sales fall to the bottom line.
Even the Star Wars "flop" The Clone Wars generated profits for the company and the last real Star Wars movie Revenge of the Sith grossed $848 million at the box office, unadjusted for inflation. The latest trilogy might actually have a noticeable impact on the company's bottom line although it would be unwise to expect results in line with those of A New Hope and The Phantom Menace. Mainly because the competitive landscape did change since 1977.
Conclusion Disney Stock
Having said all that, I'm less enthusiastic about the company's valuation. I'd love to own a piece of its cash flow but don't really want to pay up its current price. Fifteen times cash flow and three times sales is a little steep. Even with the tremendous growth the company has been showing; growing net income on average by 17% annually. At fifteen times cash flow I think the market fully recognizes the strong fundamentals of the business. Let's hope that Star Wars grosses really, really terrible.
PATIENCE YOU MUST HAVE my young padawan
-Yoda
*To calculate this I've relied on the Wikipedia data and made the adjustment to set equal global inflation with the effect of the U.S. inflation used in the Wikipedia figures. This is a great oversimplification but works to give an idea of how many people this powerful franchise has reached over the years.
Disclosure: I have no positions in any stocks mentioned, and no plans to initiate any positions within the next 72 hours. I wrote this article myself, and it expresses my own opinions. I am not receiving compensation for it (other than from Seeking Alpha). I have no business relationship with any company whose stock is mentioned in this article.