The energy names are attracting bids in early morning trading and this starts the month off on the right foot. There are a couple of interesting stories this morning dealing with the industry and we want to pay attention to those. They seem to highlight a developing trend where companies would almost rather drill than purchase mature and producing assets. With growth rates in focus these days, we understand the logic, but it seems to us that the MLPs might be poised for another round of poaching assets from the large E&P companies with the number of failed asset sales recently.
Chart of the Day:
Gold and silver are both stable, but platinum is not enjoying that stability today as it continues to show weakness. The precious metals are interesting these days and our attention is upon this market as we await the next move.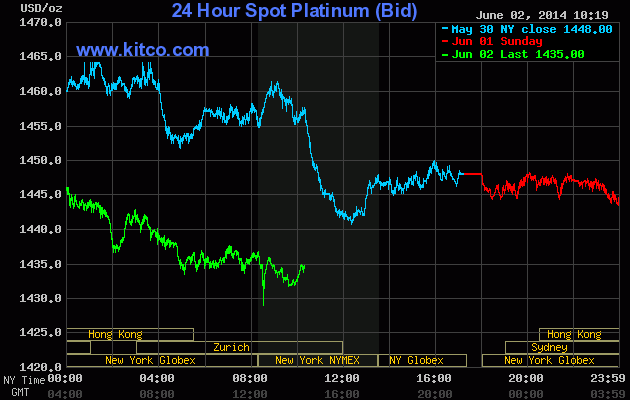 Source: Kitco
Commodity prices are as follows (at time of submission):
Gold: $1,248.90/ounce, up by $2.90/ounce
Silver: $18.81/ounce, up by $0.128/ounce
Oil: $102.39/barrel, down by $0.32/barrel
RBOB Gas: $2.9579/gallon, down by $0.014/gallon
Natural Gas: $4.579/MMbtu, up by $0.037/MMbtu
Copper: $3.159/pound, up by $0.0355/pound
Platinum: $1,439.20/ounce, down by $13.50/ounce
TMS Continuing To Deliver
We have highlighted the Tuscaloosa Marine Shale, or TMS, as the most likely candidate for the next big shale play, assuming that explorers were able to "crack the code". In recent months, we have stated that it certainly seemed like the major question marks around drilling techniques and best practices had been answered, but we would not be entirely sure until a few players were having success and a fleet of rigs were deployed in the play. With the latest news we have received in the past few weeks from Goodrich Petroleum (GDP), Encana (NYSE:ECA) and Halcon Resources (NYSE:HK), it certainly appears that the last six months of 2014 will set the board for 2015 to potentially be the 'Year of the TMS'.
Today's release (located here), from Goodrich Petroleum, highlights their latest well, the C.H. Lewis 30-19H-1, which they have an 81.4% working interest in. The well is located in Amite County, Mississippi, and had a 24 hour production rate of 1,450 BOE. The total rate was comprised of 1,387 barrels of oil and 377 Mcf of natural gas.
Some might expect another sell-off as Goodrich shareholders experienced after the last round of good news, but we think the bears are wrong. News flow is picking up and with four rigs in the play we should be getting a number of well results each quarter; the type of news which can really move a stock such as Goodrich Petroleum.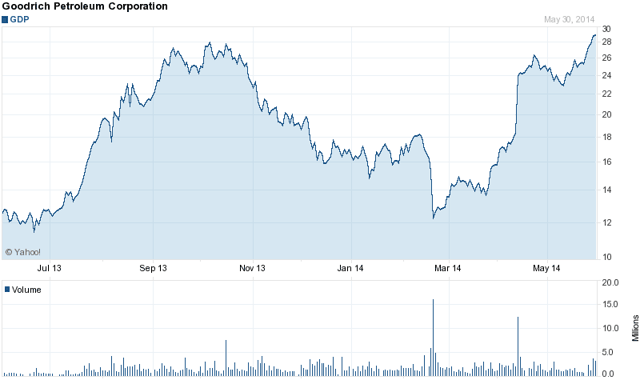 Source: Yahoo Finance
This is only the latest good news for the play and the start of what we think will be a long positive news flow for the companies involved here.
Marathon Sells North Sea Assets
Continuing a trend investors have seen play out over the years, Marathon Oil (NYSE:MRO) is selling foreign production to focus more heavily on the US. The company agreed to sell its Norwegian North Sea production for $2.7 billion to Det Norske Oljeselskap ASA in order to ramp up exploration activities here in the US as well as increase share buybacks.
Marathon had also been trying to offload its UK North Sea assets, but because they did not receive a bid which reflected the true value of those assets, the management team decided to instead retain those assets for the time being. With the issues that Talisman Energy (NYSE:TLM) faced when trying to find takers for their North Sea assets in the past, we are not too surprised to see Marathon struggle to find bidders. Talisman found a Chinese partner, but in the past year they have disappeared from the market so Marathon is doing the correct thing here by avoiding selling at a fire sale price.
Disclosure: I am long HK. I wrote this article myself, and it expresses my own opinions. I am not receiving compensation for it (other than from Seeking Alpha). I have no business relationship with any company whose stock is mentioned in this article. HK has previously been recommended.