France's largest bank, BNP Paribas (OTCQX:BNPQY) is facing numerous penalties that could total in excess of $10 billion - one of the largest regulatory fines in history.
This impending 11-figure settlement is pursuant to an investigation by numerous entities, including Obama's United States Department of Justice. This untimely news only adds to the already considerable and widespread concerns over the capital strength of BNP, which has been deteriorating in stock value YTD.
At the core of the charges leveled against BNP Paribas are the transfer of funds in violation of international sanctions against Cuba, Iran, and Sudan. Obama's regulators are looking into additional penalties, such as temporary suspension of US dollar clearing.
BNP's Negative History
This is not the first time that the international community has found fault with BNP. In fact, the company has a lengthy history of charges against it from regulators and various government bodies from the United States.
The current investigation delves into whether BNP disguised transactions in USD with Iran, Sudan, and Cuba between 2002 and 2009-an egregious violation of sanctions and anti-money laundering rules.
Stock Plummets On Worries Of Potentially Diminished Capacity
With stock prices already plummeting over 9% year to date, the implications of a $10 billion settlement could be very worrisome for BNP shareholders.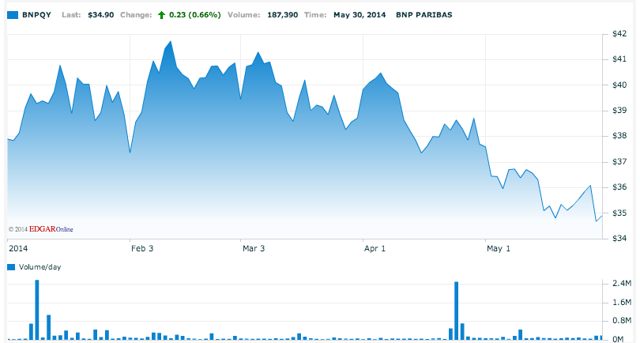 (Nasdaq.com)
Citigroup analyst Kinner Lakhani has even penned an official concern regarding the impact of the charges and a potential settlement between BNP and the various entities pursuing it. The statement pointedly calls into question the operational capacity of BNP if and when such a settlement is formally reached.
Unfortunate Outlook for BNP Shareholders
What BNP will look like after it completes its possible $10 billion settlement is unclear at best, reducing capital to worrying levels, and raising the concern that the bank will need to be re-capitalized-and that the dividend will have to be cut.
Additional sanctions and oversight required post-settlement are also likely to encumber BNP growth without a massive culture shift within the organization. Customers could begin to take their business elsewhere.
The outlook is not strong for BNP shareholders in 2014.
For current shareholders, many of whom are likely income-oriented, the likelihood that BNP will suspend its annual dividend is reason to sell this puppy and consider more stable alternatives, like Morgan Stanley, which recently doubled its quarterly dividend.
Readers wishing to follow the discussion on BNP Paribas should click the +FOLLOW button above the title of this article and follow @DRDInvestments on twitter.
Disclosure: I have no positions in any stocks mentioned, and no plans to initiate any positions within the next 72 hours. I wrote this article myself, and it expresses my own opinions. I am not receiving compensation for it (other than from Seeking Alpha). I have no business relationship with any company whose stock is mentioned in this article.
Editor's Note: This article discusses one or more securities that do not trade on a major U.S. exchange. Please be aware of the risks associated with these stocks.