With consumers steering away from cash in favor of the convenience of credit and debit cards, companies that offer these products are expected to see significant growth over the next few years. Globally, the number of cashless transactions is expected to increase as infrastructure issues in emerging markets are defined and ultimately tackled. As a global payments technology company set to reap the rewards of this trend, Visa Inc. (NYSE:V) is a company to keep an eye on.
Visa is a company that connects consumers, businesses, banks and governments in more than 200 countries and territories around the world. Unlike American Express (NYSE:AXP) or Discover (NYSE:DFS), Visa Inc. does not issue cards, set cardholder fees, interest rates, or make loans to cardholders. The cardholder relationship belongs to Visa's network of financial institution clients and are managed by them. Visa derives revenues primarily from fees paid by these financial institutions based on payment amounts, transactions that Visa processes and other services that Visa provides.
From a fundamental point of view, Visa's revenue, net income and free cash have displayed significant increases. Over the past 5 years, Visa's revenue has increased 82.35%, the net income has increased by over 265%, while the company's free cash has escalated by over 800%.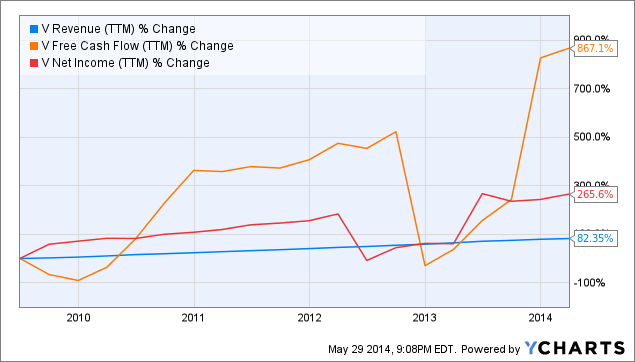 V Revenue (TTM) data by YCharts
So what is driving this growth?
The company's strong business operations coupled with a very recognizable brand have been the force in increasing sales, profits and cash over the past number of years. These attributes have been especially profitable in North America as cashless transactions continue to increase.
So, what will drive sales in the future?
Looking forward, emerging market economies are expected to grow almost three times faster than "developed" economies. Emerging market growth is expected to account for an average of 65% of global economic growth through 2020. From a global point of view, the emerging market economies that are expected to lead this growth are: Brazil, Russia, India, and China. For companies such as Visa and MasterCard (NYSE:MA) that focus on cashless transactions, if they can penetrate these markets, this will present an excellent opportunity for growth.
India offers a very compelling story. The global network and lack of competition will present great opportunities for cashless transaction companies. Even if MasterCard Inc. and Visa split market share, it is estimated that Visa can still generate $200 billion in GDV by 2020. With the world's second highest population (1,260,370 people by 2015) and an estimation that 60% of money transactions in India are still cash-based, the potential in this country is outstanding.
Even though India looks very attractive, it is not all "peaches and cream". There are strong barriers that present issues for cashless transaction companies within India. Even though India possesses the second largest population, the country is in the earlier stages of building a banking infrastructure to support the size of the country.
In understanding that Visa does not issue cards, set cardholder fees, interest rates, or make loans to cardholders, they are involved in the flow of cash and debt. If there is not sufficient infrastructure in place to support debt, cashless transaction companies like Visa and MasterCard are not yet required.
To become a viable business within a region, cashless transaction companies need a number of pieces already in place. Currently, India's lack of infrastructure is an issue for these companies. For one, it is estimated that ~50% of people in India do not have a bank account. Two, India's bottom line districts have just three banks per 100,000 people, and three, only one out of seven has access to bank credit. As the flow of debt requires basic standards such as a bank account to access information about a borrower's credit history, including risk assessment, collateral/security, the banks are hard pressed to issue means for accumulating debt.
So, what does this mean for Visa?
India's lack of infrastructure can be looked at in two different lights. The lack of infrastructure is preventing velocious growth within India, but as infrastructure is slowly being established, I expect a strong increase in revenue, profit and cash flow from this country over the long-term.
As Visa expands and begins to generate revenue from international markets, this will quickly drive earnings and eventually the stock price up. As Visa's goal is to achieve more than half of its global revenue from international markets by 2015, this will be a turning point as Visa will truly become a global company.
Valuations
In the section below, I will use a couple of different methods to find a valuation of the stock price. In this section, I will use the Discounted Cash Flow valuation model and forward P/E ratios to estimate the current value of each share.
I believe using the Discounted Cash Flow valuation model for Visa to be fair because DCF analysis can help one see where the company's value is coming from and one can generate an opinion based on that.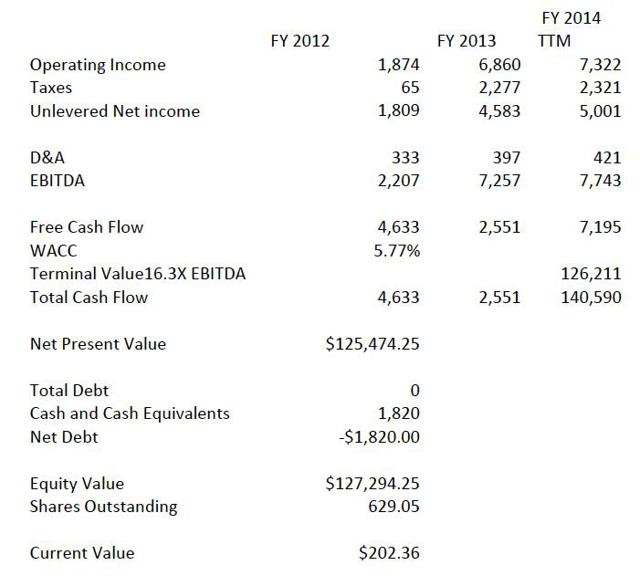 Even though there are variations in calculating this formula, this model is based off of a terminal value of $126.211 billion and a WACC of 5.77%. The terminal value of $126.211 billion is based off of the company trading at Visa's two-year average of 16.3x EBITDA. Using this valuation, I have concluded Visa's value to be ~$202.36 per share.
EV/EBITDA = Enterprise Value/Earnings Before Interest, Taxes, Depreciation and Amortization
In the next section, I will use the EBITDA to calculate the EV/EBITDA. The EV/EBITDA ratio is one of the most commonly used valuation metrics, as EBITDA is commonly used as a proxy for cash flow available to the firm.
Enterprise Value or EV = Market Capitalization + Total Debt - Cash and Cash Equivalents.
EV - $133.037 billion + $0 billion - $1.820 billion = $6.771 billion
EV = $131.217 billion
EBITDA = $7.643 billion
EV/EBITDA = 17.17
Based on Visa's EV/EBITDA, two-year average of 16.3x EBITDA indicates at current levels the stock is trading just over fair value compared to its 2-year average.
As the DCF and the EV/EBITDA both indicate that Visa is slightly overvalued at this point in the market, what does a future target price look like? Using the EV/EBITDA ratio, along with calculating future EBITDA, cash and debt, we should get a 2015 target price.
2015 Target Price
Estimated Net debt = $0 million
Estimated cash and cash equivalents = $2.000 billion (7.5% increase)
Estimated future EBITDA (2015) = $9.647 billion
EV/EBITDA = 16.3 (two year average)
Shares Outstanding = 615 million shares outstanding (as of March 31st, Visa indicated they still had ~$3 billion to buy back shares in 2014)
2015 equity value = 16.3 x $9.647 billion = $157.246 billion
Equity Value - net debt + cash = Enterprise Value = $159.246 billion
EV / Shares outstanding = $159.246 billion / 615 million
Target Price of = $258.94 per share
Based on the EV/EBITDA formula to find a target price, I have calculated a target price in 2015 of $258.94 per share.
In calculating a target price for 2015 using the EV/EBITDA formula ratio, this indicates a valuation $258.94 per share or potential upside of 22.10%.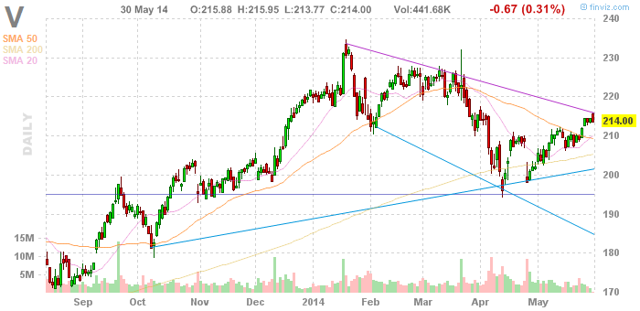 Conclusion
2014 has been a period of consolidation for Visa. Even though the stock is down so far in 2014, I believe the stock has significant upside from here. With Visa's strong presence in North America and the company's focus on expanding its presence overseas in countries such as India, Visa is expecting to see revenue growth increase in the 10% range. As Visa is estimating 2014 EPS in the mid to high teens, valuations should begin to increase again. At current levels using the Discount Cash Flow formula, I have calculated that Visa is currently slightly overpriced at this point, but a EV/EBITDA price target for 2015 represents ~20% more upside from here.
Disclosure: I have no positions in any stocks mentioned, and no plans to initiate any positions within the next 72 hours. I wrote this article myself, and it expresses my own opinions. I am not receiving compensation for it (other than from Seeking Alpha). I have no business relationship with any company whose stock is mentioned in this article.