By Bryan McCormick
US stock index futures are higher this morning after stronger sessions in Asian and European markets.
Asia moved higher after better-than-expected economic data from China was released over the weekend, showing robust growth well above consensus despite cooling measures put in place by the Beijing government. Materials and energy are likely to trade higher on that news.
Stronger growth also was forecast by the European Union, thanks largely to Germany. The rate at which the eurozone's economy will expand for 2010 was raised to 1.8 percent from the previous 1 percent.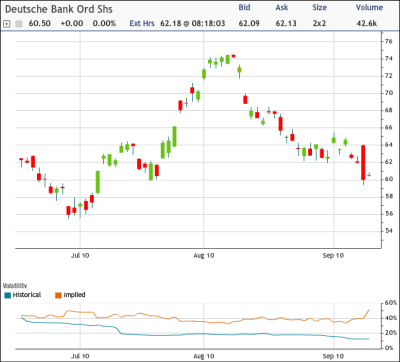 The Basel Commission released its Basel III rules over the weekend, which are being seen largely as benign in the short term. While capital requirements were raised significantly, the committee compromised on the time frame for implementation.
The United States had originally sought a shorter five-year period, but the commission settled on an eight-year phase in. Traders are expressing confidence that banks will have ample time to make the raises without having to resort to extraordinary measures.
Bloomberg reported that Deutsche Bank (NYSE:DB) is seeking to raise a minimum of $12.5 billion to expand and to meet capital rules. News that Deutsche Postbank is apparently a takeover target, meanwhile, has sent the stock higher by nearly 3 percent in the pre-market. Banking stocks are likely to be very strong today as a result.
In stock-specific news this morning, Hewlett-Packard (NYSE:HPQ) will acquire ArcSight (ARST) for $43.50 per share, sending ARST shares up nearly 20 percent in the pre-market. Symantec is one related stock that could move higher on that news as well.
Nokia (NYSE:NOK) is trading up more than 2 percent after Barclays endorsed the company's recent actions in competitive direction and the replacement of the firm's CEO by upgrading the stock to "overweight." Xerox is trading up more than 6 percent after a positive mention in Barron's over the weekend.
Pre-market volume is significantly higher than we have seen recently, which suggests that the institutional side of Wall Street is back in force after a long summer absence. This could be a very positive situation for the bulls, with upside volume and issues swamping downside at the time of this writing.

Disclosure: No positions