Linn Energy (LINE) and LinnCo (LNCO) seem to be caught between a rock and a hard place. The company has recently announced an asset swap with Exxon Mobil (NYSE:XOM) where it will exchange a large chunk of its undeveloped Permian Wolfcamp position for mature natural gas production in the Hugoton Basin. However, opinions are mixed as to who got the better deal. While most analysts agree that the transaction is a net positive for Linn Energy, some have argued that the asset swap is less accretive than expected.
Oppenheimer is not a fan of Linn Energy
On May 27, Oppenheimer reiterated its "underperform" rating and $26 PT rating on Linn Energy. The firm argued that while the acquired assets will lower Linn Energy's capital intensity, decline rate, and capex needs; the resulting accretion is only half of what it was expecting. The firm also noted that it sees little benefit to the leverage ratio, forecasting 4.5x in 2015. As a result, Oppenheimer has lowered its earnings estimates for the company.
I believe Oppenheimer is missing the big picture here. By doing this transaction, Linn Energy is getting currently producing assets with large amounts of positive cash flows in exchange for acres where large amounts of capital was needed.
This has two major positive results for Linn Energy. First, it will plug the DCF shortfall anticipated for 2014. Second, it demonstrates that the assets in Linn Energy's portfolio are in high demand and are hardly worthless.
In addition, as I noted in a prior article, the company could see some benefits and synergies via its Jayhawk gas plant in the Hugoton field. The plant has a nameplate processing capacity of nearly 450 MMCFE/D yet it is still processing well under that amount of natural gas. Via the swap, Linn Energy has boosted its production in the Hugoton 60% to 230 MMCFE/D, from 144 MMCFE/D last quarter.
Furthermore, the company has only traded less than half of its Permian position, with another 29,700 net acres still on the docket for a potential trade. These acres contain most of Linn Energy's producing wells in the region and as a result may not have the same accretive impact if traded. However, this does not mean that they are any less valuable.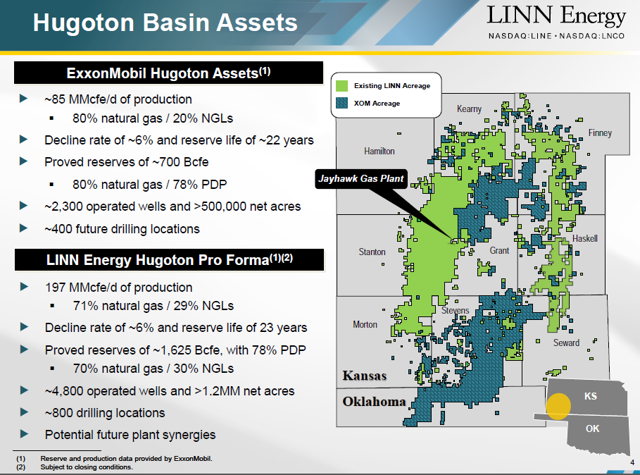 Click to enlarge
JPMorgan sees upside via an asset swap
Finally, according to Barron's, JPMorgan's Spiro Dounis believes that Linn Energy's asset sales and or swaps in the Permian Midland area could add as much as $9 per unit to the current price. Do note that the firm has a "neutral rating" on the stock.
Below is the full explanation via Barron's:
Asset sale or 1031 exchange
We utilized the recent Athlon Energy (NYSE:ATHL) Permian purchase as a comparable asset to value Linn Energy's Permian acreage. Based on a calculated Midland asset value of ~$1.4 billion, we estimate Linn Energy would be able to redeploy the cash into stable low-decline Hugoton gas-weighted assets. We utilized Occidental Petroleum's (NYSE:OXY) recent Hugoton asset sale to value a hypothetical asset purchase by Linn Energy. While EBITDA may fall due to a gassier asset mix, we estimate DCF would benefit from a potential ~$70mm uplift due to the lower capital intensity of the developed Hugoton assets relative to the undeveloped Permian assets…Outright asset sale and 1031 like-kind exchange yields $31-$35/unit valuation.
Asset swap
With an estimated $1.4 billion of assets with which to swap, we utilized Legacy Reserves' (NASDAQ:LGCY) flowing barrel valuation (pre-Piceance deal) to formulate a hypothetical producing Permian asset target. Our analysis showed this approach to be the more lucrative of the two scenarios initially; however, Linn Energy may be giving up long-lived reserves for current production and lower capital intensity. We acknowledge that our multiples valuation approach here may overstate the value of this scenario and elected to use the lower-range value in our analysis. Permian asset swap yields $34-$38/unit valuation.
As shown, the JPMorgan analyst sees significant upside for Linn Energy from the Permian transaction, anywhere from $31 to $38 per unit, compared to the current unit price of around $29. Splitting the difference, the firm sees a $4, or about 15%, of upside to roughly $33 per unit.
The JP Morgan note reaffirms the bullish case for Linn Energy and adds to the positive research notes already put out by Raymond James and Citigroup.
Conclusion
Based on DCF, Linn Energy is now among the cheapest upstream MLPs in the market. In addition, due to its 10%, the stock appears to be a decent choice for income.
It seems like consensus is forming among the analyst community that Linn Energy still has some upside related to Permian asset swap. The Oppenheimer note and its cautiousness now appears to be firmly in the minority.
Disclaimer: The opinions in this article are for informational purposes only and should not be construed as a recommendation to buy or sell the stocks mentioned. Please do your own due diligence before making any investment decision.
Disclosure: I have no positions in any stocks mentioned, and no plans to initiate any positions within the next 72 hours. I wrote this article myself, and it expresses my own opinions. I am not receiving compensation for it (other than from Seeking Alpha). I have no business relationship with any company whose stock is mentioned in this article.