A month ago, if you asked me which social media giant would be most relevant in ten years - LinkedIn (NYSE:LNKD), Facebook (NASDAQ:FB), or Twitter (NYSE:TWTR) - I would have had difficulty answering. Granted, my use of each service would be no reliable predictor of its long-term success. I'm not a regular Facebook user, but do regularly observe my wife's fanaticism. I probably get the most regular use out of LinkedIn, checking out profiles prior to meetings. I do use Twitter, although less frequently; I post my company's happenings as they occur, but I find it more challenging to derive value from what others share on a daily basis.
But then three things happened over the last couple of weeks that fundamentally changed my view of Twitter: Los Angeles Clipper's owner Donald Sterling said what he said, I attended Cisco Live in San Francisco, and rapper 50 Cent threw out one of the worst first pitches in Baseball history. Let me explain.
Twitter is Now Institutionalized
At the end of my on-line registration for the Cisco (NASDAQ:CSCO) Live conference in San Francisco last month, the system did not ask me to "Facebook it" or "LinkedIn it," it asked me to tweet about the fact that I had registered, in return for an entry to win a backstage pass at the rock concert. In fact, the system had the tweet pre-composed and ready to post; all I had to do was copy/paste/post. A couple days later, as I made my way around the tradeshow floor, a vendor offered me a chance to win a $5,000 gift card if I would only tweet a selfie with their logo in the background. Halfway through the conference, they had 100 takers, on pace to paying $25 per tweet!
About a week later, things crystallized further when I read online that Steve Ballmer was paying $2B for the L.A. Clippers. Smack dab in the middle of the article was a picture of a tweet by Magic Johnson, with his reaction to the sale. No, the writer of the article had not called Magic Johnson, or quoted someone else with his reaction. They had simply inserted a picture of his tweet. Then I saw the very same image of Magic's tweet while watching ESPN that evening.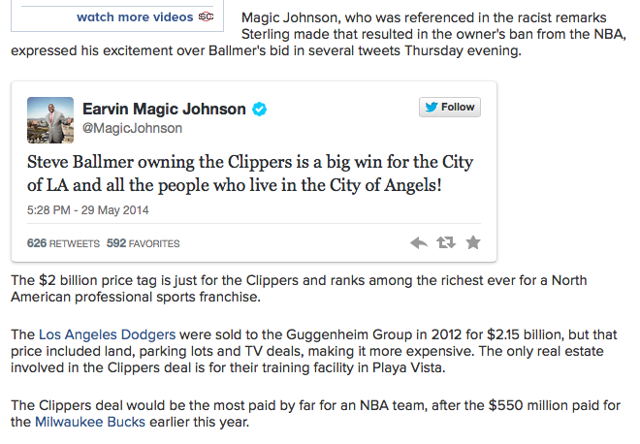 Source: abcnews.com
How often are famous people's tweets the fodder of the news we consume? Do these Google Image searches:
"Celebrity Tweets"
"Famous People Tweets"
"Political Tweets"
Wow.
A couple days earlier, rapper 50 Cent threw out what the Washington Post claims was in fact the worst first pitch in recent baseball history. I was interested in the Twitterverse's reaction, and a quick Google search found this result among many, a story that was nothing more than a compilation of images of tweets with people's reactions to the rapper's errant toss. The writer bet (correctly) that simply throwing together images of funny tweets would make good reading.
For me, these three events/experiences crystallized the following:
Twitter fully occupies the extremely distinguished and unique position of being the official mouthpiece of the world's businesses and famous people. This is not something that happens (or is undone) overnight. Put another way, Twitter is now society's "wire" for anything of importance that happens in business, popular culture, politics, and world events. That is a monumental achievement in the broader context of the history of human communications.
Even though Twitter is a direct source for news by only 8% of U.S. adults (compared to 30% for Facebook), major media overwhelmingly rely on it for "first take" reactions to important events, so the actual percentage is likely far, far higher.
Twitter is therefore a far more influential news and information source than other social media entities.
Twitter is now "institutionalized" in our society and culture in a way that Facebook and LinkedIn will never be. This institutionalization is priceless, but Twitter has to be smart and aggressive in how to capitalize on it.
Can Twitter Capitalize?
So everyday, the entire news-consuming population of the world is being bombarded by stories and images of people's tweets. Children see these news stories and images as well, even if they don't understand the content. The question then becomes, "what is Twitter doing to capitalize on its unique position as the World's Town Crier?"
I was very surprised - shocked actually - to learn that as of late last year, the United States ranks 8th in Twitter Penetration, with just 11% of domestic Internet Users tweeting at least once per month, well behind countries like Saudi Arabia and Indonesia.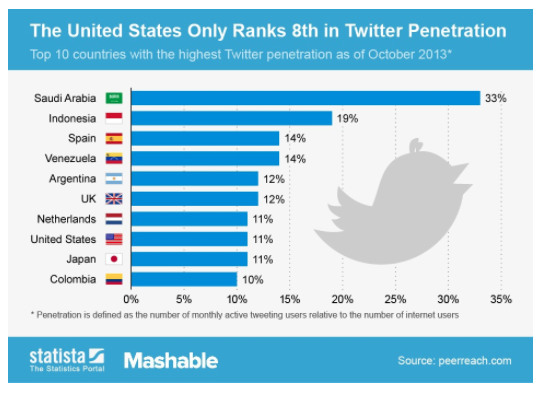 Twitter critics who point to the company's declining user growth rate should take pause from this statistic, as it hints there are some "wild cards" or "intangibles" that are driving Twitter usage and adoption in unpredictable ways across different geographies.
While Twitter has room to grow in adoption, it also has huge room to grow to be a better option for online advertisers. Even more surprising than U.S. Twitter penetration is the statistic from Social Media Marketing University that almost 60% of brands were either unaware of Twitter's advertising programs, or had not yet (but planned to) explore their offerings.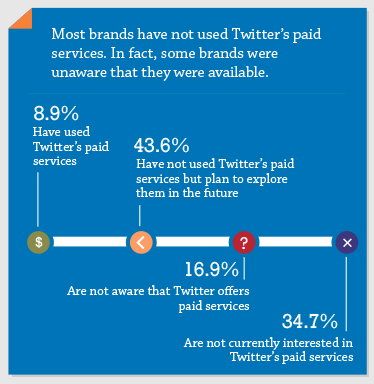 Source: Social Media Marketing University
From these two statistics - Twitter Penetration in the U.S. and awareness among brand advertisers - we can conclude that Twitter has a lot of room to grow in capitalizing on its unique position among major social media entities.
New Ways to Monetize
Today, Twitter offers Promoted Tweets, Promoted Accounts, and Promoted Trends to generate revenue from advertisers (in addition to data licensing). These advertising products are relatively easy to purchase and incorporate into an existing Twitter account on a self-service basis, but they don't always outperform the crowd in terms of effectiveness. According to Adobe Digital Index's Q1 2014 Social Index Report, Twitter Ads offer just $.62 in revenue per visit.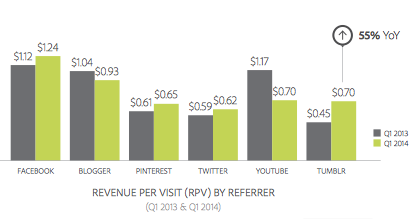 Source: Adobe Digital Index
Simply looking at RPV doesn't tell the whole story, however, and the most important measure of any ad campaign is ROI. If you talk to Twitter, they'll argue convincingly that their ad campaigns deliver far higher ROI than the competition. Ironically, one of company's most compelling business cases studies showcases how Adobe partnered with Twitter to deliver over 100% increase in lead conversion for one customer. The problem is, to really optimize the campaign ROI, you've got to.... optimize the campaign ROI - through things like Lead Gen Cards, Website Cards, App Download Cards, and other specialized Twitter ad formats that are designed to drive a specific action or response. This takes a lot of time and specialized knowledge. Twitter needs to figure out a way to also monetize its users who do not fit the traditional definition of a sophisticated brand advertiser, but who still want to make their tweets stand out in a very simple and rapid fashion.
For example, let's say I want to promote a new event my company is having, or get more visibility for the upcoming launch of my new product. Today I have to go through the entire process of setting up campaigns, defining budgets, and optimizing ad formats, as I would if I were using Google, Facebook, or LinkedIn. But if I'm a casual business user, giving special status to my tweet should be no more complicated than checking a box right before I post it.
Twitter could make this possible by offering a Premium account level, which would (among other things I'm sure) entitle users to a certain number of Premium tweets. Premium tweets would only appear to a user's followers, but would be highlighted and prioritized in some fashion, perhaps with a special background color or label depending on type ("Official Response," "New Event," "New Product," etc). Premium tweet labels could then be purchased in packs once a user's initial annual allotment ran out (and believe me it would run out fast). Users would not need to think about setting up campaigns for something as simple as promoting a single event. Remember, the rank and file business Twitter user doesn't think in terms of click through rates, ROI, and RPVs, they just know they want their tweets to get noticed.
If I'm 50 Cent and I want to put out an "Official Response" tweet that the news media around the world that I care about sees when my first pitch goes wide left, having a Premium account would do the trick. And making Premium tweets only visible to followers both protects the user experience (extremely important to Twitter management) and avoids cannibalizing the core ad business (equally important I'm sure). 50 Cent would still use Promoted Tweet campaigns to promote his new album or new clothing line to non followers.
Twitter Shares Are Beaten Down
Twitter is no doubt working hard on figuring out how to monetize rank-and-file users in ways that we can't even imagine. Imagine if just 5% of active Twitter users started paying $25 per year for Premium account status or some equivalent that provides a different set of benefits. That's over $300M in incremental revenue in a very short amount of time, and it doesn't even count Premium tweet refill purchases or other upsells. I actually think the percentage of active users who would pay a couple bucks per month for Premium could be MUCH higher, closer to 10%.
Given how beaten down Twitter shares currently are - especially compared to peers - any announcement about any new ways that Twitter plans to monetize its user base could provide a significant, near-term catalyst to move shares higher.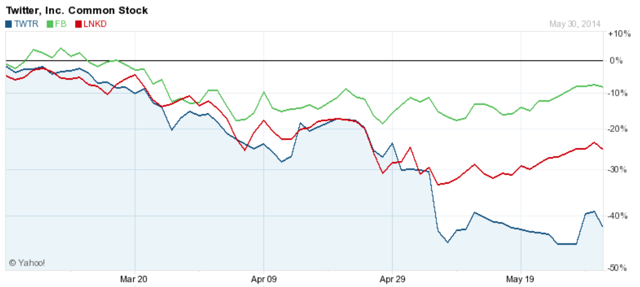 Source: Yahoo Finance
When Wall Street realizes that ad revenue is not the only lever to increase Twitter's bottom line, it may become less singularly focused on user growth rates. Upgrades should follow.
Bottom Line
With declining user growth rates, Twitter knows it needs to move aggressively to find new revenue streams, and a Premium account type that does not cannibalize ad revenue sales would immediately provide this boost. Moreover, if the Premium account became the way that businesses, celebrities, and politicians could officially respond to events and announce new plans, it would further tighten the bond between the media, Twitter, and the global population.
Even without any new monetization plans, Twitter's U.S. penetration and awareness among major brand advertisers is likely to increase in the near term, which should move revenues - and the share price - higher.
Finally, we should also expect Twitter's adoption among teens and even kids to increase, as they continue to witness Twitter's role as official mouthpiece and media news source, and as device costs continue to fall.
Now that I have realized what many have already - that Twitter has achieved a truly unique status in how humanity communicates - will I use it more? I'm not sure, but I am definitely going to spend more time learning about how Twitter can help support my business and help me get my message out.
Disclosure: I have no positions in any stocks mentioned, but may initiate a long position in TWTR over the next 72 hours. I wrote this article myself, and it expresses my own opinions. I am not receiving compensation for it (other than from Seeking Alpha). I have no business relationship with any company whose stock is mentioned in this article.
Additional disclosure: Please do your own due diligence prior to investing. This article contains my opinions only, and it should not be used as the basis to make an investment decision.