With an FDA decision due in early October, Alexza Pharmaceuticals' (NASDAQ:ALXA) stock has been reacting very nicely in anticipation, making a string of higher highs and higher lows since early August.
Last week, the Company issued a press release announcing that it will participate in two investor conferences, one at the Rodman & Renshaw Annual Global Investment Conference tomorrow, September 14, 2010 at 3:40 p.m. ET, and the other at the JMP Securities Healthcare Conference on Monday, September 27, 2010 at 2:00 p.m. ET.
However, the real news for this company is their pending FDA New Drug Application Decision for Staccato loxapine (AZ-004).

Alexza Pharmaceuticals looks like it still has plenty of room to rise before hitting a bit of resistance at $3.33 and $3.90 with some nice support at at $3.15 (right under its close of $3.16 during Friday's session).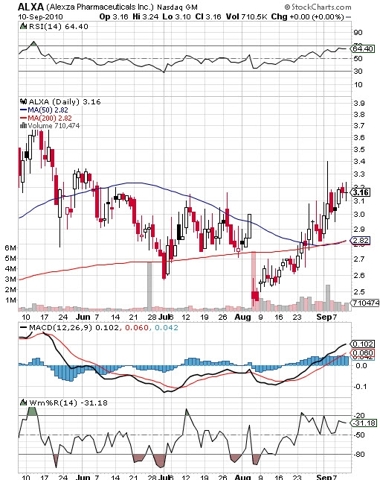 See the live chart here.
The NDA for the inhalation delivered Staccato loxapine was filed with the FDA in December and the IND was originally filed in August 2005. The product candidate being developed is for the rapid treatment of agitation in patients with schizophrenia or bipolar disorder, partnered with Biovail (BVF) in the U.S. and Canada.
"AZ-004 has delivered a predictable and consistent safety and efficacy profile in treating patients with agitation," said James V. Cassella, PhD, Senior Vice President, Research and Development at Alexza. "We believe that AZ-004, if approved, has the potential to change the treatment practices for acute agitation, as the only product able to meet both the patients' desire for quickly and comfortably gaining control, and the clinicians' goal of rapidly and reliably calming an agitated patient."
"The data we have seen from the Staccato loxapine trials are compelling," said Michael Lesem, MD, Executive Medical Director, Claghorn-Lesem Research Clinic, Houston, TX. "The product exhibits a rapid and predictable reduction in agitation, and appears to have a favorable safety profile in these patient populations."
Disclosure: No Positions