A forward P/E of 35x is not an urgent reason to say that Facebook (NASDAQ:FB) is a sell. The value of a company is what the majority of the stock market players decide.
The $7.2 billion worth of shares that insiders sold over the last two years. It is the prerogative of employees and early bird shareholders to cash out. They do so because they want to do some profit taking, to buy things, to re-invest in other stocks, or to cover tax obligations like Mark Zuckerberg had to do.
A check on Nasdaq's website reveals that Facebook's institutional ownership is still way above 50%. Facebook retail investors will only start to worry if FB institutional shareholders start dumping the stock. However, more big investors are making new positions than those firms that are selling out of Facebook.
Source: Nasdaq.com
Small investors ought to listen to what the majority of big investors are doing. Despite its stratospheric valuation, institutional investors are still very bullish on Facebook. Their highly paid expert managers and analysts did their due diligence - and they found out that Facebook's hyper-growth momentum is not going to go away soon.
No one can dispute that Zuckerberg made a blitzkrieg assault and won significant successive victories in digital advertising for the last 24 months. There are many reasons why institutional investors like FB. Even Jim Cramer is infatuated with super momo Facebook. Cramer points out that Facebook is highly preferable over Twitter (NYSE:TWTR).
Here are three reasons that compel me to believe that Facebook's Buy-side team still grossly outnumber the Sell-side.
Samsung (OTC:SSNLF), the world's biggest smartphone and tablet vendor, is going to use Oculus VR's Mobile SDK to build its own media-centric Virtual Reality headset. Facebook took a lot of dissension when Zuckerberg decided to pay $2 billion for Oculus VR last March. This purchase provoked some dumping of FB after it was announced. Analysts, who took potshots at Zuckerberg for his Virtual Reality gambit, should now appreciate Samsung's move to use Oculus VR's software. Having Samsung as a client should accelerate the adaptation of Virtual Reality technology. Samsung made smartphones pervasive. It can also make Virtual Reality headsets become must-have accessories among consumers within the next few years.
As Zuckerberg explained before, Oculus VR's technology is not only for immersive gaming. His expensive purchase of the startup is a long-term gamble that manufacturers, inventors, and developers will eventually use Oculus VR's IP to create other applications of the technology.
Samsung did just that. More clients will likely follow. Immersive Virtual Reality can be used in many industries.
Mary Meeker's 2014 Internet Trends Report shows the rapid shift towards mobile computing. Facebook has largely flourished due to its effective targeted ads platform on mobile gadget users. Its current high valuation reflects the market's bullish belief that Facebook will eventually earn more mobile advertising clients than Google (NASDAQ:GOOG).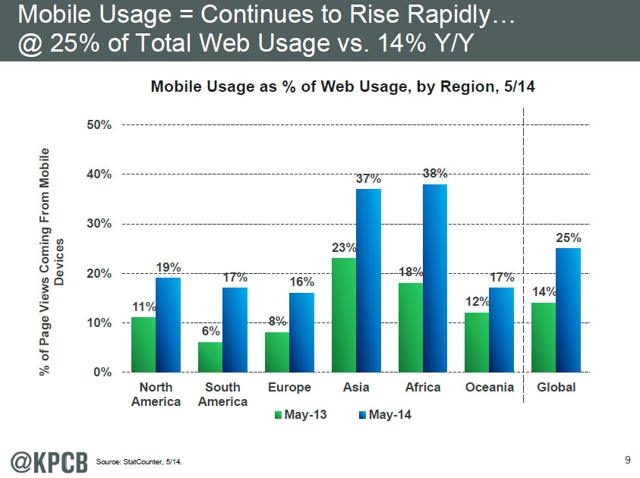 Source: KPCB
Facebook's new Audience Network third-party mobile advertising platform will further benefit from more people using smartphones and tablets. Now that it has an answer to Google's AdMob, Facebook can offer targeted ad solutions to clients outside Facebook's core mobile apps. Google currently enjoys 6x ARPU than Facebook. However, Audience Network will definitely improve the ad ARPU of Facebook.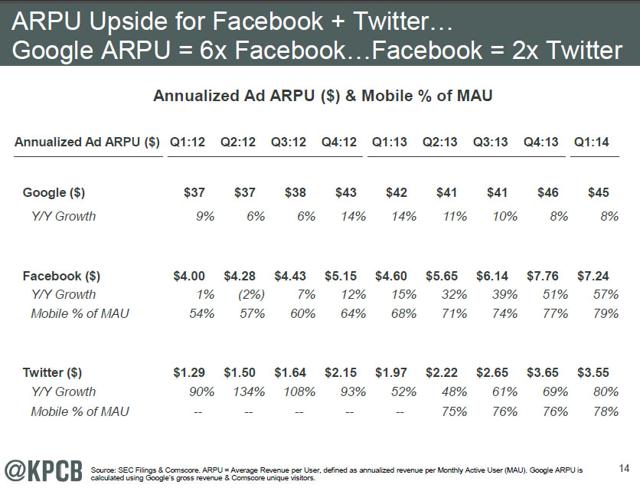 Source: KPCB
Facebook's monetization of its more than 1 billion mobile users has more upside potential than Google. Aside from its own native apps, Facebook owns WhatsApp (500 million MAU) and Instagram (200 million MAU) - two of the world's most-used mobile apps.
Facebook's growth as a global e-commerce platform for Peer-To-Peer and Business-To-Consumer online trade is another hyper-growth revenue stream. Facebook will eventually monetize the huge e-commerce trades being done through its social networking platform.
Ecwid, the most popular Facebook E-commerce solutions provider, already has 300,000 Facebook online shops using its product. Ecwid became successful because its product is also mobile-friendly. The rise of mobile users also benefits the e-commerce potential of Facebook. Shopify, BigCommerce, and BeeTailer are some of the many companies that are now helping people make Facebook a hybrid version of Amazon and eBay.
Mobile e-commerce will outpace regular desktop-based online trade.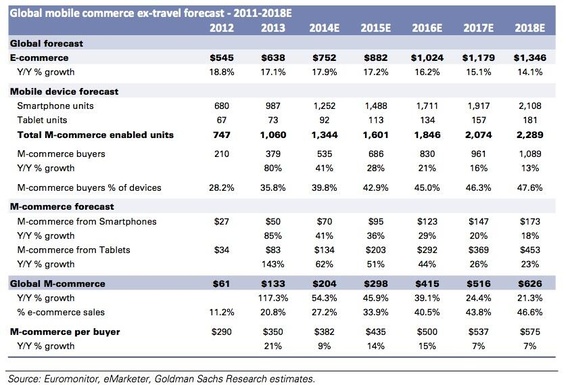 Source: Alexis Madrigal/The Atlantic
Conclusion
Facebook has many positive developments that are fueling its hyper-growth. I gave you three reasons why FB is still a Buy despite its high valuation. Mobile advertising, mobile e-commerce, and virtual reality technologies are valid tailwinds. Facebook has more captive audience than Google and the Roman Catholic Church.
Furthermore, my Buy rating for Facebook is in line with the high-math valuation engine of Alpha Omega Mathematica, which also recommends a Buy for FB. Thirty-two analysts polled by Barchart.com also have bullish sentiments for FB.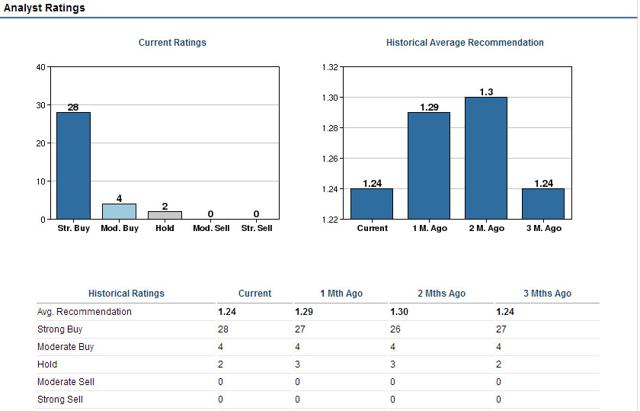 Source: Barchart.com
Note that from the above chart, no analysts dare call for a Sell. This is in spite of the bubble stock-level valuation of Facebook. The experts believe that this company's momentum growth is enough reason to disregard FB's bad Trailing P/E, PEG, P/S, and P/B ratios. The majority of technical indicators scream a Buy for Facebook.

Source: Finviz
Disclosure: I am long FB, GOOG. I wrote this article myself, and it expresses my own opinions. I am not receiving compensation for it (other than from Seeking Alpha). I have no business relationship with any company whose stock is mentioned in this article.