I'm primarily a dividend growth investor, but occasionally will take capital gain opportunities. Silver Wheaton (NYSE:SLW) now presents this opportunity.
About Silver Wheaton
Silver Wheaton is the biggest precious metals streaming company on earth. About 75% of its revenue is from the sale of silver and 25% from gold. The company has agreements to pay an upfront, low, fixed cost to high-quality mines in stable regions in exchange for a portion or all of the mines' silver and or some gold production. Silver Wheaton has "entered into 20 precious metal purchase agreements with 15 operating partners, including Vale (NYSE:VALE), Barrick Gold Corporation (NYSE:ABX) and Goldcorp Inc. (NYSE:GG)."[1]
How Silver Wheaton Came To Be
"It is estimated that 70 percent of silver production comes as a by-product from base metal and gold mines. This characteristic, along with Silver Wheaton management's bullish sentiment for long-term silver prices, was the basis for creating Vancouver-based Silver Wheaton in 2004."[1]
Current Purchase Agreements
Here is a table of mines which Silver Wheaton currently has purchase agreements with.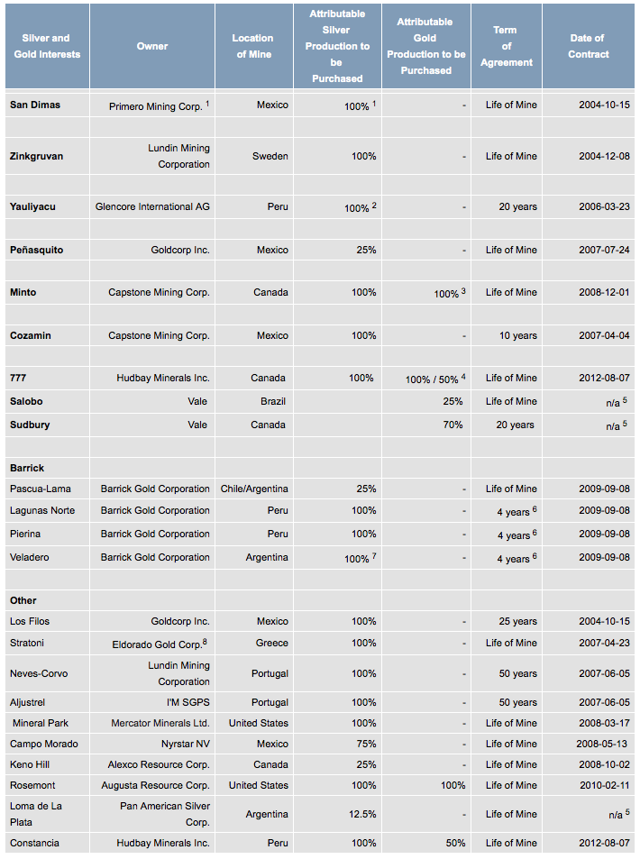 Table source: Silver Wheaton website
Lowered Downside Risk
1) Low, Fixed Operating Costs
The agreements with the mines state how much Silver Wheaton pays for the precious metals. Typically, Silver Wheaton pays $4 to $6 per ounce of silver, and $400 per ounce of gold. In most contracts, there is an inflationary adjustment. SLW's low operating costs limit its downside risk compared to other traditional miners.
2) Cost Certainty in regards to Capital Expenditure and No Ongoing Exploration Costs
Other than the initial upfront cost, Silver Wheaton typically does not contribute to future capital expenditures or exploration costs invested by the mines. So, Silver Wheaton's business is not reliant on the success of mine explorations.
Upside Potential
1) Production Growth Potential
In addition to paying a low, fixed cost for silver and gold, Silver Wheaton also benefits from the production and exploration growth which results from capital expenditures and exploration costs invested by mines Silver Wheaton has agreements with.
2) Portfolio of World-Class Assets
Silver Wheaton has a "portfolio of world-class assets including precious metal streams on Goldcorp's Peñasquito mine, Barrick's Pascua-Lama project, Hudbay's flagship 777 mine and Constancia project, and Vale's Salobo and Sudbury mines"[2].
3) SLW has a "stake in 2 of top 5 silver deposits worldwide"[2].
4) 100% unhedged, providing pure upside to increases in the price of silver and gold[2].
Risk
Silver Wheaton's performance is still based on precious metal prices. There's a risk that precious metal prices remain low, and that we don't know when the prices will rise.
Valuation
FAST graphs shows SLW's price (the black line) is under the earnings line (orange line), indicating SLW is undervalued. From the graph, we see how volatile Silver Wheaton's price performance can be, so it's not for the faint of heart. However, it could be forming a base between $20 and $26 range.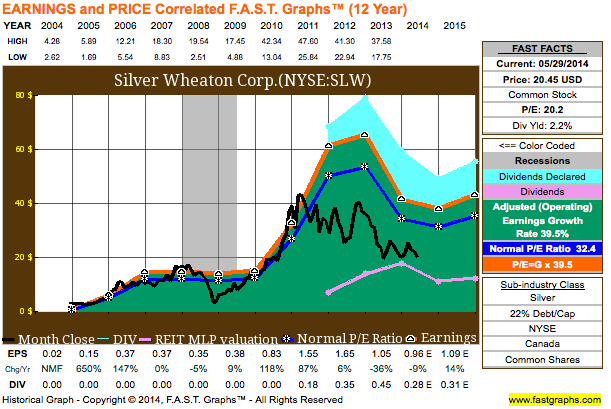 Dividend
Silver Wheaton pays a quarterly dividend of $0.07 for an annual yield of 1.36%.
As stated at the start of the article, I'm buying Silver Wheaton shares as a trade for capital gains and so the dividend will be a bonus for me.
SLW has a dividend reinvestment plan, but I will not be reinvesting its dividends since it's a capital gains play for me.
In Conclusion
Its current risk/reward is good. Further, its price is hitting the 400-day MA on the weekly chart.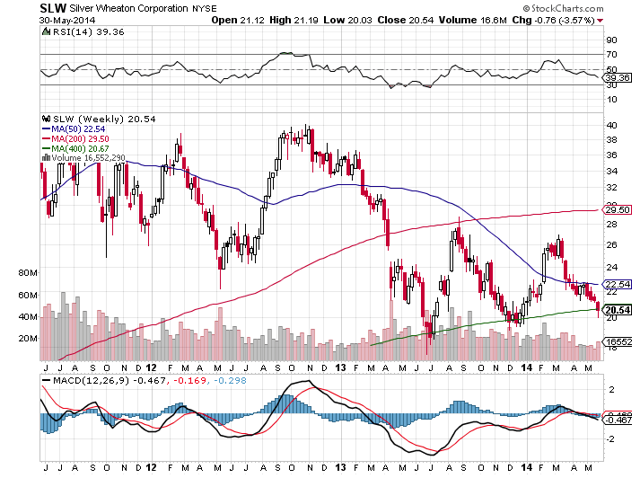 Analysts give SLW an average 12-month price target of $30+.[3] That is a potential upside of 40+%, according to Friday's closing price of $20.54.
I initiated a small position on Friday, May 30, and I'm aiming for 20%-30% gains in 6-12 months time or could continue to hold if I see rising silver and gold prices.
If you like what you've just read, consider clicking the bolded "Follow" link at the top of the page above the article title to receive an email notification when I publish a new article.
Note: Please use this article as initial research material. Do your own due diligence before buying or selling a stock.
References
Disclosure: I am long SLW. I wrote this article myself, and it expresses my own opinions. I am not receiving compensation for it (other than from Seeking Alpha). I have no business relationship with any company whose stock is mentioned in this article. I'm long SLW on the TSE.