Of all the names I cover in depth on this site, the one in the most financial trouble is biotech name Dendreon (NASDAQ:DNDN). The company's balance sheet is in terrible shape, and the probability that the company will go bankrupt seems to increase each quarter. As we enter the month of June, Dendreon is about to face a key debt maturity. While this one debt issue won't decide the true fate of this company, it may give us clues on Dendreon's long-term future. Today, I'll detail why Dendreon is now on the clock.
2014 notes - It's time to mature:
The 2014 notes are coming due on June 15th. This is something I detailed heavily in my Q1 earnings report for Dendreon. Management, on the conference call, again failed to discuss the debt situation, despite earlier statements that management was looking forward to discussing the situation. Investor frustration over this issue and concerns about potential bankruptcy have taken this stock down. Dendreon started the year around $3.00, and last month fell as low as $1.81. This was a $50 stock just a couple of years ago, but Dendreon's prostate cancer treatment, Provenge, has not generated the sales many were hoping for.
If you look at the Q1 10-Q filing, you'll notice that the carrying value of the 2014 notes is $27.685 million. However, if you include interest, you'll notice that Dendreon, back in the 10-K filing, reported a contractual commitment of $28.343 million in regards to these notes. While the difference between these two values is less than a million dollars, Dendreon isn't exactly flush with cash right now. In the chart below, I've tracked the percentage of Dendreon's cash pile these notes take up, using the balance sheet carrying value ($27 million-plus number).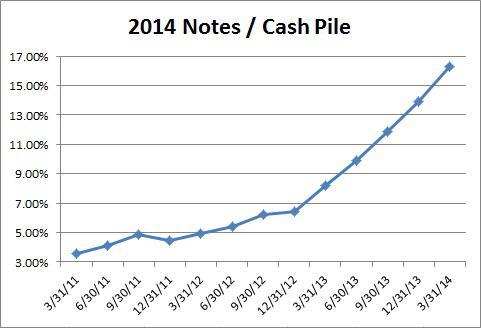 Three years ago, these notes only represented about 3.5% of Dendreon's cash and investments balance. At the end of the most recent Q1 period, that percentage had soared to 16.3%. Dendreon was under $170 million in cash and investments on the balance sheet at the end of Q1. Dendreon currently has enough cash to cover these notes. The company could certainly pay them back, but it would leave it with around $141 million in cash and investments. That's before any cash burn in Q2, offset by any insurance payments Dendreon receives from its bad inventory claims.
Changes in analyst estimates:
In Q1, Dendreon missed revenue estimates, although losses weren't as bad as expected. As a result, analyst estimates have moved as you would expect; revenue estimates down, EPS estimates up (a smaller loss). In the table below, I've detailed how Q2 2014, 2014, and 2015 estimates have changed since the Q1 report.

Revenue generation has been tough for Dendreon. About 13 months ago, analysts were looking for roughly $430 million in 2014 revenues. That seems nearly impossible now, even with Provenge entering Europe later this year. The good news is that Dendreon continues to restructure and cut costs. Losses are not expected to be as much, although this is a company that has lost over a billion dollars in recent years.
2014 versus 2016:
Both the 2014 and 2016 notes are convertible, although the conversion prices for both are well above current levels. It is unlikely these notes would be converted, unless the bondholders agree to a change in terms. There were conversion share maximums (conversion price minimums), and Dendreon would be well above the share maximum now to convert with shares so low. Plus, converting the $28 million or so in 2014 notes would be diluting current shareholders by more than 8% currently. At Friday's closing price, Dendreon's market cap was about $335 million, and that's with shares up about 20% from their 52-week low. The dilution would theoretically be even more if shares were back below $2.
The real problem for Dendreon is the 2016 notes, due in January 2016. The carrying value of those notes was $566 million at the end of Q1, but that number rises by the quarter. In the 10-K, the company noted $17.825 million in contractual commitments during 2014 with these notes, and over $646 million after 2014. Obviously, Dendreon does not have the money to pay back these notes currently, with just $170 million in the bank at the end of Q1. Considering that analysts only have Dendreon with about $575 million in total revenues between Q2 this year and the maturity date, it is highly unlikely that cash flow will improve to the point needed to pay back those funds. Converting those notes at this point would more than double the share count at current prices. That assumes that bondholders would change their terms, which seems unlikely at this point. Equityholders would face a lot of pain in this scenario, but extreme dilution is better than bankruptcy.
The reason I'm discussing the 2014 notes today is because the company's decision on what to do with these notes could impact what happens in 2016. At the minimum, some light should be shed on the true financial situation, what management thinks, and maybe even what the bondholders think. There is at least one analyst out there that has a $0 price target on Dendreon, based on the bankruptcy notion. If the 2016 notes came due today, equityholders would be completed wiped out. Dendreon might need a massive secondary at some point, although that probably would require an increase in Dendreon's authorized share count. Another option is to sell the company, which the bulls think could lead to huge gains. However, my question there is, what would an acquirer actually pay? This company has a huge negative equity balance, so an acquirer would really need to think highly of Provenge to make a deal work. Plus, why pay $5 or $10 for a company if you think it will go bankrupt? In that case, you probably could pick up the pieces afterwards for a fraction of the cost.
An update on short interest:
One of the main points of the bull camp for Dendreon has been a major short squeeze. Dendreon has been a heavily shorted stock in recent years. At the peak in 2013, short interest was around 60 million shares, almost 40% of the outstanding share count, which has been in the 155-160 million range in the past year. The chart below shows Dendreon's short interest over the past two years.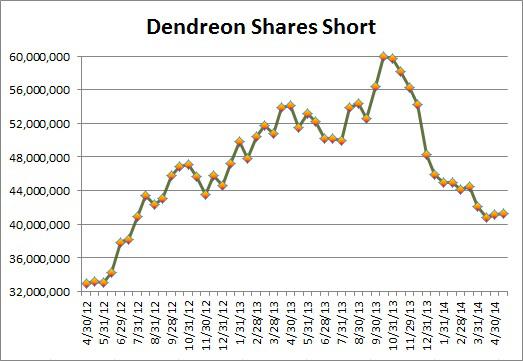 For the last third of 2013 and into 2014, short interest for Dendreon has come down by nearly a third. However, Dendreon shares have been going much lower, not flying higher. At the most recent update, about 41.3 million shares were short. That's still a very high percentage, and if Dendreon were to have some sort of good news, a major short squeeze is possible. However, with news not being great, shares have trended lower and shorts have taken profits here and there.
Final thoughts:
Dendreon's 2014 notes are coming due, and what the company does will be very interesting. The company has the cash to pay these notes back, but cash is decreasing quickly. The 2016 notes are the bigger issue, and bankruptcy seems like a possibility, unless a buyout occurs. Analyst revenue estimates continue to go lower, but loss expectations have improved. Dendreon is making slight progress, but not quick enough. Investors continue to worry, with shares hitting new lows last month. The short trade still seems to be the favored one here, but some sort of hedge is always preferred unless the company finally gets it right. For now, what Dendreon does with the 2014 notes may provide some keys to the company's future, a future that is cloudy, at best.
Disclosure: I have no positions in any stocks mentioned, and no plans to initiate any positions within the next 72 hours. I wrote this article myself, and it expresses my own opinions. I am not receiving compensation for it (other than from Seeking Alpha). I have no business relationship with any company whose stock is mentioned in this article.
Additional disclosure: Investors are always reminded that before making any investment, you should do your own proper due diligence on any name directly or indirectly mentioned in this article. Investors should also consider seeking advice from a broker or financial adviser before making any investment decisions. Any material in this article should be considered general information, and not relied on as a formal investment recommendation.