The FBI and the SEC are probing the trading activities of Carl Icahn, the billionaire investor, who may have provided insider information to Phil Mickelson, the legendary golfer, and William Walters, the Las Vegas gambler.
The investigators involved in the probe are questioning whether Mr. Icahn offered Mr. Mickelson and Mr. Walters private information about his public corporations, which were then used for illegal trading.
Denial on All Fronts
Icahn denied knowledge of an investigation to Reuters, claimed to have always abided by the law, acknowledged a business link with Mr. Walters, and said that he had no personal acquaintance with Mr. Mickelson.
He also said that he was proud of his unblemished record as a trader, where he had played by the rules for five decades.
Mr. Mickelson also denied any wrongdoing, and said that he was fully cooperating with the federal investigators. Additionally, his lawyer, Glenn Cohen, denied that his client was under a government probe.
Mr. Walters refused to make any comments at all.
Currently, the three have not been accused of any crime.
Investigations Began 3 Years Ago
The investigations date back three years ago, when US authorities decided to crack down on insider trading.
In 2011, Mr. Icahn was applying to join the Clorox Co. (NYSE:CLX) board, during which time Mr. Mickelson and Mr. Walters made suspicious trades. At that time, Icahn had a 9.1% stake in the company, and the stock soared when he made an offer to buy it for more than $10 billion.
In 2012, another suspicious trade may have been made by Mr. Mickelson and Mr. Walters. They traded Dean Foods Corp. (NYSE:DF) stocks just before the quarterly results were announced. However, Mr. Icahn was not involved in that trade in any way, and Icahn told Reuters that he had never had a stake in Dean Foods and not been involved in any way with the company.
Investigators Conducting A Deep Probe Into Icahn's Communications
Manhattan's federal prosecutors, working with the Federal Bureau of Investigations and the Securities and Exchange Commission, are looking into all possible communication between Mr. Icahn and Mr. Mickelson and Mr. Walters, including searching phone records and looking at Icahn's prolific tweets.
Currently, investigators have not revealed any significant evidence, and even if they do find something, they will have to establish a fiduciary or confidentiality breach. No clear evidence has emerged to either establish criminality or exonerate the three men.
Concern For IEP Shareholders
If Icahn is found guilty for insider trading, it could "complicate one of the longest running and most successful careers on Wall Street," according to the NYTimes, and obstruct Icahn's efforts to "mold his legacy" as a wise, successful investor, who has made 'meaningful change' in this country.
When Icahn talks, investors listen. When Icahn announced that Apple (NASDAQ:AAPL) was his pick in 2013, it pushed the stock up 5%; later in 2013, he acquired 61 million shares of Talisman Energy, causing a surge in price for the Canadian oil producer as well.
Icahn's views on corporate governance have recently focused on Apple, eBay (NASDAQ:EBAY), Yahoo! (NASDAQ:YHOO), and Motorola (NYSE:MSI). Where before, investors might have made plays on Icahn's announcements - now, these statements and actions could hold less weight.
Icahn Enterprises (NYSE:IEP) rose 32% rise over the last year, and shareholders have been rewarded with a significant dividend increase - all of which could certainly be hampered if Icahn is charged.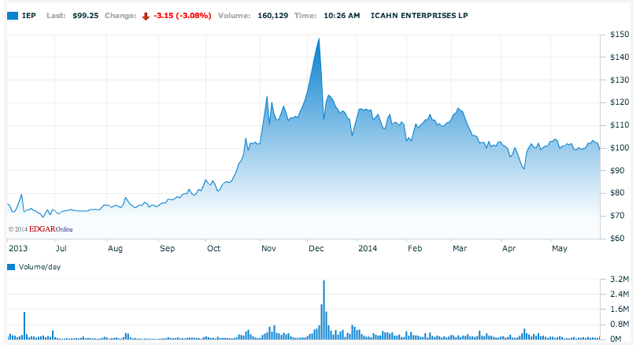 (Nasdaq.com)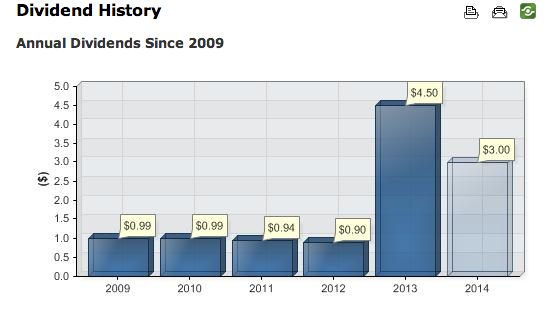 (Source)
A holding company, IEP includes companies in industries as diverse as Investment, Automotive, Gaming, Railcar, Food Packaging, Metals, Real Estate and Home Fashion. Chairman of the Board Carl Icahn owns a 90.5% stake in the company.
IEP shareholders should watch this case closely and consider taking profits in IEP if this figurehead is accused and/or found guilty.
Readers wishing to join the discussion on Carl Icahn and Icahn Enterprises should click the +FOLLOW button above the title of this article and follow @DRDInvestments on twitter.
Disclosure: I have no positions in any stocks mentioned, and no plans to initiate any positions within the next 72 hours. I wrote this article myself, and it expresses my own opinions. I am not receiving compensation for it (other than from Seeking Alpha). I have no business relationship with any company whose stock is mentioned in this article.