Offense vs. Defense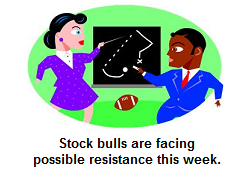 Stocks kicked off the trading week with a 7-point drop in the S&P 500 early in Monday's session. When ISM news hit the wire, buyers stepped up. From Bloomberg:
U.S. stocks erased losses after the Institute for Supply Management corrected the reading in its May factory index to show manufacturing beat estimates. "The correction improved market direction modestly," Stephen Carl, principal and head equity trader at New York-based Williams Capital Group LP, said in a phone interview. "Going forward, you're looking for expected improvement in the ISM number, so maybe this just adds to it. Overall, it wasn't a big, meaningful change, but there was certainly a reaction in the market."
Big Picture Still Favorable For Equities
As outlined in this week's stock market video, the weight of the evidence still supports an equity-heavy allocation, but some lingering concerns remain.
After you click play, use the button in the lower-right corner of the video player to view in full-screen mode. Hit Esc to exit full-screen mode.
ECB Could Decide Weekly Outcome
With the exception of the always-important monthly employment report that is due this Friday, the U.S. economic calendar brings little in the way of earth-shattering reports this week. The same cannot be said for the European calendar. From Reuters:
A global gauge of equities dipped but continued to brush against its record high on Monday after strong Chinese factory data, while soft data out of Europe heightened expectations for action from the European Central Bank, pressuring the euro. Slower-than-expected manufacturing growth in the euro zone piled pressure on the ECB to act aggressively when it meets on Thursday, keeping the euro at a near four-month low versus the U.S. dollar, though weak U.S. data gave the single currency some respite. The relative strength in the greenback weighed on oil prices, but copper jumped as China's manufacturing activity expanded at the fastest pace in five months in May, raising expectations of an increase in demand.
Investment Implications - Using Simple Support and Resistance
We should never underestimate the power of simple support and resistance in the financial markets, which provides a guidepost for possible shifts in the ongoing battle between economic bulls and economic bears. Stocks are nearing a trendline that has brought out sellers in the past (see blue arrows below).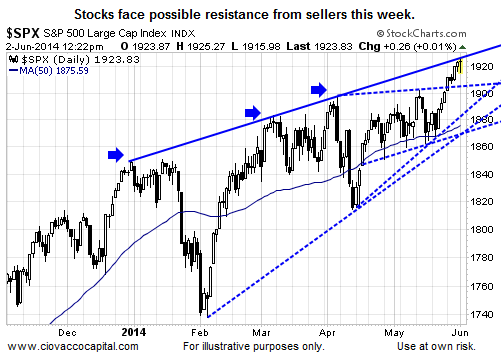 On the other end of the risk-tolerance spectrum, defensive-oriented long-term Treasury bonds have been weak in recent sessions, but are near an area where buyers may logically step up this week. If the ECB and/or Friday's labor report prove to be disappointing, bonds could rebound. Therefore, some patience remains prudent on the fixed income front.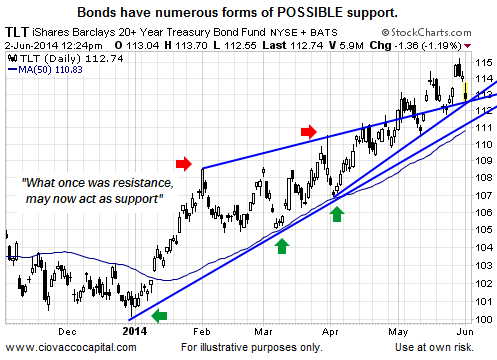 In addition to the ECB Thursday and U.S. monthly employment Friday, Tuesday brings reports on motor vehicle sales and factory orders. Our focus will be on the market's reaction to the incoming data, rather than the data itself. We may learn something about the market's tolerance for risk based on the demand for stocks and bonds this week. Until something changes, we are maintaining a prudent mix between stocks (NYSEARCA:SPY) and bonds (NYSEARCA:TLT). The market will continue to guide us if we are willing to listen.
Disclosure: I am long SPY, TLT. I wrote this article myself, and it expresses my own opinions. I am not receiving compensation for it. I have no business relationship with any company whose stock is mentioned in this article.