Introduction
Some investors look at Jamba (NASDAQ:JMBA) and only see minimal growth due to stagnate revenues. However, Jamba is showing signs of targeting newer markets through innovation, and a better balanced business that knows how to turn a profit.
Investment Rating
I gave Jamba my Buy rating (see below for an explanation of my ratings system). My rating is based largely on combining forecasts of same store sales, increased sales and success of JambaGo, and the level of risk associated with Jamba Inc. I am projecting a net income of $2,448,000; a positive EPS of 0.14 over the next 12 months. This represents a 64% increase. I have also established Jamba to be a Level 3 risk (see below for an explanation of my risk assessment scale). My 12 month target for Jamba is $13.95; a $3.24 increase per share, or 30% return.
JambaGo
Jamba is hoping to find another source of revenue through its new self-serve smoothie machine called JambaGo. Following a deal with Target to have 1,000 units installed in their cafes, Jamba was expecting an estimated total of 1,500 machines set up by the end of 2013.
One of the benefits to JambaGo is the expansion of Jamba's brand name. Since Jamba Juice restaurants are heavily saturated in specific areas, most notably California, much of the United States does not recognize the Jamba brand. JambaGo should allow the company to break into newer markets at an easier and more affordable price. Cafes, schools, stores, etc. are all target locations for JambaGo.
Another advantage is the margins; extra revenue with low operating costs. Fees are far less than the cost of labor and building associated with a store. New locations will be financed by the schools and retailers in which they are placed. If each machine averages $2,000 per year in gross profit, then 1500 established units would increase annual gross profit by $3 million, or about 6% over 12 months.
Since JambaGo is still in its early stages, I do not have more information regarding a more accurate picture of JambaGo's financials, however, the machines seem profitable to me but not necessarily a strong outlet to boost significant revenue growth. Because of my lack of information on JambaGo I prefer to keep conservative estimates.
Expansion
On January 3, 2014 Jamba partnered with Landmark Group to open 80 new stores over 10 years across the Middle East. The first store should open sometime this year in Dubai. Without more information of locations, dates, and sales forecasts, it makes it difficult for me to formulate fair projections pertaining to these future stores. I do believe Jamba has the potential to tap into the international markets and create a strong brand in South Korea, Canada, Mexico and the Middle East with their partnering and networking. However, I project that these new locations can take years of time to work through the pipeline and allow for better forecasting. Since implementation of Jamba stores into the Middle East will be moving slowly at this time, I predict that successful implementation will likely reflect in the stock price later than 12 months from now.
Jamba is dedicated to the growth and expansion of their corporate and franchised locations through newer channels and markets. They are on track to open approximately 70 new stores in 2014, 25-30% of which will be international. Recently the company has opened its first drive thru location in Las Vegas, Nevada.
Drawbacks to Future Growth
If your hope for Jamba's future growth lies solely on an increasing number of locations, then you might be disappointed. Jamba faces many obstacles to reach a large number of worldwide locations.
They are still a fairly seasonal business, which makes building locations in cooler climates less desirable.
They mainly appeal to individuals with expendable income, which makes low socioeconomic neighborhoods less desirable for expansion.
Any middle or upper class markets they enter, they will be competing against the larger and more well-known, Starbucks.
Threats
Competition
There will always be a niche for Jamba's products; the fit and active people who are trying to promote a healthier lifestyle. The biggest threat I see to Jamba is the competition of already established entities entering the smoothie and health food market. Some of Jamba's direct competitors are as follows:
· Smoothie King - A private company founded in 1973 with over 600 locations established which only 6 are corporate owned. Since 2009 their international presence has more than doubled with 127 locations (mostly in South Korea). I suspect them to continue to grow internationally while their domestic presence slows and continues its plateau. Currently Smoothie King is trying to acquire more locations so that 20% of the Smoothie King stores would be corporate owned. These corporate stores will be used to test new products such as healthier foods that will be added to the menu. Smoothie King has seen sales rising in their existing stores, and they have the funding to increase their expansion and become an even stronger competitor.
· Planet Smoothie, Maui Wowi, Robeks, Orange Julius, etc. - I have lumped together all other smoothie stores and franchises with under 200 locations. I don't expect any of these companies to be a significant threat to Jamba's growth and expansion.
· McDonald's (NYSE:MCD) - Not only McDonald's, but other fast-food restaurants such as Burger King have introduced smoothies into their menus. The names McDonald's and Jamba Juice stand for two completely different ideas, however, I believe that if McDonald's was to make a stronger move into the creation of a healthier menu consisting of smoothies, then they would become a large and immediate threat. Fortunately for Jamba, both companies advertise and target different market segments.
· Starbucks (NASDAQ:SBUX) - I believe Starbucks to be the strongest competitor of Jamba. Starbucks is the largest coffeehouse in the world with over 20,000 locations. Their market capitalization is over 300 times that of Jamba. Unlike McDonald's, I believe that Starbucks targets a more similar customer to that of Jamba Juice. Starbucks has already begun adding smoothies to their menu competing with Jamba and other smoothie companies.
Economy
Jamba's customer base and target market is the younger middle to upper middle class individuals with expendable income. Any long-term downturns or changes in the economy could have a profound impact on Jamba's sales.
Climate
The smoothie industry is a seasonal business. Cooler summers can lead to smoothie sales falling well below projections. Jamba's financials show a significant drop in sales during the colder seasons. Jamba has to continue forward with other products, such as food items, coffees, etc. in order to compete more effectively on a global scale.
Projections
I am projecting revenue in 2015 to be approximately 8-9% higher than that of 2013. My estimates come from combining increased revenue from JambaGo, with partial sales from 50 new locations, and discounted revenue of same stores sales. I believe my revenue forecast to be fairly conservative, mostly due to the threats that Jamba faces; most notably increased competition from established chains such as Starbucks. I believe the potential of increased competition could bring down same store sales and possibly deter the production of newer locations. However, if 70 new locations are created by the end of 2014 and average a projected $700,000 in sales per store, then revenue could be up to 10% higher than my projections for 2015.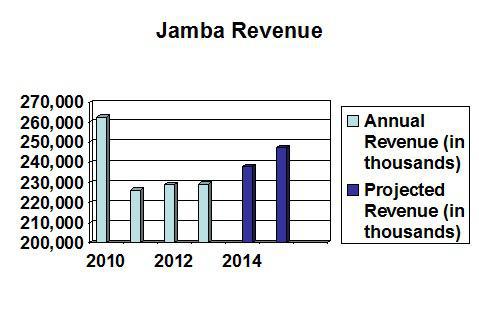 (Durante, N. 2014)
While my revenue projections may seem modest, I am expecting to see continued increases in net income and operating margin. So far we have seen favorable progress in both. Jamba has shown strong increases in gross profit, indicating better operating efficiency and stronger pricing strategy. I expect to see this trend continue and see their operating margin fall between 5-6% for 2014. This number still lags compared to the industry average of 14%, however I believe Jamba could be in that range by 2017. As for Jamba's net income, I am projecting significant increases for 2014 and 2015, partly due to implementation of JambaGo and its forecasted positive effect on gross profit. For 2014, I am projecting a net income of $2,448,000, carrying an EPS of 0.14 after adjustments.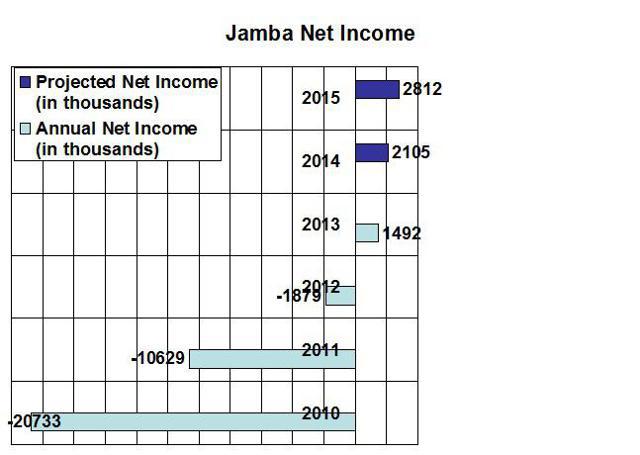 (Durante, N. 2014)
Jamba shows promise of an improving operating margin. I am projecting their operating margin to be between 5-6% for 2014. Although I believe their operations to be improving in efficiency, their pricing strategy might need a boost in the future to attempt to reach a stronger operating margin around the 14% range to remain competitive. I believe JambaGo may be a contributing factor to future growth in their operating margin as well.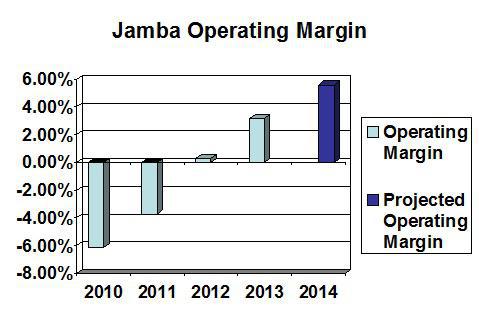 (Durante, N. 2014)
A Possible Buyout?
Probably not. However, with a strong brand name and a market capitalization of only 181.4 million, I believe any potential buyout would warrant a price tag of nothing less than 200 million at this current stage, which is more than 10%, its current market valuation.
The Jamba brand embodies affluence, health, and vitality. Similarities can be drawn to the Starbucks brand, which also represents the same class of people as Jamba. Would it be completely insane to think Starbucks might consider a future purchase of Jamba? Considering their acquisitions of Teavanna, Evolution Fresh, and La Boulange, it certainly wouldn't surprise me. But Starbucks is just one of many companies in the food and beverage industry who could benefit from starting or reconditioning their juice line through a Jamba acquisition.
Risks
Jamba Inc. falls into my definition of a microcap stock (a market capitalization between $25 and $300 million). Like other small cap, microcap, and nanocap stocks, Jamba Inc is subject to high volatility, therefore depending on one's risk tolerance; Jamba may not be a suitable choice for many investors. I believe this stock to be more than twice as volatile as the market; however, I have established it to be a Level 3, moderate risk investment security. Although highly volatile, I rank it as a moderate risk due to improving financial conditions and projections of increased growth and margins.
Summary
Although Jamba has an inability to ramp up same store sales, they show promise. Increasing both national and international presence through old and new business strategies can help put Jamba on the road to bigger growth. With new ideas and the ability to increase margins, I am optimistic about their future.
Ratings System
Strong Buy - I believe this company to be undervalued and exhibits great growth potential with minimal risk.
Buy - I suspect the company to be healthy and provide a fairly considerable return on one's investment, but typically at a higher rate of risk than a strong buy.
Neutral - I estimate the company's future potential to be stagnate, and therefore unable to make a precise investment decision.
Sell - I believe that the company is overvalued and carries a significantly high amount of risk.
Risk Assessment Scale
Level 1 - I believe these securities to be of very low risk. These investments are typically much less volatile than the market and will often carry a low rate of return.
Level 2 - I believe these securities to be of fairly low risk. These investments are typically as volatile as the market and will often have lower potential for gains.
Level 3 - I believe these securities to be of moderate risk. These investments are sometimes 1-2 times as volatile as the market and have potential for moderate to high gains.
Level 4 - I believe these securities to be of high risk. These investments are sometimes 2-3 times as volatile as the market but can offer high gains.
Level 5 - I believe these securities to be of extremely high risk. These investments are very volatile and are often nanocap stocks, or otherwise show some obvious fundamental causes for the high risk rating.
Factors involved in risk assessment include volatility, market capitalization, volume, cash flow, projections, financial conditions, etc.
Disclosure: I have no positions in any stocks mentioned, and no plans to initiate any positions within the next 72 hours. I wrote this article myself, and it expresses my own opinions. I am not receiving compensation for it. I have no business relationship with any company whose stock is mentioned in this article.