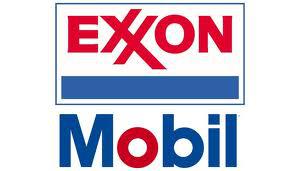 When investors hear the word "Bakken," the companies that usually come to mind are Continental Resources (NYSE:CLR), Whiting Petroleum (NYSE:WLL), or perhaps Statoil (NYSE:STO). However, Exxon Mobil (NYSE:XOM) has ~570,000 acres in the tight-oil play across North Dakota and Montana. In the company's 2013 annual report, it explained the slow and steady progress it has made in the play since the 2010 acquisition of XTO energy. While production levels are a small slice of the company's total upstream output today, the Bakken represents a very large exploitable resource for Exxon.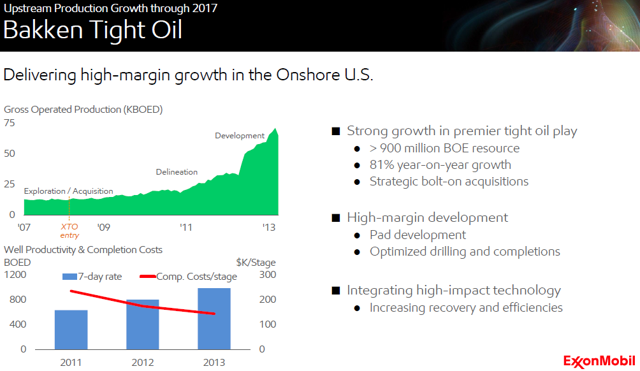 Exxon entered the Bakken shale through its purchase of XTO back in 2010. In late 2012, the company acquired 190,000 additional acres in the play. The bolt-on acquisition increased XOM's Bakken production by 50%. In 2013, the company brought in 110 wells and production grew to 59,000 boe/day. Today the company has ~570,000 acres in the Bakken, which represent a resource base of >900 million boe.
Some investors have been impatient with XOM's lack of development in the Bakken. Early on, Exxon said that it wanted to understand the geology and technology better and didn't want to rush into the play while development costs were so high. But after several years of delineation drilling and optimizing completion techniques, Exxon is poised to go into full development mode.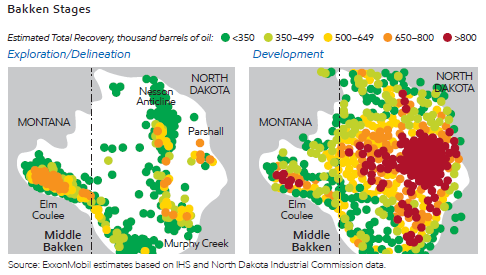 Exxon is now using multi-pad drilling and has significantly increased the number of stages and lengths of the horizontal laterals. In addition, like most Bakken operators, Exxon has been optimizing the completion recipe in terms of sand volume, liquid volume and rate, and the proppant type.
As shown in this article's first graphic, Exxon has reduced its drilling days per well by 28% to 22 days since 2011. Combined with a 39% reduction in completions costs per stimulation stage, total drilling and completion costs have dropped 25% over the past 2 years. At the same time, peak 30-day production rates on new wells increased 22% in 2013 and have risen 46% over the last 2 years.
Meanwhile, XOM completed major upgrades to its Nesson gas gathering infrastructure and facilities during 2013. As a result, the company has increased its ability to capture value from liquids-rich gas and has reduced downtime and flaring. The company has other gathering and transportation initiatives in the Little Missouri and Fort Berthold areas.
Exxon is applying the expertise and technology it has developed in the Bakken to other regions such as the Vaca Muerta shale in Argentina and to Russia's West Siberia. Exxon recently announced a Vaca Muerta well that initially flowed at 770 bbls of oil per day on a 12/64 inch choke. The Bajo del Choique X-2 well was drilled to a depth of ~15,000 feet and had a horizontal leg of 3,280 feet. Exxon Mobil has ~900,000 acres in the Vaca Muerta shale in Argentina.
The well was completed in the Vaca Muerta formation and flowed at an average rate of 770 barrels of oil a day on a 12/64 inch choke in its first flow test. See more here.
Summary & Conclusion
While XOM was a bit slow off the starting blocks in the Bakken, the company's strategy was correct: drilling times are down, costs are down, and production per well is up. Exxon is poised to be a monster in the Bakken. Meanwhile, it is applying its Bakken expertise and technology in the Vaca Muerta shale of Argentina where it holds ~300,000 more acres than in the Bakken. The future looks very bright for Exxon Mobil's uncoventional oil business. Who knows, maybe we'll even see a dividend yield of over 3% one day.
| | |
| --- | --- |
| Market Cap: | 430.34B |
| P/E (TTM): | 13.65 |
| EPS (TTM): | 7.34 |
| Div & Yield: | 2.76 (2.70%) |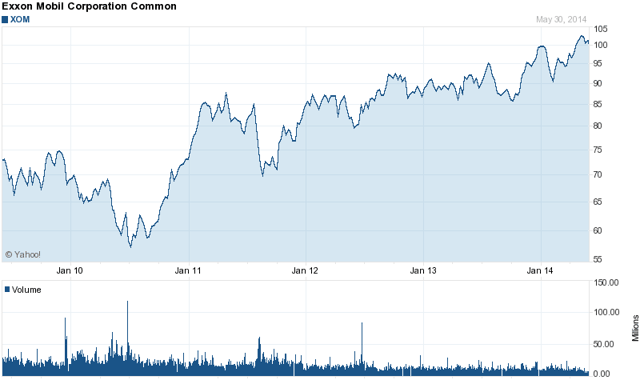 Disclosure: The author is long STO, XOM. The author wrote this article themselves, and it expresses their own opinions. The author is not receiving compensation for it (other than from Seeking Alpha). The author has no business relationship with any company whose stock is mentioned in this article.
Additional disclosure: I am an engineer, not a CFA. The information and data presented in this article were obtained from company documents and/or sources believed to be reliable, but have not been independently verified. Therefore, the author cannot guarantee their accuracy. Please do your own research and contact a qualified investment advisor. I am not responsible for investment decisions you make. Thanks for reading and good luck!