Content is King
The proliferation of high speed internet and the corresponding alternatives to the traditional methods of delivery of content have revolutionized the way in which consumers access traditional TV shows, books, and movies. Over the past five years video streaming has grown exponentially as a diverse bouquet of video delivery companies have bloomed, offering consumers a variety of models for the consumption of video content. Netflix (NASDAQ:NFLX), Hulu +, Amazon (NASDAQ:AMZN) Prime, Google (NASDAQ:GOOG) (NASDAQ:GOOGL) Play, and a number of other online video services offer consumers many ways to consume content including renting, purchasing, or streaming video libraries as part of a monthly fee.
While this trend has engendered so-called "cord cutting," or consumers doing away with cable TV service in favor of only high speed internet, the strategic position of Internet Service Providers (ISPs) like Comcast and Verizon makes it unlikely for this behavior to become widespread. ISPs are able to bundle their services and price pure internet access in a way that makes the savings from cord cutting negligible to the average consumer.
More likely than the widespread loss of cable customers is that ISPs will offer consumers a variety of options to access content including traditional cable with innovations to better fit the modern lifestyle like DVR, video on-demand, and streaming over mobile devices, while continuing to offer high speed internet through which consumers will access streaming services such as Netflix, Amazon Prime, and Hulu+. There is still widespread disagreement about the end result of "cord cutting" behavior, but a recent study by Deloitte entitled: The Reality of Cord Cutting in North America downplayed the overall effect and predicts less than 1% of customers will actually cut paid TV services in 2014.
This diversified media delivery landscape, in which enhanced traditional cable service is largely retained and supplemented by streaming services, opens exciting new revenue streams for the owners of high quality content such as Disney (NYSE:DIS), NBC (NASDAQ:CMCSA), and CBS (NYSE:CBS). CBS is the best positioned in the group to capitalize on the growth of licensing and fees for streaming and transmission rights as a pure content company with a large and diverse portfolio of high quality content.
A Pure Content Company
CBS is a pure content company composed of a variety of popular and proven franchises including CBS Networks, CBS TV production, CBS Interactive, the Showtime cable networks, CBS College Sports Network, and Simon & Shuster Publishing. Each of the company's content production groups have generated some of the highest rated content currently available on the market today.
The company's large and diverse portfolio of property includes four of the five highest rated shows in prime time for 2013, cutting edge cable series like Homeland, and the ever reliable juggernaut of the NFL that it recently expanded to include a sampling of Thursday night games. At the heart of the company's value is the quality of its content portfolio that it has demonstrated an impressive ability to sustain and grow over time. The value of the company's portfolio is growing each quarter as the company finds new ways to monetize its shows, series, and sports across the ever broadening landscape of consumer content consumption.
Analysis of Sources of Revenue and Growth
Advertising
CBS is still heavily reliant on the traditional advertising revenue model that has sustained the big three TV networks from their inceptions. CBS is actively working to reduce the company's current reliance on advertising dollars to generate revenue and earnings as they are notoriously erratic.
The company's most recent quarterly earnings report showed the fickle nature of advertising dollars as the company's revenue actually declined slightly to $3.86 billion from $4.02 billion a year earlier due almost entirely to the Super Bowl switching to FOX for 2014 and two fewer NCAA basketball games during comparable periods from 2013. Despite this small decline in revenue caused by the unfortunate cycling of the Super Bowl and the NCAA Tournament, the company's core advertising business is likely to remain strong due to a variety of factors that result from CBS management's adept handling of the digital transition in the media content business.
The bulk of the strength in the company's advertising business comes from CBS' shrewd positioning within highly coveted demographic audiences with its NFL lineup as well as its prime time hits like The Big Bang Theory. The company has invested heavily in highly rated live sports that allow CBS to maintain advertising pricing and fend off some of the move to DVR and streaming that hurt advertising margins. CBS has also overseen the development of shows like The Big Bang Theory that target the highly coveted 18-35 year old demographic and provide multiple opportunities of revenue creation. Rates for a 30 second spot on the wildly successful show rose 15% year over year to an impressive $316,012 in 2013. The addition of higher quality Thursday Night football games this Fall on CBS will also be a catalyst for growth in advertising dollars; currently the two highest cost prime time 30 second spots air during NBC's Sunday Night Football and ESPN's Monday Night Football.
Fees and Licensing
The above market earnings growth investors should expect from CBS is due nearly entirely to the rapid growth of the company's licensing and transmission fees for its content. This is stable and predictable contractual revenue derived from cable companies and streaming services like Netflix. The company's most recent quarterly earnings logged an impressive 7% revenue rise in these fees year over year, following a 9% rise in Q4 of 2013, and CBS leadership has promised that investors have only seen the beginning of growth in this area.
Investors can view CBS' Fees and Licensing revenue as coming from two major sources; the fees paid by cable companies to carry CBS' network and stations and the fees paid by streaming companies to stream popular CBS content. Both of these generalized groups of fees have seen impressive growth over the last 12 months and will likely continue to see strong growth in coming years due to high consumer demand for popular CBS content.
The advantageous position of CBS relative to content delivery companies was solidified last year in its highly publicized battle with Time Warner Cable (TWC) over subscription fees paid by the cable company to carry the CBS networks. CBS held firm with its planned fee increases and leveraged consumer demand for the NFL and other popular programming to (it is widely believed) prevail over Time Warner. This is a model that will likely continue to be successful in future negotiations despite the perceived gain in strength of cable and internet providers after several recently announced mergers. In a fortuitous feedback loop for CBS (and other content companies) as their rising fees are passed onto consumers, cable customers become even less tolerant of any disruption of service, which places cable providers on ever thinning ice during negotiations.
Even more encouraging for CBS investors is the ever expanding content streaming universe that offers opportunities for revenue and earnings generation that simply didn't exist even a few years ago. Once again, the CBS portfolio of quality content is in high demand by users of Netflix, Hulu+, and Amazon Prime and CBS is able to negotiate streaming rights for each of its properties. On the company's most recent earnings call, CEO Leslie Moonves took time to identify recent streaming and syndication deals for the company's Hawaii 5-O and Blue Bloods series. As the company continues to generate popular content these streaming deals will continue to grow and expand over time.
CBS Outdoor Spin-Off
CBS' recent spin-off of its outdoor advertising business, composed of billboards, airport signs, and electronic displays in predominately big city markets, was a definitive move in streamlining and solidifying CBS as a pure media content company while creating additional value for shareholders from the valuable advertising asset. The spin-off will not likely have long term implications for CBS other than allowing the company to better focus capital on growing its content portfolio.
Earnings and Valuation
Analysts estimate that CBS will continue its recent impressive earnings growth for at least this and next fiscal year. Growth in earnings will be driven by CBS' stable core advertising business and the rapidly rising fee and licensing business. CBS has beaten analysts' earnings estimates for the past several quarters and this trend suggests that the mean analyst earnings estimates may be too conservative, and actual earnings will skew towards the higher end of estimates. Current average estimates peg this year's earnings at $3.48/sh and next year's at $4.02/sh, or approximately a 14% earnings growth rate.

Source: Marketwatch
Despite this impressive and consistent above average earnings growth, the company's share price is only trading at a slight premium to the average market valuation, or about 16.5x vs. 15x forward 12 month earnings. These two factors taken together suggest a significant share price appreciation is likely in the near term.
Helping to bolster the company's earnings per share is the company's aggressive buyback of stock that is accelerated to an impressive $2 billion in the first quarter of 2014.
Analysts have become increasingly vocal in their praise of CBS' future prospects. Recently, S&P Capital IQ added CBS to their Top 10 portfolio, noting the recent spin-off of CBS Outdoors, the company's buyback program, increasing dividend, and rising fees from streaming and cable fees as catalysts for revenue and earnings growth. The overall trend in analyst opinions has been positive, and the nearly 10% decline in the company's share price after their explainable decline in Q1 revenue offers investors a solid entry point.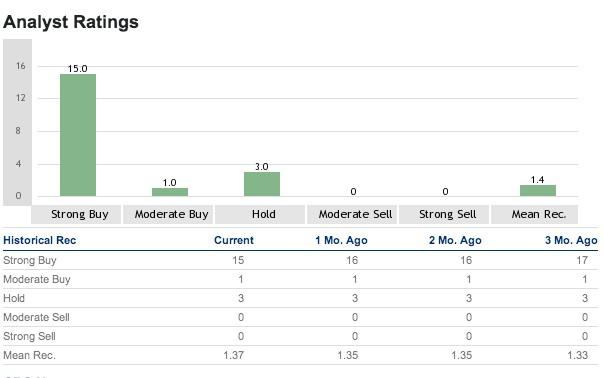 Source: The Street.com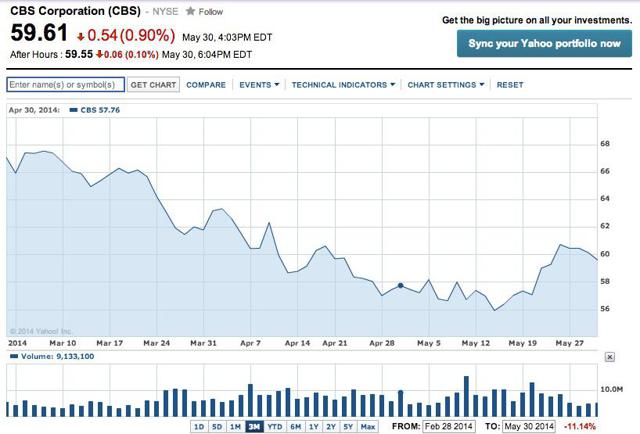 Source: Yahoo Finance
Conclusion
Innovation has led to a diversification of the means by which consumers can access video content. Customers of traditional cable can access their services on-demand, with a DVR, or through traditional scheduled broadcasts. In addition, high speed internet access has allowed for a proliferation of streaming services such a Amazon Prime, Netflix, and Hulu+ that allow content to be consumed over a variety of traditional and mobile devices. This new landscape of video content through traditional cable and streaming services has dramatically increased the value of CBS' high quality portfolio of content. The company is in the midst of a transition to de-emphasize its traditional reliance on erratic advertising revenue and focus on the stable and quickly growing licensing and fees revenue created by consumer demand for its product over cable and streaming services. CBS' strong growth prospects are not reflected in its current share price and investors should anticipate strong appreciation in the share price over the medium term.
Disclosure: I am long CBS, DIS. I wrote this article myself, and it expresses my own opinions. I am not receiving compensation for it (other than from Seeking Alpha). I have no business relationship with any company whose stock is mentioned in this article.