In a prior article, I detailed why and how I would begin performing one hour of preliminary research on potential investments with an emphasis on reasons not to invest before delving any further into the idea. In this article, I will organize my findings on Valero (NYSE:VLO).
Business Overview
Valero is the world's largest independent oil refiner. The company refines crude oil, natural gas, and other feedstocks through 16 refineries primarily into gasoline, diesel, and ethanol. The company then sells these refined fuels mostly wholesale, but also through 7400 marketing sites under the Valero, Ultramar, Texaco, Shamrock, Diamond, and Beacon brands.
Economics
Valero is profitable to the extent that the difference between gasoline/diesel prices and crude oil prices exceeds its operating costs. Over the last 20 years, increases in crude oil prices have far outpaced increases in gasoline and diesel: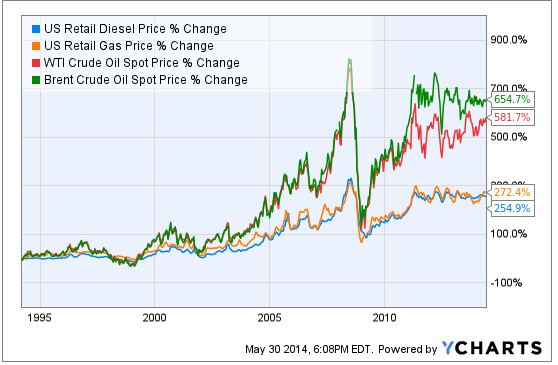 This has greatly narrowed refining margins: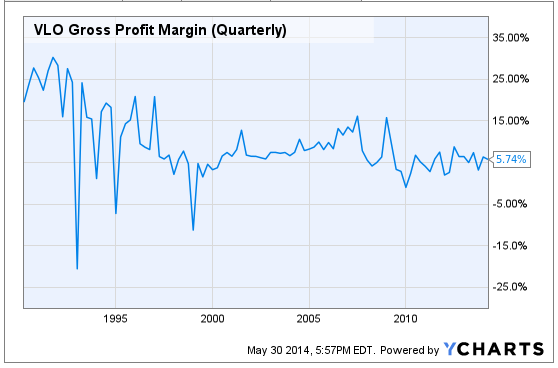 As you can see, VLO's gross margin has gone from as high as 30% ~22 years ago to just 5.74% in the most recent quarter. This is probably the result of an increasingly crowded and more efficient refining industry.
However, things seem to be beginning to stabilize. VLO's gross margin has been far more consistent in the last ~12 years and gas/diesel prices have slightly outpaced crude oil since Jan. 2011: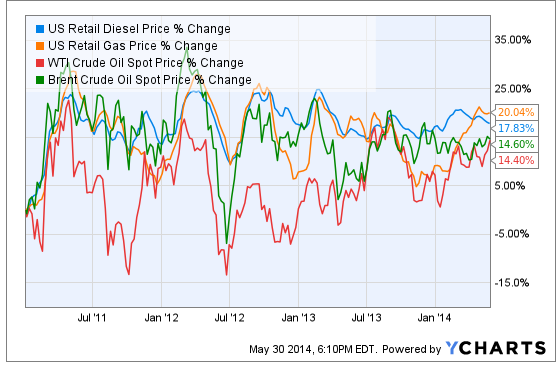 Further, 5.74% does not seem like much cost on the oil and gas market for the refining function. It seems like a sustainable number. A common argument seems to be that more fuel-efficient vehicles and alternative energy sources (electric cars, ethanol, etc.) will pressure the price of gas/diesel, but Valero is already producing ethanol, and these sources should also pressure crude oil prices. For example, natural gas is an alternative feedstock. There is definitely an element of uncertainty to the direction of refining margins, but from what I'm seeing, they don't seem to be inflated right now, and that is a big positive for refiners.
Timeliness
Valero stock does not seem timely at all right now. Shares are above their 20, 50, and 200-day moving average, 73% off their 52-week low, and just 6% off their 52-week high.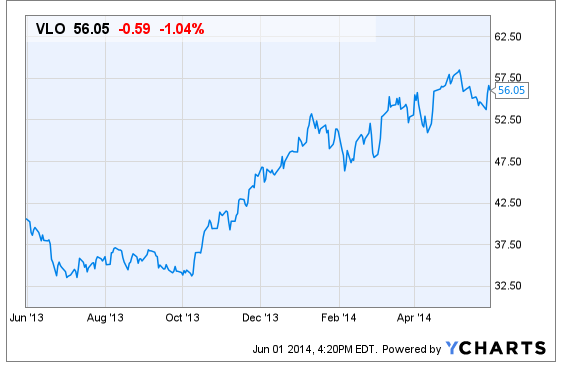 I consider myself a value, contrarian investor and believe buying stocks at relative lows is an important part of contrarian investing. That's not to say that all stocks at highs are bad investments. In fact, I've occasionally seen articles citing back tests claiming that stocks at highs subsequently outperform stocks at lows. However, I think that stocks that seem attractively valued that are also at lows do very well, so that is what I pursue. Valero is nowhere near a low, and that's troublesome.
Valuation
At first glance, I thought Valero might be really, really cheap. At $56.05, the stock trades for:
9.75x Value Line's 2015 EPS estimate of $5.75
8.68x analyst consensus 2015 EPS estimate of $6.46
10.5x trailing EPS
7.1x trailing operating cash flow
It would not take much in the way of dividend yield or earnings growth to make shares very cheap at this price.
The company doesn't pay out much of earnings. Dividend payout is only 18.8% and yield is 1.78%. Based on that, I'm looking for at least 10% earnings growth to make the stock look really cheap. The company has grown earnings 19.3% annually in the last 5 years, but this number is likely distorted to the upside as the company has ridden the recovery of the U.S. economy and improvements in refining margins. Analysts estimate earnings growth over the next 5 years of 14.6%, and Value Line has a similar estimate. I am a little skeptical. Earnings have fluctuated a great deal historically, but 2001 looks like a comparable year in the apparent cycle, and earnings have grown 7% annually since then: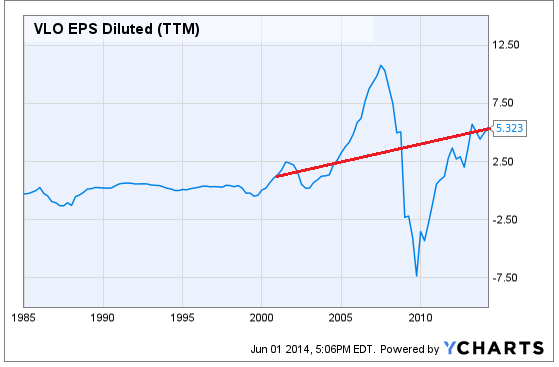 That seems more in line with the oil & gas industry. It's hard to believe analysts and Value Line could be so wrong, though. Maybe it's best to assume the average of 10.8%. In that case, VLO does look very cheap, and even at 7% EPS growth, the stock is probably fairly valued, but I need more time to get more clarity on growth.
Conclusion
Valero has a reputation for being one of the better refiners, and with refining margins very low right now, its profitability and business model seem sustainable. Above all moving averages and near a 52-week high, the stock is not timely, but double-digit earnings growth going forward seems reasonable enough to keep me interested. I am still interested in the stock, but would like to see it further off highs before pursuing it further and possibly investing. I am setting a price alert at $50.
Disclosure: I have no positions in any stocks mentioned, and no plans to initiate any positions within the next 72 hours. I wrote this article myself, and it expresses my own opinions. I am not receiving compensation for it (other than from Seeking Alpha). I have no business relationship with any company whose stock is mentioned in this article.