By Julian Murdoch
Pity the poor sots who've been trying to play commodities with broad-based indexes. Since the beginning of the year, they're almost all crying in their cups, down several percentage points apiece.
But agricultural investors — and corn investors in particular — are having the last laugh. Corn is currently up over 8 percent on the year, and up almost 30 percent since the June bottom. Compare that with a 7 percent year-to-date loss for the GSCI, and a paltry 4.5 percent run since its bottom.
From the June bottom, corn has risen on news that farmers had planted fewer acres than they had planned, suggesting tight supplies for the rest of the year. Since then, corn rose fairly steadily, helped along by news of too much rain too early, as well as heat waves in the Midwest.
On Friday, corn for December on CBOT closed at $4.7825.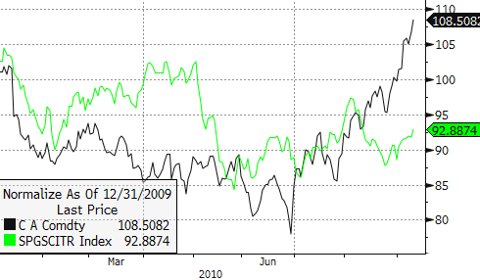 Click to enlarge
(Click to enlarge)
Typically, it takes some time for the various predictive ag numbers to coalesce, and analysts have expected downward revisions of the USDA's official corn yield forecast ever since Informa Economics, a closely watched private ag forecasting firm, cast doubt on the agency's August numbers. Naturally, this wait-and-see has pushed the corn market into a bit of chaos.
He Said, She Said
Informa Economics estimated the real yield would be around 158.5 bushels per acre, about 4 percent less than the USDA's target. According to the Wall Street Journal:
A yield around 160 bushels per acre would lead to uncomfortably tight supplies for the U.S. market, which is expected to make up the global shortfall created by Russia.
But Informa isn't the only one predicting lower numbers than the USDA. Scott Irwin, an agricultural economist at the University of Illinois at Urbana-Champaign, was quoted as saying:
The University of Illinois is expecting as few as 158 bushels an acre, which could mean up to 360 million fewer bushels overall.
The numbers in the USDA's Crop Production report, released Sept. 10, didn't go that far. Even though the forecast for corn production dropped 2 percent from the numbers released in August, the USDA still calls for 162.5 bushels per acre, for a total of 13.2 bullion bushels this year.
While that forecast is less than the 164.7 bushels per acre harvested in 2009, more acres are expected to be harvested this year overall, meaning the USDA again predicts a record year.
So who should you believe?
The Global Picture
Grain markets across the globe are highly interrelated, and world corn supply already felt pinched back in early August, when drought-burdened Russia halted all grain exports for the rest of the year. Russian Prime Minister Putin may extend the ban even longer, depending on how production goes with next year's crop; he cited the need to provide for domestic demand first.
While wheat is the grain most directly impacted by the ban, other grains like corn are also involved, because to a certain extent, various grains are fungible. It's a bit like a line of dominos: Once supply tightens in one crop, the others' prices rise, as end-users switch to other available grains, especially for animal feedstocks.
So as the price of corn rises, the price of meat also tends to rise, as feed becomes more expensive. Because of this, livestock producers may have to increase their corn purchases now before prices go up any further. Alternatively, they may decide to thin their cattle herds to reduce costs. Either way, it means an uptick in meat prices.
Sell or Store?
In an article on Bloomberg, Dale Durchholz, senior analyst at AgriVisor LLC in Bloomington, Ill., says it will cost farmers 35 cents a bushel to store corn harvested this year until May. But given the shape of the futures curve, that may not make sense right now: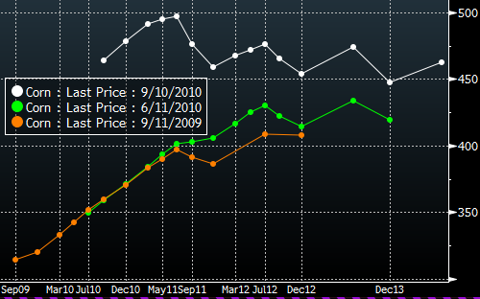 Click to enlarge
(Click to enlarge)
Notice the big shift here in corn over three months ago, or even a year. Previously, corn had fallen into a pattern of "natural contango": a state where the cost to store the crop was perceived as too high, such that buying that corn in the futures market made more sense than buying it cheap now and storing it yourself. But now with so much uncertainty, corn consumers are more than happy to pay up today for tomorrow's supply.
As Durchholz told Bloomberg, "the futures do not provide an economic incentive to store corn."
But it's also worth noting that corn doesn't follow a simple pattern. December corn is clearly the "cheap" contract; after all, most of the harvest is in at that point, so that month becomes the point of maximum certainty. On the other hand, the midsummer contract tends to spike, and even with the dramatic shift in the curve, we see that seasonal pattern remain.
How then to interpret the current flat-to-backwardated auction-of-opinion in the corn market? It means the market is tight, and the smart money bets that this is a bit of an anomaly.
For commodities investors, that makes this a risky moment to be long corn. After all, the market has already decided it's cheaper to just wait.
Disclosure: No positions